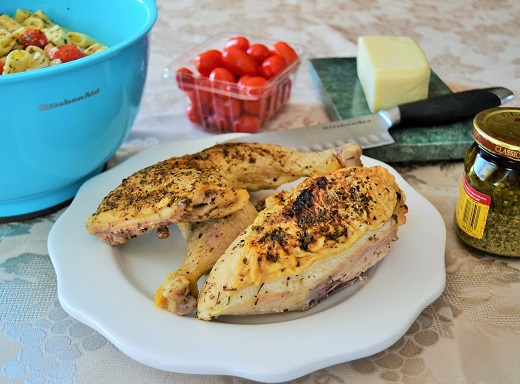 Roasted chicken is a meal my family could eat three times a week. Everyone loves it, even my picky twelve year old son. But it would be boring eating the same thing several nights in one week. If you reinvent the leftovers, the roasted chicken can be used to create a new gourmet meal.
First, let's talk about roasting the chicken to perfection. Personally I love a whole roasted chicken.  But I'd rather someone else do it for me. So if I want the chicken whole, I usually purchase a cooked rotisserie chicken from my local market. If I am roasting it myself, it goes in the oven in pieces. It comes out of the oven perfectly cooked every time.  A large whole roasted chicken can take several hours. It needs to be prepped first, watched closely and there are times where the smoke alarm goes off causing a disturbance in my children doing their homework. My solution is to roast chicken parts in my KitchenAid® Double Oven Range using the convection feature.  Every part of the chicken cooks evenly, the skin is extremely crispy and the inside is tender and juicy. I also love the pull out oven racks that make putting food in the oven a breeze.
While many home cooks worry that roasting a chicken in pieces will cause it to dry out, this method makes perfect succulent chicken every time. Here are some tips for roasting chicken pieces:
Buy the chicken whole and get your butcher to cut it into pieces. I like to keep the legs in quarters and the breast cut in half.  You can purchase a chicken already cut up into 8 pieces if you that's what you prefer. Cooking time will be less if the chicken is cut smaller. If you like only dark or white meat then just buy leg quarters or halved breasts.
Cover you baking pan with parchment paper.  This will absorb any extra grease so the chicken is not swimming in it. It also makes easy clean up.
Make sure to keep the skin on. This keeps the meat underneath moist and juicy. If you'd rather not eat the skin, it can always be removed after cooking.
Dry the skin with a paper towel before roasting. This will get the chicken skin nice and crisp.
Season the chicken well even if it's just with salt and pepper. Be sure to rub some of the seasoning underneath the skin with your fingers.
For browner chicken, it can be finished under the broiler the last 5 minutes of cooking.
Test the chicken with a digital thermometer for doneness when finished cooking. Breasts should be at 160 degrees while thighs and legs should be at 170-175 degrees. Individual pieces can be removed if some are done before others.
Let the chicken pieces rest for 5 to 10 minutes before serving. This will ensure juicy pieces of chicken.
My family loves having roasted chicken for dinner so sometimes I make a double batch. It's great reheated or eaten cold just like it is but I feel guilty serving the same meal again. So I like to "reinvent" my roasted chicken. One of my favorite meals to make is Chicken and Quinoa Stuffed Poblano Peppers.  It is the type of dish that only needs a side salad to go with it.  It reheats great in my KitchenAid® Microwave Hood Combination Oven too.
When you have leftover chicken, the future dinner possibilities are endless. The chicken also works well for school box lunches. My daughter loves having some topped on a salad the next day.  This versatile chicken is perfect for so many meals. When you roast it, the seasoning can be changed to fit your next meal.
Here are some of the recipes I make often using roasted chicken:
Chicken and Quinoa Stuffed Poblanos
Chicken Mango and Avocado Salad
Chicken and Black Bean Burritos
Crunchy and Creamy Chicken Salad with Dill
Chicken, Arugula and Hummus Tarts
With the spring  quickly approaching, it means lots of baseball games, soccer practices and track meets. There will be more family time in the car than there will be at the dinner table. So I  like to make easy meals that can be eaten anytime.  Chicken Pesto Rigatoni Salad incorporates the roasted chicken, pasta, fresh tomatoes, mozzarella and pesto sauce for a really easy meal.  It is also a great dish to serve at your next barbeque too.
With a little prep work and my great KitchenAid® major appliances, family meals can be really easy to make even if you don't have time to cook every night. Roasted chicken is so tasty  and very versatile to recreate leftovers. You will want to include this on your menu every week.
Perfect Roasted Chicken 
Makes 6 servings
INGREDIENTS
1 whole chicken (about 4 lbs), cut into 4 to 6 pieces (or you could use 2 breasts and 3 leg quarters)
2 tablespoons Italian seasoning
1 tablespoon (or more to taste) Kosher or sea salt
2 tablespoons olive oil
DIRECTIONS
Preheat KitchenAid® Double Oven Range to 400 degrees. Line a large baking pan with parchment paper.
Place chicken pieces on the baking sheet and sprinkle with the seasoning and the salt . Rub some of the seasoning under the skin. Brush the chicken with the olive oil.
Roast in oven for 40 to 50 minutes or until breast meat is 160 to 165 degrees and dark meat is 170 to 175 degrees.  Turn the broiler on the last five minutes of cooking for more brown chicken.
NOTE: If you do not have a convection oven, follow directions but chicken might need to cook a few minutes longer. Make sure to brown under the broiler at the end.
Print
Chicken Pesto Rigatoni Salad
Makes 6-8 servings
INGREDIENTS
1 (16 ounce) box of rigatoni
3 cups of shredded cooked chicken
1 pint grape tomatoes, halved
12 ounces mozzarella cheese, cubed into 1/2 inch pieces
1/2 cup prepared pesto sauce
2 tablespoons water
1/4 cup white balsamic vinegar
1 tablespoon olive oil
Salt and pepper to taste
DIRECTIONS
Cook the pasta according to package directions in a large pot of salted water. Rinse with cool water in a colander when cooked.
In a large bowl, mix together pasta, chicken, tomatoes, cheese, pesto sauce, water, vinegar and oil.  Season with salt and pepper to taste.  Mix together well.
Chill for two hours before serving.
Print
*The Contributor of this post has been compensated by KitchenAid for this post, but this post represents the Contributor's own opinion.*