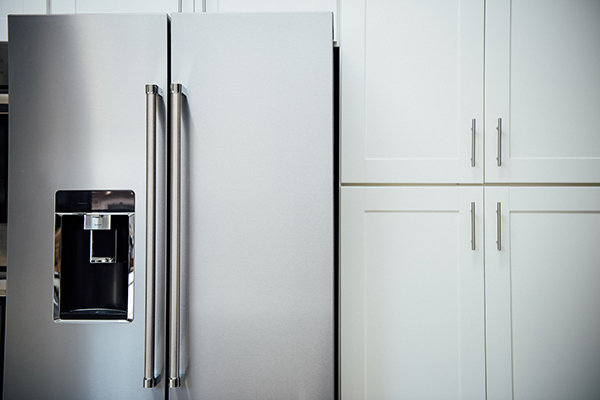 My favorite part about cooking is having people taste what I cook. Consequently, over the past few years since I started to write about food, I get excited to welcome people to our home to eat and drink. It's a way for me to introduce people to my culture and experiences through food. I want people to eat, have fun, relax, and have things run without any glitches.
A huge part of entertaining and hosting dinners and supper clubs is being able to focus and have things run smoothly, so anything that takes the unknown out of the equation is a welcome addition. 10 out of 10 times, my KitchenAid® Counter-Depth French Door Refrigerator is one of the most important and reliable tools that I've come to depend on.
It helps me with planning, prepping and cooking, but it also becomes a big source of help during the event when the hustle and bustle activity in the kitchen and the chaos of getting food out at the right time picks up. The Counter-Depth French Door Refrigerator becomes my source of calmness. It's not only sleek to look at, but it's also a workhorse when it comes to keeping things running smoothly.
The Counter-Depth French Door Refrigerator also has one of the largest counter depth spaces when it comes to refrigerators, which helps me store as many bottles of wine, champagne, and cocktails as I need to. The constant supply of fresh cold water and the different ice options make things easy.
Here are a couple of things that I use my Counter-Depth French Door Refrigerator for whenever I'm hosting:
Take advantage of the settings to keep plenty of ice both crushed and cube-form on hand. You never know when you might need them and when. Plan ahead and you can even store some in the freezer.
As always, keep your champagne and white wines chilled in the refrigerator (adjust the temperature accordingly using the temperature panel). Even some of the red wines such as the Lambruscos, Pinot Noirs, and Zinfandels can be chilled for a couple of minutes before serving to take full advantage of their bouquet and taste. Use the adjustable Slide-Away Shelf to store them upright.
If guests bring a bottle of wine or champagne that needs quick chilling, I stick the bottle in the freezer for about 15 to 20 minutes before pulling it out to serve.
Most fruit-based mocktails and cocktails also benefit from refrigeration. If I'm making a home brew, I'll even leave the concentrate with the fruit for 24 to 48 hours to allow for a much more flavorful extraction. I even find myself using the automated measured fill volume function on the water when I have to prepare mixed drinks. You can choose from 3 programmed settings to pour a measured amount. Plus, two custom presets can be programmed for items you frequently fill like a coffee pot or water bottle.
Chill your glasses in the refrigerator for about 20 to 30 minutes before your event. This is a welcome sight, especially when entertaining on hot summer days.
A huge advantage of having this Counter-Depth French Door Refrigerator is the constant supply of fresh purified and filtered tap water on demand.
With the stress out of the way, I can focus on keeping my guests entertained, happy, and well-fed!
*The Contributor of this post has been compensated by KitchenAid for this post, but this post represents the Contributor's own opinion.*