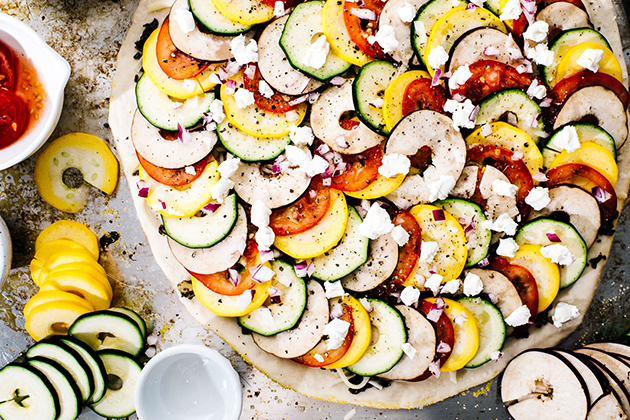 Ratatouille Pizza
Makes 1 pizza
INGREDIENTS
For the pizza
1 small green zucchini
1 small yellow zucchini
1 small Japanese eggplant
1 ball store-bought pizza dough or 1 recipe thin crust pizza (below)
Cornmeal, if desired
2-3 tablespoons pesto
1/2 – 3/4 cups shredded mozzarella cheese
1-2 Roma tomatoes, thinly sliced
2 tablespoons finely chopped red onion
1 tablespoon olive oil
Salt and freshly ground pepper, to taste
2 ounces fresh goat cheese
Roughly chopped flat leaf parsley, to finish
For homemade thin crust pizza dough
1/2 cup warm water (100°F)
1/2 teaspoon sugar
1/2 teaspoon active dry yeast
1 1/2 cups all purpose flour
1/2 teaspoon coarse salt
DIRECTIONS
For the pizza
Preheat the oven to 500°F.
Wash the zucchinis and eggplant and slice the tips and tails off. Use the small core slice tool on the KitchenAid® Spiralizer to spiralize. The vegetables will spiralize into an accordion shape. To cut into slices, take your knife and make a cut from the center hole to the outside edge of the vegetable. Alternatively, to make slices, when prepping your vegetables, slice the vegetable lengthwise, halfway through the vegetable, just until the center, being sure not to cut all the way through.
Lightly oil and dust a baking sheet with corn meal. Shape the pizza dough in the pan, using a rolling pin to shape into a large 12 inch round. Spread a thin layer of pesto on the dough and sprinkle on the shredded mozzarella. Arrange the peppers, eggplant, tomatoes and zucchini in overlapping, concentric circles. Sprinkle on the onions, top with a drizzle of olive oil, and a generous amount of salt and pepper. Dot with the fresh goat cheese.
Place in the oven to bake for 15-20 minutes, or until the vegetables are tender and the crust is puffy, crisp and slightly blistered. Top fresh parsley. Slice and enjoy.
For homemade thin crust pizza dough
Stir together the sugar and water. Sprinkle on the yeast and let proof for 10 minutes – there should be tiny bubbles on the surface.
Add the salt and flour to the bowl and using the dough hook, knead until it just comes together. When the dough comes together in a ball, cover with plastic wrap and set aside while you spiralize the vegetables, about 30 minutes.
Note: You most likely will end up with extra spiralized vegetables. Chop them up and use them in an omelette or make another pizza!

Print
*The Contributor of this post has been compensated by KitchenAid for this post, but this post represents the Contributor's own opinion.*