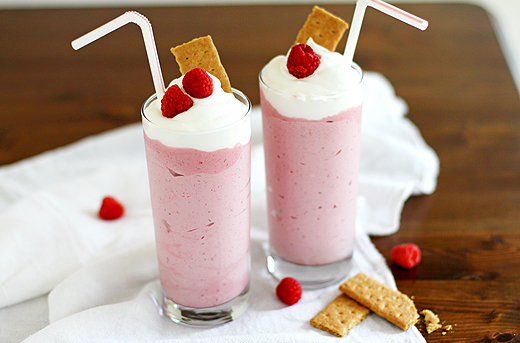 What could be better on a warm summer day than a cold, smooth, flavorful milkshake? With the new KitchenAid Torrent™ Magnetic Drive Blender, these easy raspberry cheesecake milkshakes are a breeze to make. Don't be surprised if you want to sip on them all summer long!
There are few things I enjoy more as a treat than a milkshake – even better if it's raspberry cheesecake-flavored, like this one. Every sip is a perfect balance of smooth, thick, fruity, tart, sweet and creamy. And it's very easy to make, too – just give the ingredients a whir in the Torrent™ blender, top with fresh whipped cream and you're ready to cool off with a sweet treat.
To make this mouthwatering milkshake, you'll need vanilla bean ice cream, cream cheese, whole milk, vanilla extract, fresh lemon zest and frozen raspberries. Using frozen raspberries for the mix as opposed to fresh helps thicken the shake – but for you fresh fruit lovers, you can save the fresh berries for a garnish.
Add the ingredients to your blender (in a couple of batches, if necessary) and give them a whir. One aspect I love about the Torrent™ blender – in addition to the fact that it leaves no mess behind and can blend just about anything with ease – is that it has a nifty "milkshake" setting, which blends shakes to smooth and creamy perfection.
Oh, and here's a tip: For the best blending, add the ice cream to the blender first, then top it with half of the frozen raspberries, the milk, cream cheese, vanilla and lemon zest, and then the remaining raspberries. Adding each ingredient in this order helps the icy raspberries blend well into the other ingredients.
Once blended, pour the mixture into serving glasses.
Use your KitchenAid® Stand Mixer with the whisk attachment to blend some cold heavy cream to stiff peaks. You can add a teaspoon or two of sugar to the cream before whisking it if you want, but I like the balance of a sweet shake with the plain whipped cream.
Dollop whipped cream on top of each shake, then garnish with fresh raspberries and a graham cracker. Don't forget the straw!
There are so many uses for the new Torrent™ blender, but I admit making milkshakes tops my list. One sip of this easy and delicious recipe, and you'll likely agree.
Raspberry Cheesecake Milkshakes
Makes 4 servings
INGREDIENTS
3 cups vanilla bean ice cream
6 ounces cream cheese
1 cup whole milk
1 teaspoon vanilla
1 teaspoon fresh lemon zest
1 pound (16 ounces) frozen raspberries
1/2 cup cold heavy cream
Fresh raspberries and graham crackers, for garnish (optional)
DIRECTIONS
In a blender (in 2 batches, if needed), blend ice cream, cream cheese, milk, vanilla, lemon zest and frozen raspberries until smooth. Divide evenly among 4 serving glasses.
In the bowl of a KitchenAid® Stand Mixer fitted with whisk attachment, beat heavy cream until stiff peaks form. Dollop whipped cream on top of each glass. Garnish with fresh raspberries and graham crackers.

Print
*The Contributor of this post has been compensated by KitchenAid for this post, but this post represents the Contributor's own opinion.*