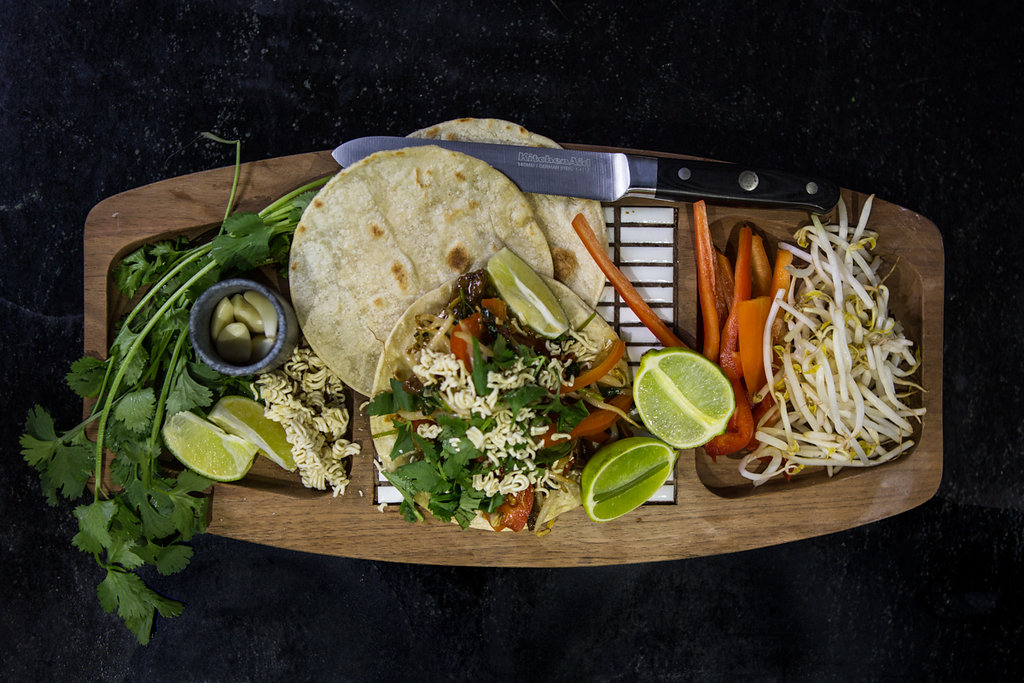 Winter is here and I could not be more excited. Yay for cozy nights, holiday movies, and lots of snacks. Because I try and entertain throughout the holiday season, I stock up on cooking supplies so that I can have everything that I need for the months of cooking ahead.
It's so important to have the right tools to create those perfect holiday meals. I am also always on the search for fresh recipes that are tasty and beautiful to the eye. My little family of four loves when we can try something new and delicious. When it's cold outside, I crave flavorful, rich dishes like these Ramen Beef Tacos that are unbelievably good!
Begin by marinating your choice of protein. I recommend at least a half hour. The longer you wait, the more flavorful your protein will be. I used two cups of thinly sliced beef and two cups of marinade.
Once your beef has been marinated, the fun part begins. Heat oil in the large Skillet from the KitchenAid® Stainless Steel 10-Piece Set on the KitchenAid® Electric Cooktop. Speaking of the Electric Cooktop, I can't tell you how much I love it! It's so easy to use, gives an even cook and is beyond easy to clean. It's my favorite detail in the kitchen.
Allow the oil to heat up and then add your beef. Cover and let cook for a minute or so. Lower your heat to medium and stir. You don't want to overcook your beef because it will result in a tough texture, and you want it to be more tender for more flavor. Once your beef is cooked, set aside and move on to your next step.
Before cooking the vegetables, prep your sauce. Mix together minced garlic, sambal chili paste, Thai fish sauce and hoisin sauce. Set aside for a moment.
Preheat your Skillet to medium and throw in your red bell pepper. Allow to cook for about 3 minutes. Add your bean sprouts, cilantro, and the sauce you've created. Cook for about one minute and season with salt and pepper. Your vegetables are ready to be served.
Your tacos are now ready to be assembled and enjoyed! My favorite part of these tacos are the vibrant colors. They are perfect for a festive holiday party.
Take your corn tortillas and heat them on your pan with a dash of virgin olive oil for a minute or so. Place the tortillas on a plate and add your beef and vegetables and garnish with freshly-squeezed lime juice and fresh cilantro. Drizzle with Top Ramen noodles and serve immediately.
Share your take on these Ramen Beef Tacos on Instagram using #MadeWithKitchenAid for a chance to be featured.
Ramen Beef Tacos
Makes 4-6 servings
INGREDIENTS
2 cups stir fry beef
1 cup teriyaki sauce (your preference)
1 pack Top Ramen
1 red bell pepper
1 cup cilantro, chopped
1 cup bean sprouts
4 corn tortillas
1 tablespoon garlic, freshly minced
1 tablespoon sambal chili paste
1 tablespoon Thai fish sauce
1 tablespoon hoisin sauce
1 fresh lime
3 tablespoons virgin olive oil
1 teaspoon salt
1 teaspoon fresh ground pepper
DIRECTIONS
Marinate your beef in teriyaki sauce for at least 30 minutes prior to cooking.
Preheat 2 tablespoons of olive oil over high in the large Skillet from the KitchenAid® Stainless Steel 10-Piece Set on a KitchenAid® Electric Cooktop. Once the Skillet is hot, throw in the beef and cover for 3 minutes. Lower the heat to medium and stir occasionally. Add salt and pepper and cook beef for 2 more minutes. Set aside and make your vegetable mix.
Preheat your Skillet to medium with 1 tablespoon of olive oil. Once the oil heats up, throw in the red bell pepper and let it cook for 3 minutes. Add the bean sprouts and cook for about 1 minute. Season with salt and pepper to taste. Your vegetables are ready to be served.
It's finally time to assemble your taco! Heat up your corn tortilla with a couple drops of olive oil on your Skillet, according to your liking. Set your corn tortilla on your serving platter and layer your ingredients. First your beef, second your vegetables, and top it off with fresh cilantro and squeezed lime. Finish with a sprinkle of Top Ramen. Serve immediately.

Print
*The Contributor of this post has been compensated by KitchenAid for this post, but this post represents the Contributor's own opinion.*