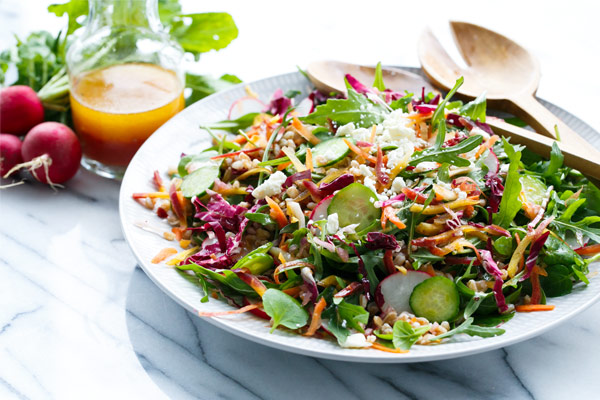 Do you hate chopping vegetables as much as I do? When making a vegetable-packed salad like this one, you can easily spend 30 minutes chopping vegetables alone, unless, of course, you happen to be a knife wizard (which I am most definitely not).
The KitchenAid® Food Processor Attachment easily chops your vegetables in no time! The Food Processor Attachment is compact (since it runs off the motor already in the KitchenAid® Stand Mixer), and has the skills to slice, dice, and shred vegetables and other foods with ease. You'll be done prepping all these vegetables in mere minutes.
This colorful vegetarian salad makes the most out of the attachment's different blades, utilizing both the slicing blade and the julienne blade for a nice mix of shapes and textures. Out of the 6 main ingredients in this recipe, the Food Processor Attachment was used to prepare 4 of them, including slicing the cucumber and radish, shredding radicchio, and julienning carrots.
Normally you'd think to slice carrots, but in this situation I prefer the julienne blade which results in long thin strips that are easier to eat than trying to stab hard slices with your fork.
When julienning carrots, cut your carrots into 2″ chunks (basically the width of the feed tube). Arrange a stack of carrots horizontally, laying them down in the tube and stacked one on top of another. This will result in nice long strips of carrot, as opposed to processing them standing up, which results in more of a grated texture.
I always say the prettier the vegetable, the more likely I will want to eat it. I used one orange, one yellow, and one purple carrot to achieve a rainbow effect, but monotone (i.e. one color) carrots would work just as well.
The slicing blade also works beautifully to shred radicchio, believe it or not. Simply core the radicchio, then cut the head into wedges small enough to fit down the tube. You'll need to press pretty firmly as the radicchio does like to 'stick' to the sides of the tube (or, if it's easier, lightly oil the inside of the tube and it should slide down more easily). Set the slicing thickness somewhere in the middle of the range, though feel free to adjust to achieve your ideal shred. (Pro tip: the next time you have to make a big batch of coleslaw, this technique will save you loads of time!)
Finally, the cucumber and radish get sliced using the thinnest slice setting. I used small Persian cucumbers, which fit perfectly down the smaller feed tube, but you can use larger seedless cucumbers as well. Smaller ones work better, but just cut larger ones in half as needed so they fit in the feed tube.
Now that all your vegetables are prepped (and it probably took you less time to do so than it did to read up until this point!), you're ready to assemble your salad. You can either toss all the ingredients together with the dressing, or, as I like to do, layer the greens, cooked farro, and vegetables on the serving platter for a beautiful, rainbow-inspired presentation.
But hold on just a second. You may be wondering, what exactly is farro?
Farro is an ancient whole grain that has been used in cooking for centuries. Farro is wheat, but not necessarily a single variety of wheat; rather, you'll find different kinds of farro including Spelt, Einkorn, and Emmer. It is high in fiber and protein, making it a great meat-replacement in vegetarian dishes, much more so than refined grains like white rice. Possible substitutes would be pearl barley or Israeli couscous. If you are looking for a gluten-free substitute (since farro is a member of the wheat family, it is not gluten-free), might I suggest quinoa, wild rice or sorghum?
Since farro varies in terms of wheat variety and processing, the cook time will vary greatly as well. We recommend following the instructions on your package to cook the farro until tender but still al dente. If you don't have the package or purchased in bulk, cook farro like you would pasta in a pot of boiling salted water. Start checking it after 20 minutes or so, though some varieties might take upwards of 40 to 50 minutes to cook. You're looking for a tender grain with just a bit of bite, not unlike al dente pasta.
This salad is dressed in a bright, seasonal vinaigrette made with blood orange juice, zest, and a bit of maple syrup for sweetness. You could certainly use regular oranges as well, but I love the bright pop of color that the blood oranges give to the dressing. Make a double batch and store it in the refrigerator for use on any other salad recipe too. It's better than any store bought dressing you'll find!
The sprinkle of feta on top is optional, and while I think it is the perfect topping, without it, this recipe is completely vegan. That said, I think the feta is the perfect finishing touch for this bright and healthy salad.
Share your take on this Rainbow Farro Salad on Instagram using #MadeWithKitchenAid for a chance to be featured.
Rainbow Farro Salad
Makes 4 main servings or 6 side servings
INGREDIENTS
For the salad
3/4 cup farro, cooked according to package instructions (you can also use quinoa, bulgar or whatever base grain you'd like)
3 thick rainbow carrots, cut into 2″ chunks
1/2 small head radicchio, cut into wedges
3 small Persian cucumbers
3 medium radishes, trimmed
3 ounces spicy greens (arugula or watercress), rinsed and drained
Crumbled feta cheese, for topping (optional)
For the dressing
1/4 cup blood orange juice, freshly squeezed (if possible)
1 teaspoon orange zest
1 medium shallot, finely chopped (1 tablespoon chopped)
1 tablespoon maple syrup or honey
1 teaspoon dijon mustard
1 teaspoon lemon juice
1/4 cup extra virgin olive oil
Salt and pepper, to taste
DIRECTIONS
Cook farro in a pot of boiling salted water according to package instructions (cooking time will vary depending on the particular variety of farro, ours took about 20 minutes). Drain well and set aside to cool.
Attach the KitchenAid® Food Processor Attachment to the power hub of the KitchenAid® Stand Mixer. With the julienne blade in place, stack carrots in the feed tube horizontally (feeding them this way instead of standing up vertically will result in longer, finer julienne pieces). Turn the Stand Mixer to medium speed and press down to slice.
Swap out to the slicing blade and set the thickness to somewhere in the middle. Press wedges of radicchio down through the feed tube to coarsely shred.
Decrease the slicing thickness to the smallest possible. Run the cucumbers and radishes through the Food Processor Attachment to slice into thin slices.
To prepare dressing, whisk together orange juice, zest, shallot, maple syrup, mustard, and lemon juice. Slowly drizzle in olive oil, whisking until dressing is smooth and emulsified. Season to taste with salt and pepper.
Toss farro with approximately 2-3 tablespoons of dressing until evenly coated. Toss the greens with another 2-3 tablespoons of dressing.
To assemble, arrange a bed of dressed greens on a serving dish or in individual salad plates or bowls. Top with farro, followed by vegetables. Drizzle with the remaining dressing, as desired. Top with a sprinkle of feta cheese and serve at room temperature.
Print
*The Contributor of this post has been compensated by KitchenAid for this post, but this post represents the Contributor's own opinion.*