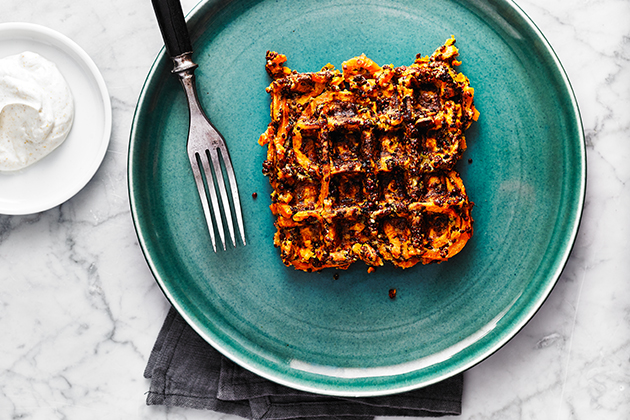 Quinoa Sweet Potato Waffles
Makes 4 servings
INGREDIENTS
2 large sweet potatoes, cut in half
1/2 cup cooked red quinoa*
1 egg
2 tablespoons almond meal
1 teaspoon grated orange peel
1/2 teaspoon salt
1/4 teaspoon ground cinnamon
1/2 cup sour cream
1/2 teaspoon curry powder
Maple syrup (optional)
DIRECTIONS
*To cook quinoa, combine 1/2 cup water and 1/4 cup uncooked quinoa in small saucepan. Bring to a boil over high heat. Reduce heat to low; cover and simmer 15 minutes or until quinoa is tender and water is absorbed. Drain in fine-mesh strainer to remove excess water, if necessary.
Attach Spiralizer Attachment to KitchenAid® Stand Mixer. Center one sweet potato half on fruit and vegetable skewer; attach to Spiralizer. Attach peeling blade and fine spiralizing blade and position at end of sweet potato. Place medium bowl below blade to catch sweet potato and peel. Turn stand mixer to speed 4 and process until blade reaches end of sweet potato. Repeat with remaining sweet potatoes.
Place steamer basket in large saucepan and fill with water to just below steamer. Add sweet potatoes; steam over high heat until potatoes are very tender. Measure 3 cups; transfer to medium bowl. Add quinoa, egg, almond meal, orange peel, salt and cinnamon; mix well.
Heat waffle maker according to manufacturer's directions. Add heaping 1/2 cup batter to waffle maker; cook 8 to 10 minutes or until waffle is crisp and well browned. Repeat with remaining batter.
Combine sour cream and curry powder in small bowl. Serve waffles with sour cream mixture and maple syrup, if desired.

Print
*The Contributor of this post has been compensated by KitchenAid for this post, but this post represents the Contributor's own opinion.*