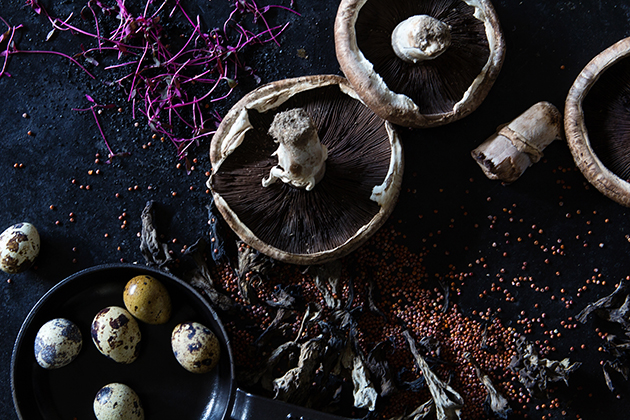 Yes, I'm back in black. Okay, so that's totally a bite off of a 1980s song, but it's a classic. And lately, I'm drawing inspiration from all kinds of places like I mentioned here.
That said, I am back with a post inspired by the stunning new line of black stainless steel appliances from KitchenAid. Have you seen it? You must. Click here and be prepared to be smitten with beauty, design, form and function.
The new suite includes:
A refrigerator with The Preserva® Food Care System to control the humidity so your food stays fresh longer. Along with that, it's also equipped with a FreshFlow™ Air Filter component to minimize odors, so your refrigerator stays smelling fresh.
A dishwasher with: (1) Nine wash arms to get your dishes nice and clean. (2) A third rack so everything in the kitchen sink can be loaded in there. (3) An exclusive Clean-Water Wash System that's equipped with technologically advanced pumps that clean the water that cleans your dishes to a sparkling and spotless finish.
Three different types of ovens: (1) Single oven; (2) double oven and (3) combination oven. All of which are equipped with the Even-Heat™ True Convection component that contains a unique bow-tie design and convection fan that ensures the entire oven stays at the perfect temperature, so you never have to worry about rotating pans, hot spots or uneven cooking and baking.
Cooktops with precise flames that "go high, low and everywhere in between."
And since no one wants a gorgeous kitchen that has to constantly be cleaned, KitchenAid made sure the finish is a brushed steel, so it keeps everything much cleaner—no dirty smudges, no fingerprints and totally easy to clean up. Along with that, all the buttons are flushed, so there's no crevice—just one easy wipe and it's all clean—a must for any busy kitchen.
Speaking of easy, today I'm sharing this fast and easy Quinoa Portobello Bowl that's inspired by KitchenAid's new black stainless line. The recipe has structure, personality, and pops of color.
As for each individual ingredient: I chose portobello mushrooms for structure. The black trumpet mushrooms for a heavy hit of flavor. The red quinoa for body. The black lava salt for earthiness. The amaranth microgreens for a hit of color and finally the quail eggs for a "put an egg on it" finish.
There's no written recipe here because you can flex the ratio of each individual ingredient to make this Quinoa Portobello Bowl according to your preference. For that matter, you can:
Swap out any ingredients like the red quinoa for barley
The black lava salt for any salt you have on hand
The amaranth for baby spinach
The quail eggs for good ol' regular eggs
And if you really want to make this your own, flip out the portobello bowl for cabbage, or flip the bowl-like vessel to butter leaf lettuce and wrap it.
See where I'm going with this? You can easily get creative, mix and match, swap out anything to your preference to make this recipe your own.
Discover more about the first-ever black stainless suite of appliances at http://www.kitchenaid.com/bold.
*The Contributor of this post has been compensated by KitchenAid for this post, but this post represents the Contributor's own opinion.*