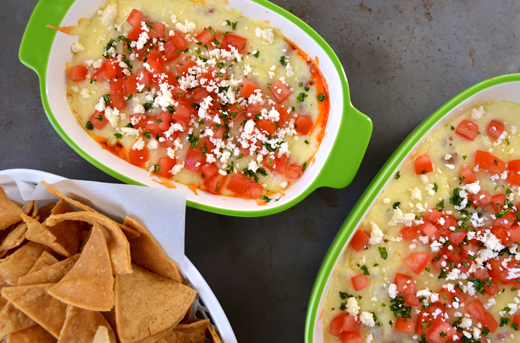 Step aside, nachos. There's a new cheesy crowd favorite grabbing the snack spotlight, and it stars not one, not two, but three different types of cheese. Welcome to the party, Queso Fundido with Chorizo.
This quick-fix appetizer takes melted cheese to a whole new level and serves any size crowd, making it the perfect addition to your entertaining lineup. Best of all, it comes together in 30 minutes or less. So grab the tortilla chips and your KitchenAid® Pro Line® Series 16-Cup Food Processor and read on for this easy, cheesy snack.
Start off by sautéing the chorizo with garlic and onions in your large KitchenAid® Stainless Steel Low Sauté Pan. Most varieties of chorizo contain enough fat that you can sauté it without having to add any additional fat to the pan. Once the chorizo has cooked through, transfer it to a paper towel-lined plate before adding it to the baking dish.
Then it's time to let your KitchenAid® Pro Line® Series Food Processor do the majority of the work by shredding block after block of Monterey Jack and Pepper Jack cheese in a matter of seconds. With your chorizo and cheese fully prepped, all that's left to do is assemble your dip by layering the chorizo and cheese in lightly greased baking dishes.
Rather than make one large dip, I like to make several smaller ones to spread around on various tables so guests can freely mingle and snack without feeling confined to one area. For this recipe, I used two of the KitchenAid® Nesting Ceramic Casseroles.
Pop the baking dishes into your preheated oven and bake them until the cheese is melted and bubbling. Then carefully remove the Queso Fundido from the oven and top each dish with chopped tomatoes, fresh cilantro and a sprinkle of crumbled Cotija cheese.
And finally, dig in! Serve the Queso Fundido with tortilla chips or flour tortillas for the ultimate addition to your appetizer spread.
Queso Fundido with Chorizo
Makes 8-10 servings
INGREDIENTS
10 ounces fresh chorizo, casings removed
Vegetable oil
1/2 cup diced yellow onion
1 teaspoon minced garlic
3 cups shredded Monterey Jack cheese
2 cups shredded Pepper Jack cheese
1/2 cup chopped tomatoes, for garnish
1 Tablespoon chopped cilantro, for garnish
2 Tablespoons crumbled Cotija cheese, for garnish
Tortilla chips, for serving
DIRECTIONS
Preheat the oven to 400°F. Grease one 2-quart (or several smaller quart) baking dishes with vegetable oil. Set aside.
In a medium KitchenAid® Stainless Steel Low Sauté Pan set over medium heat, cook the chorizo, breaking it apart with a spatula into small pieces, until it's browned and cooked throughout. Using a slotted spoon, transfer it to a paper towel-lined plate and leave 1 tablespoon of drippings in the pan. (If your chorizo didn't yield 1 tablespoon of drippings, add vegetable oil to the pan until you have about 1 tablespoon.)
Reduce the heat to medium-low. Add the onions to the pan and cook, stirring, for 2 minutes. Add the garlic and cook, stirring, for an additional 2 minutes. Remove the pan from the heat, return the chorizo to the pan and stir to combine.
Add a layer of cheese to the bottom of the KitchenAid® Nesting Ceramic Casserole. Top it with the chorizo mixture then the remaining cheese on top. Bake until the cheese is melted and bubbly, 10 to 15 minutes.
Remove the baking dish from oven, top the cheese with chopped tomatoes, cilantro and crumbled Cotija and serve immediately.

Print
For more Food Processor recipes, click here for our eRecipe book.
*The Contributor of this post has been compensated by KitchenAid for this post, but this post represents the Contributor's own opinion.*