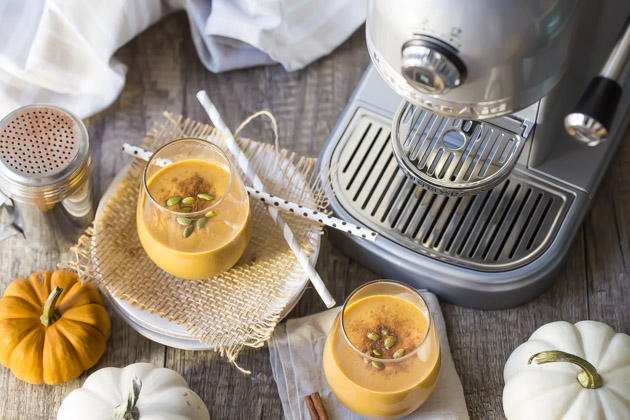 It's October, and pumpkin spice mania is in full swing! If you're one of the many that just can't seem to get enough of the pumpkin spice latte in all its forms, I'm sharing a great recipe today: the Pumpkin Spice Latte Smoothie!
This smoothie is sweet, cinnamon-y, and perfect as a fall breakfast or snack. And it's got an extra added kick of espresso flavor to really jump-start your day!
I don't think I could live without my Nespresso® by KitchenAid®. It's the first thing I head for when I wake up in the morning, and a lot of times I use it again in the afternoon. Plus it's great for adding intense coffee flavor to my recipes because it brews the espresso with such a rich, concentrated flavor.
To get started, I just pop in a Nespresso® pod, pull down the handle, and push the "brew" button…
… and out comes the richest, most flavorful espresso. This Nespresso® by KitchenAid® has a 19-bar pressure system, so you know your espresso will have a full-bodied flavor and a gorgeous crema.
For iced coffee and smoothies like this one, I like to keep cubes of espresso frozen. They really add a ton of flavor to coffee drinks, while at the same time keeping things cool. If you use regular ice, it will dilute the drink as it melts.
I keep my espresso ice cubes in my KitchenAid® Side-by-Side Refrigerator. I love how all the shelves help me keep things organized and easy to spot.
When you're ready to make your smoothie, just place all the ingredients in the pitcher of your KitchenAid® Torrent™ Magnetic Drive Blender. Besides the coffee ice, this recipe has creamy vanilla yogurt, real pumpkin puree, warm cinnamon, and spicy ginger. It's like fall in a glass!
Set the Blender to the Smoothies Adapti-blend™ Program and press start. The exclusive Torrent™ Magnetic Drive technology propels the blades for powerful, easy, hands-free blending, and the MagnaLock™ System securely locks the jar in place. It automatically shuts off (with an acoustic tone to let you know it's ready), so all you need to do is serve and enjoy.
Garnish with a dusting of cinnamon and a few toasted pumpkin seeds for a fall drink that'll really put a spring in your step!
Share your take on this Pumpkin Spice Latte Smoothie on Instagram using #MadeWithKitchenAid for a chance to be featured.
Pumpkin Spice Latte Smoothie
Makes 1-2 servings
INGREDIENTS
4 ounces brewed espresso, frozen in cubes
1/2 cup pumpkin puree
1/4 cup vanilla yogurt
2-3 tablespoons pure maple syrup, to taste
1/2 inch piece of fresh ginger, peeled
1/8 teaspoon ground cinnamon, plus extra for garnish
1/2 cup milk
2 teaspoons toasted pumpkin seeds, for garnish
DIRECTIONS
Place all the ingredients in the pitcher of the KitchenAid® Torrent™ Magnetic Drive Blender. Turn the dial to the "Smoothie" setting, blend until smooth. Pour into serving glasses and garnish with cinnamon and pumpkin seeds.
Print
*The Contributor of this post has been compensated by KitchenAid for this post, but this post represents the Contributor's own opinion.*