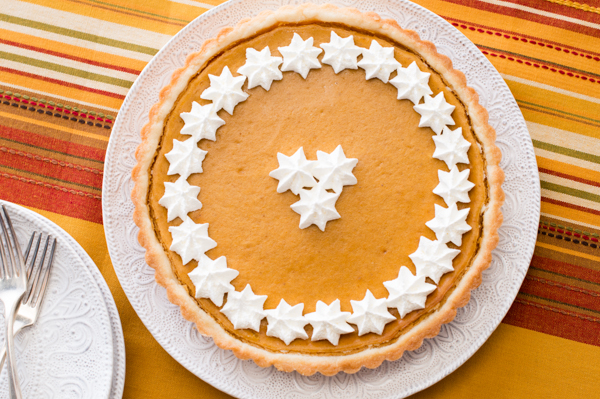 Nothing says fall like the flavor of pumpkin, especially the autumnal favorite: Pumpkin Pie.  This recipe is as straightforward as the pie your mom made, but by starting with fresh roasted pumpkin, you'll be taking that family tradition to new heights.  For added beauty, consider preparing it in a fluted tart pan, as we've done here.  Your guests will be impressed!
One Pie Pumpkin makes the perfect amount of puree once roasted.  Choose a small, softer skinned pumpkin versus a shiny, harder skinned gourd.
The pumpkin can be roasted in advance if you like, but sometimes we all wait until the last minute!  For perfect timing, start the pie making process with roasting the pumpkin.  As the pumpkin bakes, use your KitchenAid® Stand Mixer or Food Processor to prepare the crust.  Place the crust into the refrigerator to chill.  At this point your pumpkin should be nearly finished roasting, and you can be preparing the first part of the batter.
45-50 minutes at 350 degrees produces a soft flesh ready to be scraped and pureed.
Once the pumpkin has cooked, you can scrape it and puree it, then scoop it right into the batter you've been working on.
The scraped pumpkin is ready to be used, but a spin in the blender on puree makes for a smoother pie and a more luxurious result.
The KitchenAid® Blender is the perfect appliance for pureeing the roasted pumpkin.  Set to pulse, and puree for 10 seconds at a time, creating a smooth, homemade pumpkin puree.
By the time the batter is ready, the crust will be ready to place into the pan, the oven will already be hot, and your pie can be baked.  So easy!
Top your pumpkin pie with fresh made whipped cream and a dusting of cinnamon for the ultimate in holiday desserts.
With so many wonderful holidays approaching, and so many people to share your baking with, I hope this pie will be the start of many great traditions for you!
Pumpkin Pie Tart
Makes 1 9-inch pie
INGREDIENTS
For the pie filling
8 ounces cream cheese, softened
1/2 cup sugar
2 tablespoons brown sugar
1/3 cup sour cream
2 tablespoons heavy whipping cream
1 egg
2 egg yolks
2/3 cup pureed roasted pumpkin (see below)
1/2 teaspoon salt
1 teaspoon vanilla
1 teaspoon roasted cinnamon (regular cinnamon is okay)
1/2 teaspoon ginger
For the shortbread crust

3/4 cup butter, softened
1/2 cup powdered sugar
1 1/2 teaspoons vanilla
1/4 teaspoon almond extract
1 1/2 cups All-Purpose Flour
1/4 teaspoon salt
DIRECTIONS
For the pie filling
In a mixing bowl, cream together sugars and cream cheese.  Add sour cream and whipping cream and mix thoroughly. Add eggs one at a time, incorporating well and scraping the sides of the bowl each time.  Add pumpkin, salt, vanilla and spices.  Stir together and pour into tart pan lined with shortbread dough.  Bake at 350 until just set in the center, about 30-35 minutes.  Pipe whipped cream as embellishments, if desired.
For the shortbread crust
Cream butter and powdered sugar. Add vanilla and almond extracts.  Cut in flour and salt.  Cream together until just combined, then wrap in plastic and place in refrigerator for one hour.  Allow the dough to come back to room temperature and roll out to 1/4 inch thickness, then press into 9 inch tart pan.  Bake after filling with pumpkin filling.
Tip 1:  Do not overwork your pie crust.  Once the dough has come together, allow it to rest.  This will keep it light and flaky, not tough.  If you are preparing it in the fluted pan, you can simply press the dough into place versus rolling it out first.
Tip 2:  If after 30 minutes your pie crust is browning but the center still feels shaky, a crust guard or even aluminum foil over the edge of the pie will keep the crust from overbaking while the filling gets done.
How to Roast Pumpkin
Cut the top and bottom off of a Pie Pumpkin.  Halve the pumpkin, and remove all seeds and fibers, leaving only the cleaned out shell.  Brush insides with melted butter, and invert onto baking sheet.  Roast for 45-50 minutes in a 350 degree oven, or until pumpkin is soft.
Scrape roasted flesh of pumpkin away from the rind and puree in blender until smooth.

Print
*The Contributor of this post has been compensated by KitchenAid for this post, but this post represents the Contributor's own opinion.*