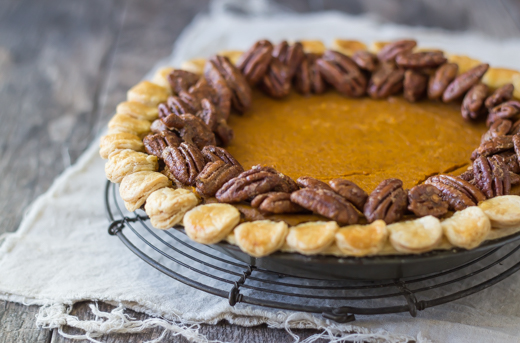 It just wouldn't be Thanksgiving if there wasn't a glorious pumpkin pie on the table! This one is sure to please your guests, with a flaky, buttery crust, a smooth spiced custard filling, and an unforgettable garnish of crunchy candied pecans!
It all begins with the pastry. This recipe yields the most incredibly flakey result, thanks to a few deft folds, and a bit of patience with the chilling. Cold butter is so key to a perfect result when it comes to making pies, so it really pays to make the dough ahead of time so it has plenty of time to chill.
After rolling it out, transfer it to your pie tin, and use a sharp paring knife to cut away any excess. The scraps can be used to create a fun decorative edge!
While the pie shell chills, you can get going on the filling. This pumpkin custard is super-smooth and creamy, thanks to a quick whirr in the KitchenAid® Pro Line® Series Food Processor. Pumpkin puree, cream, brown sugar, eggs, and spices come together for an easy pie filling that's so comfortingly familiar!
Transfer the pumpkin pie filling to the prepared shell…
…and here is where you can really let your creativity shine. I cut small circles of dough from my leftover dough scraps using the larger end of a piping tip. Adhere them to the edge with a little egg wash, and then brush them with more egg wash, to give them a golden shine.
And then into the oven it goes! This pumpkin pie will make your whole house smell incredible!
The crowning touch to this wonderful dessert is the candied pecans. Pecan halves are coated in a mixture of spices, and baked crisp. They're light, sweet and savory, and warmly spiced, with a bright hint of citrusy orange. Completely addictive! And the perfect seasonal complement to an iconic Thanksgiving dessert.
Be sure to share your pumpkin pie with us on Instagram using #MadeWithKitchenAid for a chance to be featured.
Pumpkin Pie with Candied Pecan Topping
INGREDIENTS
For the pumpkin pie
1/2 batch Simply Perfect Pie Dough
15 ounces (425 grams) pumpkin puree
1 1/2 cups (375 milliliters) heavy cream
3/4 cup (137 grams) lightly packed dark brown sugar
2 large eggs (100 grams)
1 teaspoon ground cinnamon
1/2 teaspoon ground ginger
1/2 teaspoon kosher salt
1/4 teaspoon ground cloves
Egg wash (1 egg beaten with 2 teaspoons of water)
For the candied pecans
2 tablespoons light brown sugar
1/2 teaspoon ground cinnamon
1/4 teaspoon ground ginger
1/4 teaspoon kosher salt
A pinch of ground cloves
Zest of half an orange
1 egg white
1 1/2 cups (148 grams) pecan halves
DIRECTIONS
For the pumpkin pie
Preheat the oven to 425 degrees F.
On a floured surface, roll out the pie dough to about 2-inches larger than the diameter of your pie plate. Line the pie plate with the dough, and trim off excess with a sharp paring knife. Refrigerate. Cut small circles from the dough scraps, to decorate the edge of the pie crust. Refrigerate.
Place the pumpkin puree, cream, brown sugar, eggs, spices, and salt in the bowl of a KitchenAid® Pro Line® Series Food Processor. Process for about a minute, or until well incorporated. Transfer the filling to the reserved pie shell. Brush the crust edge with egg wash, and arrange dough circles in a decorative pattern. Brush decorative edge with egg wash.
Bake for 15 minutes at 425 degrees F, then lower the oven temperature to 350 degrees F, and bake for an additional 40-50 minutes, or until set around the edges but still slightly soft in the center.
Cool completely. Garnish with Candied Pecans just before serving.
For the candied pecans
Preheat the oven to 250 degrees F.
Place the pecan halves in a bowl and add the egg white. Stir to coat.
Place the brown sugar, spices, salt, and zest in a small bowl, and stir to combine. Add the mixture to the nuts and toss, coating the nuts.
Transfer the nuts to a parchment-lined baking sheet, in a single layer, and bake for 60 minutes. Nuts will become crisp as they cool.

Print
*The Contributor of this post has been compensated by KitchenAid for this post, but this post represents the Contributor's own opinion.*