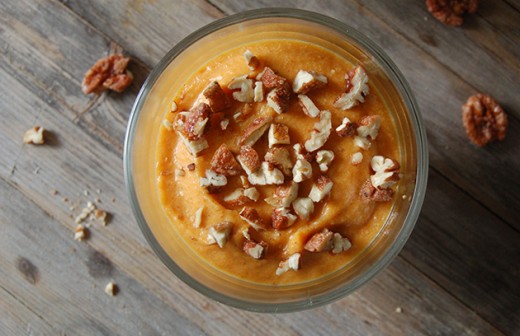 I know, I know. We are all aware of what's happening around us. Fall has graced us with its presence once more and we couldn't be more excited about it.
I mean, look around you! It's all so beautiful and delightful! The leaves sway, dance, and fall from the trees, and are gradually turning a beautiful range of hues: browns, oranges, yellows. The air is crisp and we can't help but crave comfort, warmth, and delicious desserts that are symbolic of this season.
Well, speaking of delicious fall desserts, this Pumpkin Mousse with Maple-Glazed Pecans is a complete emblem and celebration of this season. It is smooth, creamy, and sweet with a hint of warmth from the spices. It has a wonderful pumpkin flavor and the crunchy maple-glazed pecans is such a lovely contrast to the softness and airiness of the mousse.
So let me ask you: Are you ready to fall into autumn without holding back? Are you ready to celebrate this season with this delicious pumpkin mousse? Great, then let's get started! Thanks to the KitchenAid® Hand Mixer, this pumpkin mousse is just a few steps away.
First we are going to make the maple-glazed pecans.
They are wonderfully crunchy and sweet, with a hint of saltiness. Toss them, along with the spices and the maple syrup in a bowl and spread them over a sheet tray. Bake them and voilà!
Then we are going to make our fluffy Swiss Meringue. It's such a shiny and smooth meringue. The egg whites are cooked over a bain-marie until they reach a temperature of 140 F-165 F. If you're worried about consuming raw egg whites, fear not. Swiss meringue is completely safe to eat, since the egg whites are cooked to a safe range temperature that would kill any existing bacteria. It is advised to keep your bowl and whisk completely clean when making the meringue. Water and any trace of egg yolk will prevent the proteins in the eggs to recombine in a new structure and form a meringue.
Once the egg whites have reached the correct temperature range, we are going to whip them at high speed with the KitchenAid® Hand Mixer until it becomes fluffy and stiff peaks form. The KitchenAid® Hand Mixer will introduce air and allow the egg whites and sugar to whip easily and quickly until the right consistency is achieved.
In a separate bowl we combine the pumpkin puree and the spices. We also melt the white chocolate over a bain-marie. The chocolate used for this recipe should be pure white chocolate and not the white chips or morsels that contain partially hydrogenated palm oil, soybean oil, palm kernel oil, or cottonseed oil.
We combine the pumpkin puree with the melted white chocolate and fold the Swiss meringue in with the pumpkin puree/white chocolate mixture. Stir well to combine.
In a separate bowl we whip heavy cream with the KitchenAid Handmixer, until soft peaks form and the cream bends and falls off the whisk. We then lighten and fold the whipped cream in with the reserved pumpkin puree/white chocolate/Swiss meringue mixture.
We're almost there! It's time to pipe or pour the mousse into serving glasses and top each glass of with some chopped maple-glazed pecans.
And there you go! Just like that you have made Pumpkin Mousse with Maple-Glazed Pecans from scratch. What a great and delicious way to celebrate fall! Dig in and enjoy! For more detailed instructions please view the recipe below.
Pumpkin Mousse with Maple-Glazed Pecans
Makes 6 servings
INGREDIENTS
For the maple-glazed pecans
1 cup pecans
1 tablespoon light brown sugar
1/4 teaspoon cinnamon
1/8 teaspoon salt, about a dash
1 tablespoon + 2 teaspoons maple syrup
For the pumpkin mousse
4 egg whites (about 2/3 cup)
1 cup sugar
3 cups pumpkin puree
2 cups white chocolate, roughly chopped
1/2 teaspoon cinnamon
1/8 teaspoon nutmeg, about a dash
1/8 teaspoon allspice, about a dash
2/3 cup heavy cream
DIRECTIONS
Make maple glazed pecans. Preheat oven to 350 F. Toss pecans, light brown sugar, cinnamon, and salt in a bowl. Add maple syrup and toss once more with your hands or a spatula until all pecans are completely covered in maple syrup. Pour pecans onto a sheet tray and bake for about 5 minutes. Pull sheet tray out of oven and toss pecans with a spatula. Return sheet tray to oven and continue baking for an additional 4-5 minutes, until pecans are caramelized and toasted all throughout. Transfer sheet tray to a wire rack and allow them to cool completely.
Make Swiss meringue. Fill a large pot halfway with water. Bring water to a boil. Meanwhile, combine egg whites and sugar in a heatproof bowl and place bowl over the pot of steaming water. Turn heat down so that water maintains a low and gentle simmer. Whisk egg whites and sugar periodically until mixture reaches a temperature of 140 F – 165 F. Turn heat off and remove bowl from heat. Mix at high speed with a hand mixer until peaks form. Set Swiss meringue aside.  Wash and dry hand mixer whisks for later use. (Note: If you don't have a thermometer, you can test the temperature by dipping the tip of your finger into the egg whites and sugar mixture. The egg whites and sugar have reached the right temperature range once the high temperature doesn't allow you to leave you finger in for more than 2 seconds).
Meanwhile, in a separate bowl whisk pumpkin puree with cinnamon, nutmeg, and allspice. Set aside for later use.
Place white chocolate in a medium-sized bowl. Heat the same pot of water that was used to make the Swiss meringue until it begins to boil once more. Turn the heat off and place bowl of white chocolate over pot of water. Allow chocolate to completely melt, stirring occasionally.
Pour white chocolate over pumpkin puree. Whisk or stir until white chocolate and pumpkin puree are completely combined. Set white chocolate/pumpkin puree mixture aside for later use.
Pour heavy cream into a separate bowl and whip with a hand mixer on medium speed until soft peaks form and cream bends and falls off of whisk.
Fold Swiss meringue into white chocolate/pumpkin puree mixture with a spatula until there are no visible traces of meringue in the mixture.
Fold whipped cream into white chocolate/pumpkin puree/meringue mixture until well combined.
Pour or pipe pumpkin mousse into serving glasses and fill them about 2/3 of the way up. Smooth the surface of the mousse with the back of a small spoon or a small spatula. Cover serving glasses with a sheet of plastic wrap and refrigerate for about 2 hours. (Note: Mousse will seem very soft at first, but it will firm up in the fridge).
Chop maple glazed pecans and sprinkle about 1-2 tablespoons over the top right before serving.
Refrigerate for 4-5 days.

Print
*The Contributor of this post has been compensated by KitchenAid for this post, but this post represents the Contributor's own opinion.*