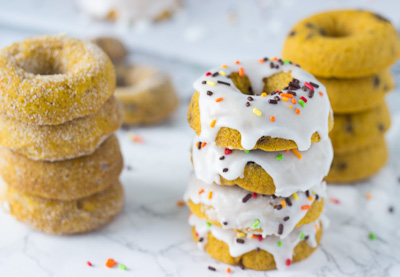 It's officially pumpkin season! Why is it that we only indulge in this wonderful flavor in the fall? For something so wonderful to only be treasured for 3-4 short months is a travesty if you ask me.
It must be the lovely crisp fall air or the golden leaves falling that put us in the warm and comfortable mood for pumpkin. Pumpkins fit right in there and there's no time like the fall to throw a pumpkin donut party.
How do you throw a pumpkin donut party? You make several kinds of pumpkin donuts and you serve your guests an array of warm beverages. May I suggest hot apple cider (spiked if you dare with whiskey!) along with an assortment of teas and lattes.
To make the star items of the party, just start with a basic pumpkin donut recipe. I love baked donuts because they are easier to make and are pretty much mini cakes in a donut form (soft, moist and crumbly to the taste). Using my KitchenAid® Professional-Grade Nonstick Mini Doughnut Pan, I made these donuts in the miniature size…cuter and easier to indulge in.
With a basic batter as a canvas, we can make several types of pumpkin donuts. Here I added chocolate chips to a third of the batter for pumpkin chocolate chip donuts.
Another third received coconut extract and some coconut flakes for a pumpkin coconut donut delight.
The last third was left simple for those purists among your guests.
Once baked, the toppings are also a great way to add another layer of flavor to the donuts.
Coated with cinnamon sugar, an apple cider glaze or plain vanilla glaze, the donuts are ready to shine at any party.
Now, don't you want to throw a pumpkin donut party? Happy fall!
Pumpkin Donuts
Makes 4 dozen mini donuts
Recipe inspired by King Arthur Flour
INGREDIENTS
1 teaspoon ground cinnamon
1/4 teaspoon ground ginger
1/4 teaspoon freshly grated nutmeg
1/2 teaspoon kosher salt
1 1/2 teaspoon baking powder
1 3/4 cup all-purpose flour
1/2 cup vegetable oil
3 large eggs, room temperature
1 1/2 cup granulated sugar
1 1/2 cups pumpkin puree
1/3 cup mini chocolate chips
1/3 cup unsweetened coconut flakes
1/4 teaspoon coconut extract
For toppings
Glaze (1 cup powdered sugar and 2-3 tablespoons apple cider mixed together until the glaze is spreadable. Add more cider if needed)
Cinnamon sugar (1/2 cup granulated sugar and 1 teaspoon ground cinnamon mixed together)
Sprinkles
DIRECTIONS
Preheat oven to 350 degrees F. Coat your KitchenAid® Professional-Grade Nonstick Mini Doughnut Pans with baking spray.
In a large bowl, whisk together the cinnamon, ginger, nutmeg, salt, baking powder and flour. In another bowl, whisk together the vegetable oil, eggs, sugar and pumpkin puree. Pour the wet ingredients into the dry. Using a spatula, mix until just combined making sure there are no flour streaks in the batter.
Divide the batter into three equal parts. Add the chocolate chips to the first third, fold the coconut flakes and coconut extract into the second third and leave the final third as is.
Spoon donuts into prepared pans with batter, filling 2/3 the way. Bake for 9-10 minutes until a cake tester inserted into the middle comes out clean. Remove from pan and let cool slightly.
To top with cinnamon sugar: Toss warm donuts in cinnamon sugar.
To top with glaze: Dip cooled donuts in glaze and let glaze set for 10-15 minutes.

Print
*The Contributor of this post has been compensated by KitchenAid for this post, but this post represents the Contributor's own opinion.*