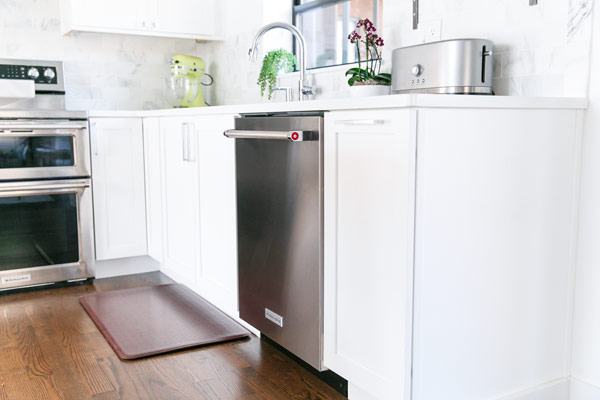 I think we can all agree that washing the dishes is everyone's least favorite part of cooking. In the process of writing our two cookbooks, we exhausted ourselves with the sheer quantity of dirty dishes we produced. At that point in our lives, we lived in an apartment with a basic dishwasher that was little more than a glorified sanitizer. Everything had to be rinsed before going in. It was miserable.
We've since moved and upgraded to a KitchenAid® Dishwasher with Dynamic Wash Arms and Bottle Wash and, needless to say, we're in love. I didn't know it was possible to love a dishwasher, but this thing proved me wrong. Having a good dishwasher (especially one with a dynamic wash arm that has wash arms dedicated to soaking, scrubbing, and corners) for the first time in our lives has made all the difference in the world and has made cooking enjoyable once again.
With a few basic tips and loading techniques, and an understanding of the many features this amazing Dishwasher offers, you'll never need to soak, scrub or rinse a dish again.
What is the best way to load this Dishwasher, anyway? A good dishwasher (especially one with nine dynamic spinning wash arms like this one) will reach every nook and cranny, cleaning your dishes whether you load it front to back, side to side, or everything facing the middle.
That said, to optimize performance, there are a few general guidelines for loading your Dishwasher properly:
—Obviously, don't throw your dishes in there willy nilly.
Make sure the dishes are not overlapping, touching or interfering with the wash arms. As a general rule, load your dishes between tines, with the soiled side facing down and to the center. Bowls should be facing down or sideways, so they don't collect water.
—Make sure dishes are not touching one another to prevent chipping/damage, as well as clattering noises while running.
—Plastic or other heat-sensitive items should be placed on the top rack.
—Bigger items such as baking pans, mixing bowls, and dinner plates should be placed on the bottom rack. Smaller items like glasses and cups should be placed on the upper rack. Things like cereal bowls can go on either rack, wherever there is space.
—Small utensils, flatware, and cutlery should be placed on the third level rack or in the utensil basket, so they don't fall through the slats.
—Utensils can be loaded handle up or down in the open utensil baskets (sharp items always pointed down), or you can use the utensil cover to assist with separation and organization. To prevent spoons and forks from "nesting" together you can mix them up or alternate having some pointing up and some down.
—No need to pre-rinse dishes: just scrape off any leftover food and load the dishes as is.
—If it says hand wash only, don't put it in the Dishwasher (seriously, there's a reason it says that).
The inside of the Dishwasher is lit by LED bulbs (ooo! ahhh!) and features smooth sliding pull out racks.
Lasagna night? We all know that baked on cheese and tomato sauce is not easy to clean. That's where the ProScrub® feature comes in handy. Just place your dish on the lower rack facing the back of the Dishwasher, and turn on the ProScrub® Option. The ProScrub® jets at the back of the dishwasher will power away tough, stubborn messes.
The Bottle Wash feature is helpful for narrow-neck bottles and tall glasses that are otherwise very hard to clean. Simply position the adjustable bottle wash nozzles inside the item you want to wash. These high-powered nozzles will blast away any mess in those hard to reach places.
The Dishwasher itself is incredibly flexible, depending on what you're washing. Need more space in the top rack? Press the adjusters to lower the rack, giving you more space up top. Or move the rack to the upper position to fit taller pans and bowls in the lower rack. Some of the tines on the lower rack are also adjustable (sliding or fold-down) and can be moved to accommodate larger or unusually shaped items.
The upper rack also features two fold-down racks, perfect for small cups, ramekins or stemmed wine glasses.
The third level rack is the ideal spot for spatulas, cutlery, blades from the food processor attachments, and larger serving utensils, which frees up space in the lower two racks and utensil basket.
Not sure what options to choose? However you load it, the ProWash™ Cycle feature automatically detects ideal cycle for washing based on the soil level, and makes real-time adjustments to achieve the best cleaning performance.
Having my Dishwasher has made the entire process of cooking more enjoyable since clean up is a breeze!
*The Contributor of this post has been compensated by KitchenAid for this post, but this post represents the Contributor's own opinion.*