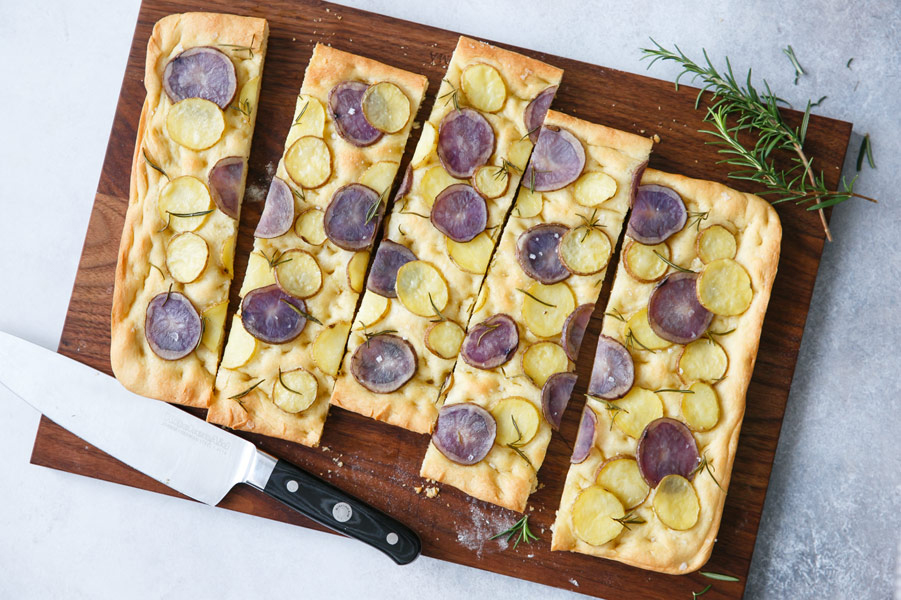 This authentic Italian focaccia is a yeasty canvas for your culinary imagination!
We've done a topping of sliced multi-colored potatoes and rosemary (one of our favorite focaccia variations we enjoyed on our honeymoon in Italy 7 years ago), but you could also top this bread with pitted Kalamata olives, cherry tomatoes, anchovies or a sprinkle of parmesan cheese.
The dough itself is quite easy to make, needing only five ingredients plus water.
We found Italian-style 00 flour to be the best in terms of texture; the super finely milled flour produces a light and airy focaccia that is simply divine.
That said, you can use all-purpose flour as well, your final product will just be a little bit denser. I recommend weighing your flour either way, since the two kinds of flour are not identical.
Mix the dough in the KitchenAid® Stand Mixer. Start mixing the dough with the flat beater, just until the dough comes together. Then switch to the dough hook and let the Stand Mixer do the hard work for you.
After about five minutes of kneading on low speed, the dough will be smooth and slightly sticky. It should pull off the sides of the bowl, but still stick to the bottom.
Turn the dough out onto a lightly floured surface and hand knead a few times just until the stickiness is mostly gone, then form the dough into a smooth ball.
I reuse the KitchenAid® Glass Bowl to let the dough rest. Just toss the dough into the Glass Bowl with a few plugs of olive oil to prevent it from sticking.
Cover lightly and let it sit in a warm spot for 30 minutes. It won't double in size, but it will definitely be noticeably larger in volume after this rest period.
This is one situation where I absolutely love the Glass Bowl. It really lets you visually see just how much your dough has risen.
Generously oil a quarter sheet pan (use a half sheet pan with a double batch if you prefer). Turn out the dough onto the pan, then spread out into a rectangle.
Fold the dough in half, then half again, then in half one more time. Rotate the dough 90 degrees so that the longer side is parallel with the longer side of the pan.
Cover loosely with plastic wrap and then let it rise in a warm spot for about 60 minutes or until doubled in size.
Press out the dough again to fill out the full sheet pan in an even layer.
Poke holes all over the top of the dough with your fingers, spreading them out and moving them to tear up the dough. It's okay (in fact, it's good) if you tear the dough a bit all the way through. There's no need to be gentle here. This action will produce the lovely craggy texture that is so distinct to focaccia.
Drizzle or brush the top of the dough with olive oil. At this point, you can simply sprinkle with sea salt and bake it as is.
But, if you want any toppings, now is the time to add them. We tossed our potato slices first in olive oil, but for other toppings like olives or tomatoes this step is unnecessary.
Arrange the toppings on top of the dough, then drizzle with a bit more olive oil and sprinkle generously with sea salt. Lightly cover and let rest one more time for about 30 minutes while your oven preheats.
You may have noticed that focaccia dough needs a bit more attention than other bread doughs, including two 30 minute rests and one 60 minute rise. This allows the yeast ample time to do its job, creating the airy bubbles and mild yeasty flavor that distinguishes focaccia from other breads.
The other distinction? Olive oil. Lots of it. Both in the dough itself as well as slathered over every surface it touches, as well as drizzled generously on top. And yet, despite the amount of oil present in this recipe, the final product is far from oily.
Let the baked bread rest for about 10 minutes, then slice for serving. While the bread is best warm, you can store it in an airtight bag for later use (rewarm prior to serving).
This basic focaccia recipe is the prefect canvas for infinite topping ideas. I've shared my favorite, now tell me, what would you put on yours?
Share your take on this Potato & Rosemary Focaccia on Instagram using #ForTheMaking for a chance to be featured.
Potato & Rosemary Focaccia
Makes 6-8 side servings
Total time: 3 hours
INGREDIENTS
1 tablespoon active dry yeast
3/4 cup lukewarm water (90-100° F)
2 cups (9 1/2 ounces) 00 flour or an equivalent weight of all purpose flour
1/4 cup olive oil, plus more as needed for preparation
2 teaspoons honey
1 1/2 teaspoons kosher salt
8 ounces small multicolored potatoes, thinly sliced
Fresh rosemary, leaves removed from stems
Coarse flake sea salt (for finishing)
DIRECTIONS
In a small bowl, whisk yeast into the lukewarm water until dissolved and frothy (if your yeast doesn't fully dissolve or get frothy, that means it is dead; throw it out and get fresh yeast).
In the bowl of the KitchenAid® Stand Mixer, combine flour, olive oil, and honey.
Add the yeast and mix with the flat beater until just incorporated.
Add salt, then switch to the dough hook and knead on low speed for 5 minutes or until smooth and still slightly tacky.
Turn out the dough onto a lightly floured surface and knead once or twice, forming the dough into a smooth ball.
Pour a glug or two of olive oil into the KitchenAid® Glass Bowl or stainless steel bowl and roll the dough ball in the oil until coated. Cover lightly with plastic wrap or a clean kitchen towel and let rest in a warm place for 30 minutes until noticeably puffed.
Generously oil a non-stick quarter sheet pan. Turn out the dough onto the sheet pan and press out into a rectangle. Fold in half lengthwise, then fold in half crosswise. Lastly, fold in half once more to form a rectangle.
Turn 90º so the long side of the rectangle is parallel to the long side of the sheet pan. Cover loosely with plastic wrap and set in a warm place to rise until doubled in size, about 1 hour.
Preheat the oven to 400° F.
Remove the plastic wrap, then press out the dough once again to fill the entire sheet pan at an even thickness.
Poke your fingers down into the dough to form indentations, pressing out your fingers and moving your hands to tear up the dough a little bit (no need to be gentle with this, you want the craggy texture and it's okay if you tear holes clear thorough the dough).
Drizzle generously with a few tablespoons of olive oil, spreading the oil out with your hands to evenly coat the surface of the dough.
In a bowl, drizzle the potato slices with a few glugs of olive oil and toss to coat.
Arrange the potato slices over the top of the dough, then sprinkle with rosemary and a generous pinch or two of coarse sea salt.
Loosely cover and let rest for about 30 minutes until slightly puffed and the oven is thoroughly preheated.
Bake the focaccia for 20-25 minutes or until the top is light golden brown and the bread sounds hollow when tapped.
Remove from the oven and let cool for 10 minutes before lifting from the sheet pan and slicing into pieces. Serve warm.
Print
*The Contributor of this post has been compensated by KitchenAid for this post, but this post represents the Contributor's own opinion.*