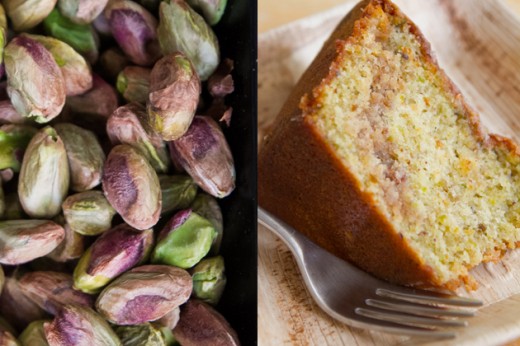 My love affair with pistachios began back in college with a pistachio and chocolate chip pound cake a friend's mom would send us every couple of months.  It was bright green, moist, and just the thing to help us reach our "freshman 15".  Like most foods that leave a lasting impression, it's sometimes hard to get the guts to try out the recipe yourself.  There's the fear it won't live up to your extremely high expectations.
In doing research for pistachio cakes, I was struck by how almost none of them called for pistachio nuts and, instead, included pistachio pudding.  Maybe that's why my favorite cake back from college had been so vibrant in color.
I decided that if I was going to bake something, I'd have to use fresh pistachio meat.  Now, shelled pistachios can sometimes be challenging to find, but most gourmet grocers carry them.
This pistachio sour cream coffee cake requires two pieces of equipment.  The first is a food processor, for which I used my KitchenAid® 13-Cup Food Processor (though a smaller one is fine too).  In order to incorporate the pistachio into the batter, I pulsed some of them until they were chopped very, very finely (a coarse flour, if you will).
I also pulled out my handy KitchenAid® Stand Mixer to make the batter, which came out fluffy and oh so delicious (Am I the only one who can't resist eating the batter straight from the bowl? I mean, you have to test it, right?).
This cake exceeded my expectations. While it lacked the bright green color I remember, it was full of such wonderful pistachio flavor.  It was so good, in fact, that I had to send my husband with half of it to share with his coworkers.
Pistachio Sour Cream Coffee Cake
Makes 12-14 servings
INGREDIENTS
For the cake batter
1 1/2 cups unsalted pistachios, meat only
1 1/2 sticks (12 tablespoons) unsalted butter, brought to room temp
1 1/4 cup granulated sugar
1 1/2 cups all-purpose flour
1 1/2 teaspoons baking powder
1/2 teaspoon baking soda
1/2 teaspoon salt
3 eggs
1 teaspoon almond extract
1 teaspoon vanilla extract
1 cup sour cream
For the streusel
1/2 cup all-purpose flour
1/4 cup sugar
1/4 cup light brown sugar, packed
3/4 cup unsalted pistachios, meat only coarsely chopped
1/4 teaspoon Kosher salt
1 teaspoon allspice
4 tablespoons unsalted butter, melted
For the glaze
3/4 cup confectioner's sugar
2 tablespoons milk
DIRECTIONS
Using a food processor, grind 1 1/2 cups of unsalted pistachios until it turns into a coarse flour.
Prepare a 10 inch tube pan by greasing and lightly flouring.
Preheat oven to 350 degrees.
In a bowl, whisk together all-purpose flour, pistachio flour, baking powder, baking soda, and 1/2 teaspoon salt.
Using a paddle attachment, cream butter and sugar in KitchenAid® Stand Mixer for 3 to 4 minutes, until light and fluffy.  Add eggs, vanilla extract, almond extract, and sour cream. Beat to combine, about 1 minute.
Set the stand mixer to low speed and gradually add the flour mixture and beat to combine.
In a separate bowl, make the streusel by mixing together all the dry ingredients. Pour melted butter over dry ingredients and mix to incorporate. The mixture should be moist, but crumbly.
Pour half the batter in the pan. Sprinkle the streusel evenly over the batter.  Pour the remaining batter on top and spread using a spatula.
Bake for 55 minutes or until a toothpick comes out clean when inserted into the cake. Transfer the cake to a wire cooling rack.
Make the glaze by whisking together the confectioner's sugar and milk.  Pour glaze over cake and let sit for 10 minutes before serving.
Print
*The Contributor of this post has been compensated by KitchenAid for this post, but this post represents the Contributor's own opinion.*