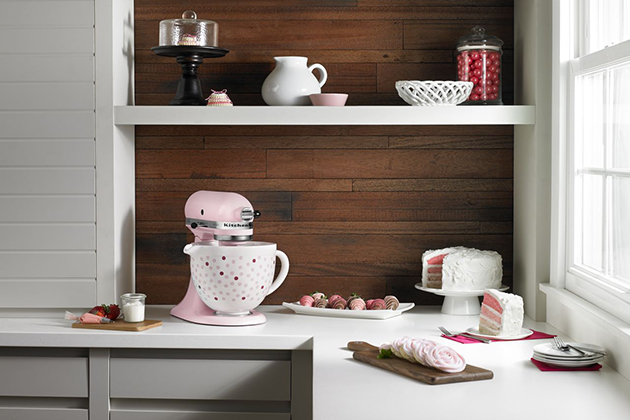 Susan G. Komen® and KitchenAid are uniting for the 14th year in a row to support the fight against breast cancer. The Cook for the Cure® program gives people with a passion for cooking a way to support a meaningful cause. From pink products and celebrity chef auctions to home-based fundraising events, this partnership between KitchenAid and Susan G. Komen® has raised more than $10 million over the past decade.
This year, KitchenAid is partnering with 10 bloggers to help support Cook for the Cure. Each blogger has made a special pink recipe with the new Cook for the Cure Ceramic Bowl, which fits on the Stand Mixer, and will be available at the end of the summer on KitchenAid.com.
Pink Champagne Ice Cream from 1 Fine Cookie
Honey Roasted Beet Panna Cotta with Lemon Mousse from Blahnik Baker
Strawberries & Cream Sheet Cake from The Domestic Rebel
Raspberry Orange Doughnuts from Doughmesstic
Strawberry Cupcakes from Hip Foodie Mom
Raspberry Meringue Roll from Kitchen Confidante
Strawberry Buttercream from Life's Ambrosia
Straw­berry Cup­cakes and Push Pops from Lynlee's
No Bake Raspberry Lemon Cookie Cups from Spoonful of Flavor
Pink Lemonade Ruffle Cupcakes from The Café Sucré Farine
For more information about Cook for the Cure® visit: http://cookforthecure.kitchenaid.com.
*The Contributors of the posts linked to from this post were provided with these products free of charge by KitchenAid, but the posts represent the Contributors' own opinions.*