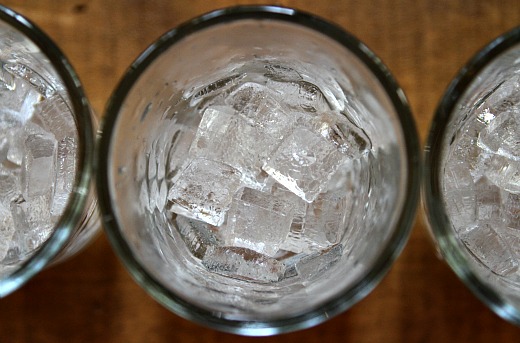 We recently acquired a KitchenAid® 18″ Automatic Ice Maker for our new home. The machine makes small cubed ice that is uniform in size, and it uses Clear Ice Technology to generate up to 35 pounds of ice in just 24 hours.
Our new home has a unique space over the garage:  a large bar and party room. We love to entertain, and we have people over all the time to hang out in our bar. People who want beverages! We tried to have a go at it without an ice machine by dragging ice upstairs every time we had guests. I'm sure you can imagine how that went. It became evident very quickly that we needed an ice machine in our bar.
We had plenty of counter space and a small sink behind the bar. The ice machine was the perfect addition near the sink and between the cupboards and drawers where we store glassware.
It is now so incredibly convenient for us to have ice at hand for mocktails. And the machine makes enough ice to get us through a long party too. There's a drop down door with a scoop stored on a small shelf. It's so easy to open, get what we need and close it back up.
We just grab that scoop and slide the ice into our glasses. The Clear Ice Technology provides a uniform 3/4″ x 3/4″ x 1/2″ size and shape that is ideal for daily use or a variety of entertaining needs. My son has friends over frequently to play in our upstairs gameroom. Having a teenager in a home where we have a really cool gameroom means that we are entertaining a lot of kids all the time. What we've learned:  teenagers are thirsty creatures! Having the KitchenAid® 18″ Automatic Ice Maker available means that we don't have to keep sodas and other drinks refrigerated. The kids can just fill their glasses with ice and pour their desired drink on top.
Here are three mocktails we make quite often in our bar:
The Roy Rogers:  Coca Cola with a splash of grenadine, maraschino cherry for garnish
The Arnold Palmer:  half iced tea, half lemonade, lemon for garnish (if desired)
The Shirley Temple:  Sprite with a splash of grenadine, maraschino cherry for garnish
The kids are always happy to have something special to drink. We all appreciate the convenience of having ice at hand. And we're loving the KitchenAid® Ice Maker!
*The Contributor of this post has been compensated by KitchenAid for this post, but this post represents the Contributor's own opinion.*