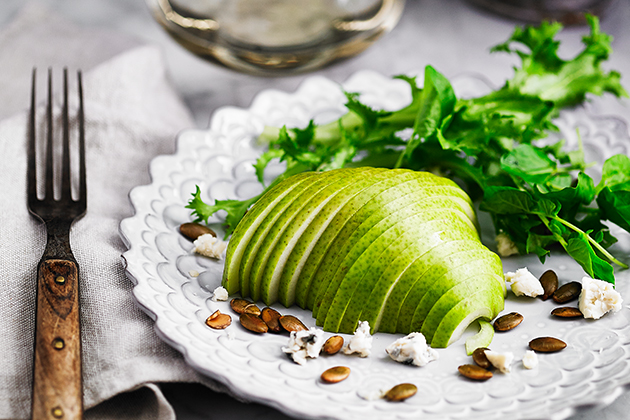 Pear Salad with Blue Cheese Dressing
Makes 4 servings
INGREDIENTS
2 d'anjou pears
4 cups mixed watercress, frisee and curly endive
1⁄3 cup pumpkin seeds, roasted and salted
For blue cheese dressing
1/2 cup sour cream
1 1/2 teaspoons white wine vinegar
4 tablespoons buttermilk
1 clove roasted garlic, mashed
1/4 cup blue cheese, crumbled
1/4 teaspoon freshly ground black pepper
Additional blue cheese for topping
DIRECTIONS
Attach Spiralizer Attachment to your KitchenAid® Stand Mixer. Center one pear on the fruit and vegetable skewer; attach to Spiralizer. Attach spiral slice large core blade and position at end of pear. Turn stand mixer to speed 6 and process until blade reaches end of pear. Repeat with remaining pear. Stand pears on end and cut down the center to make half circles. Set aside.
Combine sour cream, white wine vinegar, buttermilk and garlic in a small mixing bowl. Gently fold in blue cheese. Season with black pepper. Refrigerate until ready to use. Can be made 1 day ahead.
Divide greens between 4 salad plates. Arrange 1/2 pear on top and sprinkle with pumpkin seeds. Drizzle with blue cheese dressing or pass separately along with additional blue cheese.

Print
*The Contributor of this post has been compensated by KitchenAid for this post, but this post represents the Contributor's own opinion.*