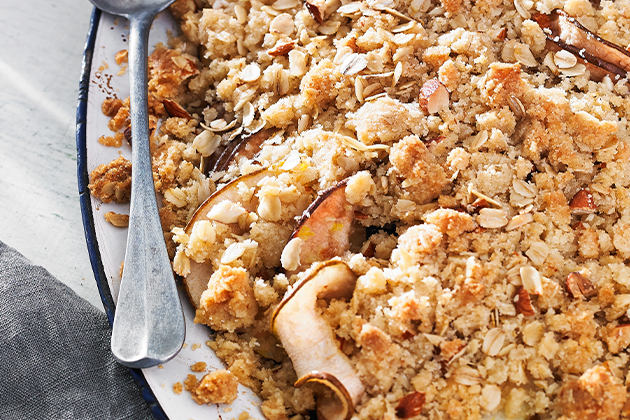 Pear Crisp
Makes 8 servings
INGREDIENTS
1/2 cup whole almonds
1 cup all-purpose flour
1 cup old-fashioned oats
3/4 cup packed brown sugar
1/2 teaspoon salt
1/2 cup (1 stick) cold butter, cut into cubes
4 d'anjou pears
1 teaspoon fresh lemon juice
1/2 teaspoon grated fresh ginger
Ice cream or whipped cream (optional)
DIRECTIONS
Preheat oven to 375°F
Grease 9-inch square baking pan.
Place almonds in food processor; pulse about 15 times or until coarsely chopped. Add flour, oats, brown sugar and salt; break up brown sugar with wooden spoon. Pulse 5 times to combine. Add butter; pulse until mixture forms coarse crumbs.
Attach Spiralizer Attachment to KitchenAid® Stand Mixer. Center one pear on fruit and vegetable skewer; attach to Spiralizer. Attach spiral slice small core blade and position at end of pear. Turn mixer to speed 4 and process until blade reaches end of pear. Repeat with remaining pears. Arrange pears in prepared baking pan. Combine lemon juice and ginger in small bowl; brush evenly over pears. Sprinkle with crumb mixture.
Bake 40 to 45 minutes or until topping is golden brown and pears are tender. Cool slightly. Serve with ice cream, if desired.
Print
*The Contributor of this post has been compensated by KitchenAid for this post, but this post represents the Contributor's own opinion.*