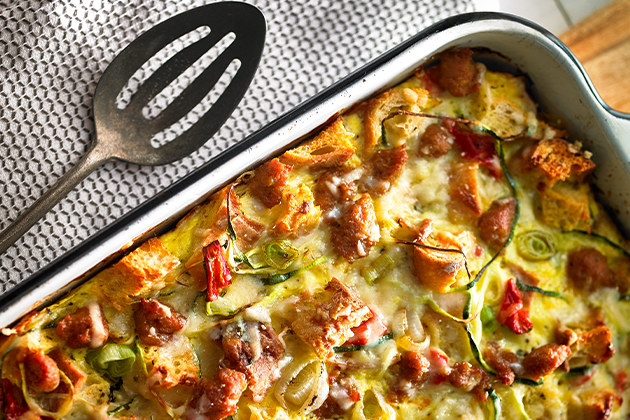 Overnight Zucchini and Turkey Sausage Whole Wheat Egg Strata
Makes 10-12 servings
INGREDIENTS
1 pound loaf whole wheat bread (rustic type loaf, not sandwich bread)
2 medium zucchini (7 inches x 2 inches)
2 tablespoons olive oil, divided
12 ounces fresh mild Italian turkey sausage
1 cup quartered and thinly sliced leek, light
green and white parts only
1 1/4 teaspoons kosher salt, divided
1 cup chopped roasted red pepper, patted dry
2 cups (8 ounces) shredded Gruyere cheese
1 cup grated Parmesan cheese
11 large eggs
2 3/4 cups low fat milk
2 tablespoons spicy brown mustard
1/4 teaspoon pepper
2 teaspoons Italian seasoning
DIRECTIONS
Preheat oven to 350°F.
Slice bread into 3/4-inch cubes. Spread in a single layer on a large sheet pan. Bake until dry and toasted, about 15 minutes. Spray a 13" x 9" x 2" baking dish with non-stick cooking spray or grease with butter.
Attach Spiralizer Attachment to the KitchenAid® Stand Mixer. Trim ends of zucchini. Center one zucchini section on fruit and vegetable skewer; attach to Spiralizer. Attach fine spiralizing blade and position at end of zucchini. Turn stand mixer to speed 4 and process until blade reaches end of zucchini. Repeat with remaining zucchini to yield 4-cups spiralized zucchini.
Heat 1 tablespoon oil in 12-inch skillet over medium heat. Remove sausage from casing and add bitesized pieces to skillet. Brown sausage in skillet for 5 minutes; breaking up any large pieces. Remove browned sausage to plate. Add 1 tablespoon oil to skillet, if needed. Add leeks and 1/4 teaspoon salt. Cook, stirring frequently over medium heat until softened, about 2 minutes. Add zucchini to pan, cook, stirring frequently, for 5 minutes or until all liquid has been released and evaporated. Remove from heat.
Spread half the bread cubes in bottom of prepared baking dish. Arrange half the sausage, half the zucchini mixture and half the roasted peppers over bread. Sprinkle half the Gruyere cheese and half the Parmesan cheese over mixture. Add another layer of bread, sausage, zucchini, roasted peppers and Gruyere. Reserve the remaining Parmesan until the end.
Attach bowl and wire whip to stand mixer. Place eggs, milk, mustard, pepper, Italian seasoning and 1 teaspoon salt in bowl. Whip on medium-high speed until well combined and starting to froth. Pour egg mixture evenly over entire dish. Top with remaining Parmesan cheese. Cover, refrigerate overnight.
When ready to bake, place dish, uncovered on large baking sheet. Preheat oven to 325°F. Bake for 30 minutes. Raise oven temperature to 350°F. Tent dish with foil. Bake for 30-40 minutes or until center is cooked through.

Print
*The Contributor of this post has been compensated by KitchenAid for this post, but this post represents the Contributor's own opinion.*