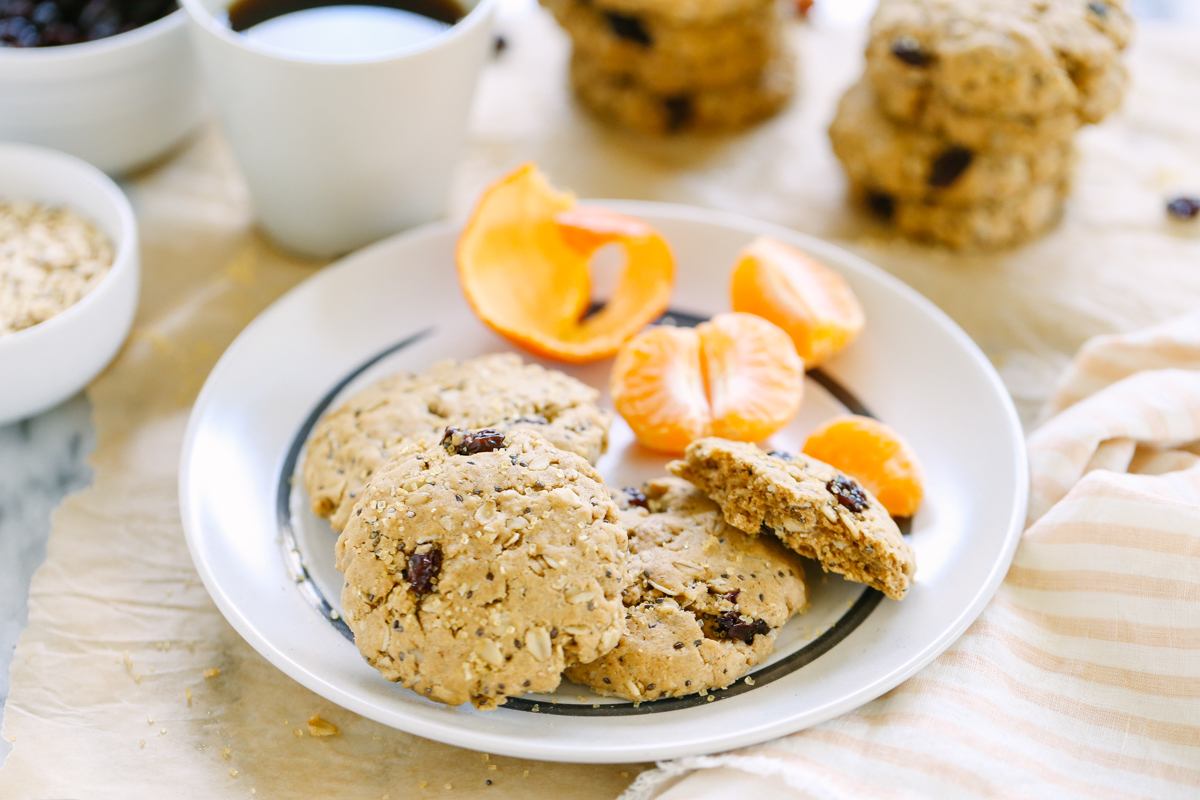 As a child, my mom always reminded me that breakfast was the most important meal of the day. She worked very hard each morning to ensure that each family member left our home with a fully nourished belly (and body).
Now, as a mom of two young children, I have a deep respect and admiration for my mom's commitment to feeding her family a home-cooked breakfast every single morning. I now realize just how much time and effort goes into serving a home-cooked breakfast and getting out the door each morning. It's so much work.
When my oldest child started kindergarten this past year, I began dedicating one hour on Sunday afternoon to prepping breakfast food for the week ahead to help make our mornings simpler. Over the past seven months, we've created a master list of favorite grab-n-go style breakfast food to make on Sunday and stock throughout the week: hardboiled eggs, breakfast casserole, fruit and yogurt parfaits, pancakes, waffles, smoothies, and breakfast cookies.
Breakfast cookies are by far our favorite make-ahead breakfast option. Who wouldn't want to enjoy a cookie for breakfast? What's a breakfast cookie? I'm so glad you asked.
A breakfast cookie is simply a cookie that's made with nourishing or healthy ingredients. To make a breakfast cookie healthier (AKA: breakfast-friendly), white sugar is swapped out with honey or maple syrup, white flour is replaced with whole wheat flour and/or oats, and veggies or dried fruit are added in place of the chocolate chips (or another sweet addition).
One of our favorite breakfast cookie variations, Oat and Chia Breakfast cookies, only require about 10 minutes of hands-on time since all the hard work is done by the KitchenAid® Stand Mixer and our oven.
To start, maple syrup, coconut oil, and peanut butter are whisked together using the whisk attachment. Once whisked, the flat beater attachment is attached to the Stand Mixer, and the remaining ingredients are added to the bowl: old-fashioned rolled oats, whole white wheat flour, cinnamon, baking soda, chia seeds, and raisins.
Finally, the cookies are baked at 350 F for about 13 minutes. The breakfast cookies are delightful treats to enjoy fresh from the oven, and the extras may be stored in the freezer or fridge as a grab-n-go breakfast option. Once the cookies are fully cool, they resemble a cross between a healthy granola bar and a scone.
This recipe can easily be recreated with many different variations. When we tire of raisins, I love to use dried blueberries, cranberries, or cherries. Additional spices may be added with the cinnamon to create a custom flavor: a bit of nutmeg, cardamom, and cloves.
Thanks to easy make-ahead breakfast options, like Oat and Chia Breakfast Cookies, everyone in the family can enjoy a nourishing and healthy breakfast, even on the busiest of mornings.
Be sure to share your take on this Oat and Chia Breakfast Cookies recipe with us on Instagram using #MadeWithKitchenAid for a chance to be featured.
Oat and Chia Breakfast Cookies
Makes 16 small cookies
INGREDIENTS
1/2 cup virgin coconut oil
1/3 cup peanut butter
1/2 cup pure maple syrup
1 large egg
1 teaspoon vanilla extract
1 1/3 cups old-fashioned rolled oats
1 1/4 cups whole wheat flour
1 teaspoon baking soda
1 teaspoon ground cinnamon
1 tablespoon chia seeds
1/2 cup raisins
DIRECTIONS
In a medium-size bowl, melt the coconut and peanut butter in the microwave for about 40 seconds, just until the coconut oil is melted.
In the bowl of the KitchenAid® Stand Mixer, using the whisk attachment, whisk together the melted coconut oil and peanut butter, maple syrup, egg, and vanilla extract for 30 seconds on speed four.
Switch out the whisk attachment for the flat beater attachment, and add the remaining dry ingredients to the bowl: oats, flour, baking soda, cinnamon, chia seeds, and raisins. Beat together the ingredients on low speed, until all the ingredients are combined.
Form the dough into balls, then flatten with your hands, and place the cookies on a baking sheet. Bake the cookies for about 13 minutes. Once cooled, the cookies will be a cross between a scone and a granola bar.
Refrigerate the cookies in an air-tight container for up to 1 week, or store in the fridge for up to 2 months.

Print
*The Contributor of this post has been compensated by KitchenAid for this post, but this post represents the Contributor's own opinion.*