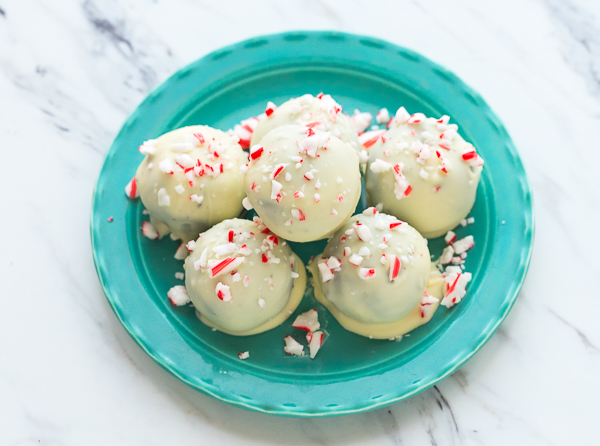 Whether you're looking for a sweet addition to your holiday cookie tray, an easy dessert that won't hog your oven or a homemade treat to give to family and friends, these No Bake Peppermint Cookie Truffles are a perfect choice. They're simple to make, festive, and sure to be well received by anyone who takes a bite.
My younger sister introduced our family to cookie truffles a few years ago. Little did she know that, when she brought that first batch home, we would insist that she make them for us every year afterwards.
Fortunately for my sister—and anyone else who is pressed for time this holiday season—cookie truffles are one of the simplest desserts to prepare. All you need to make them are cream cheese, chocolate sandwich cookies, and baking chocolate (for coating). To give the cookie truffles a holiday twist, I add peppermint extract and crushed peppermints.
Use a KitchenAid® Stand Mixer fitted with the flat beater to blend the cream cheese until smooth. I use this Stand Mixer so often, it has earned a coveted, permanent space on my kitchen counter.
Next, add the crushed chocolate sandwich cookies. You can crush them by pulsing them in a KitchenAid® Food Processor.
Add the peppermint extract, then let the Stand Mixer go to work. In just a few minutes, you'll have a fudgy, creamy, and brownie-like filling that you'll want to devour right on the spot. Try to resist — the best is yet to come!
Grab a small cookie scoop and portion the dough into balls. Mine are about 1 1/2″ wide, but you can make the cookie truffles as large or as small as you fancy. Pop them into the freezer for a few minutes to firm up, then dunk them into melted chocolate. I opted for white chocolate to offset the dark filling, but a milk or dark chocolate coating is delicious too.
As soon as you dip the truffles, sprinkle the tops with crushed peppermints or candy canes. The chocolate sets fast, so work quickly. Finish up the batch, and the cookie truffles are ready to eat!
Who says preparing for the holidays needs to be overwhelming? Give these easy No Bake Peppermint Cookie Truffles a try, and enjoy a sweet treat, stress-free!
Share your take on these No Bake Peppermint Cookie Truffles on Instagram using #MadeWithKitchenAid for a chance to be featured.
No Bake Peppermint Cookie Truffles
Yields about 22 1 1/2″ cookie truffles
INGREDIENTS
8 ounces reduced fat or regular cream cheese, softened to room temperature (do not use fat free)
36 chocolate vanilla cream sandwich cookies, finely crushed (about one 14.3 ounce package)
1 1/2 teaspoons pure peppermint extract
Pinch Kosher salt
16 ounces white baking chocolate or candy melts (do not use chocolate chips, as they contain stabilizers and will not melt as smoothly)
2 teaspoons coconut oil
1/4 cup finely crushed peppermint candies or candy canes
DIRECTIONS
Line a large baking sheet with parchment paper or a silicone baking mat. Set aside.
Use a KitchenAid® Stand Mixer fitted with the flat beater to beat the cream cheese on medium speed until smooth and creamy, about 2 minutes. Add the crushed sandwich cookies, peppermint extract, and salt. Beat until fully incorporated so that any streaks of cream cheese disappear, about 2-3 minutes.
With a small cookie scoop or spoon, portion the dough into balls of desired size. Arrange the rolled balls on the prepared baking sheet. Place the baking sheet into the freezer for 10 minutes to allow the balls to set.
In a microwave-safe bowl or a heatproof bowl set over a pan of simmering (not boiling) water, melt the chocolate until almost all of the pieces have melted, stirring a few times throughout. Remove from heat and add the coconut oil. Stir until completely melted and smooth.
With two forks, dip chilled cookie truffles into the melted chocolate, tapping away any excess. Place the dipped balls back onto the parchment-lined baking sheet and immediately sprinkle with the crushed peppermint candy (the chocolate sets fast!).
Refrigerate for 10 minutes prior to serving. Store leftovers in the refrigerator for a few days or in the freezer for 2-3 months. Let thaw overnight in the refrigerator prior to serving.
Print
*The Contributor of this post has been compensated by KitchenAid for this post, but this post represents the Contributor's own opinion.*