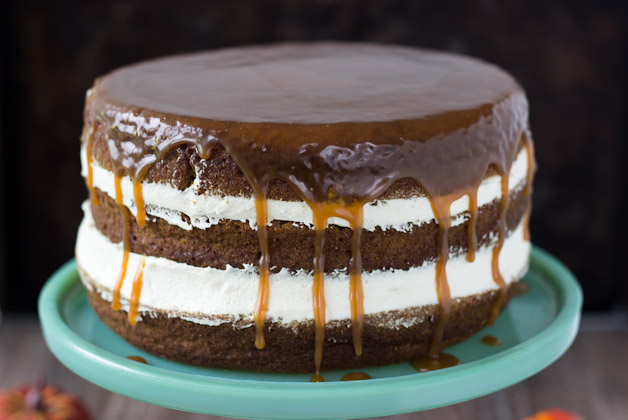 Thanksgiving is right around the corner and it's the time of the year when everyone pulls out their best entertaining secrets. My secret? A show-stopping dessert to end the evening. As the resident baker of the family, I know I need to do something delicious and amazing to please everyone. Nothing beats a beautifully decorated layered cake as a centerpiece. And this one, boasting of spiced pumpkin cake and caramel, is one to contend with. With classic fall flavors, moist cake layers and fluffy caramel buttercream, this cake will definitely please all the cake lovers in your family.
I love making naked cakes because they take the stress out of completely frosting a cake and decorating it. A simple stacking of cake layers and a little bit of filling gives a rustic and relaxed feel to a cake. After all, you want to be able to approach the cake, right?
To make this stunner, I used my KitchenAid® 30-Inch 5-Element Electric Convection Slide-In Range. I love using the Even-Heat™ True Convection feature to bake my cakes as they always bake evenly, avoiding any domes. Since I was going to have a naked cake, this was absolutely necessary.
Next make the caramel sauce. Making homemade caramel sauce is so easy and you can whip up a batch in ten minutes or less.
In a 3.0-Quart Saucepan from the KitchenAid® Stainless Steel 10-Piece Set, start to melt granulated sugar. Once it starts to melt, whisk sugar slowly until all of it melts. Once all the sugar is melted, leave undisturbed to cook until a deep amber color forms. Whisk in the butter until combined and remove caramel from heat. Whisk in the heavy cream until sauce is smooth. And that's it!
Use your caramel sauce to make the caramel frosting and pour over this spiced pumpkin cake.
I hope you enjoy this wonderful cake this holiday season!
Be sure to share your pumpkin cake creations with us on Instagram using #MadeWithKitchenAid for a chance to be featured.
Naked Pumpkin Cake with Caramel Buttercream
Makes one 8-inch layer cake
INGREDIENTS
For caramel
1 cup granulated sugar
6 tablespoons unsalted butter, softened
1/2 cup heavy cream
1 teaspoon coarse sea salt (optional)
For the cake
2 cups all-purpose flour
2 teaspoons baking powder
3/4 teaspoon baking soda
1 teaspoon salt
1 1/2 teaspoon cinnamon
1 teaspoon ground ginger
1/4 teaspoon nutmeg
1/4 teaspoon ground cloves
1 1/2 cups packed brown sugar
4 large eggs, room temperature
3/4 cup vegetable oil
15 ounces (about 1 1/2 cups) pumpkin puree
1 teaspoon vanilla extract
1/2 cup milk, room temperature
For the caramel frosting
1 cup (2 sticks) unsalted butter, at room temperature
4 cups powdered sugar, sifted
1 teaspoon vanilla extract
2-3 tablespoons heavy cream
1/4 cup homemade caramel sauce, plus more for topping (recipe above)
DIRECTIONS
For caramel
Place the sugar in an even layer in a 3.0-Quart Saucepan from the KitchenAid® Stainless Steel 10-Piece Set and set over medium heat. When sugar starts to bubble around the edges, whisk constantly until all of it melts (you will have clumps of sugar in your whisk but keep whisking, they will dissolve). Once the sugar dissolves, let it cook for about 2-3 minutes as it browns. Keep your eye on the caramel, as it will easily burn at this stage. Whisk in the butter and mix until completely melted. Remove pan from heat and gradually add in the heavy cream. Whisk until smooth. Whisk in the sea salt until dissolved (if using). Transfer caramel immediately into a glass jar and let cool completely.
For cake
Preheat KitchenAid® 30-Inch 5-Element Electric Convection Slide-In Range to 325 degrees F. Butter and flour three 8-inch round cake pans. Line with parchment rounds and grease parchment.
In a large bowl, whisk together the flour, baking powder, baking soda, salt, cinnamon, ginger, nutmeg, and cloves.
In the bowl of your KitchenAid® Stand Mixer, beat the brown sugar and eggs until light and fluffy. Gradually add in vegetable oil and mix until just combined. Beat in pumpkin puree and vanilla extract. Alternate the dry ingredients and milk, in three batches, and beat until combined between each addition.
Divide batter equally into prepared pans. Bake cake 40 to 45 minutes, until a cake tester inserted into the center comes out clean.
Let cakes cool in pan for at least 10 minutes before inverting onto a wire rack. Let cool completely before frosting.
For frosting
In the bowl of your KitchenAid® Stand Mixer, beat butter on medium high until smooth about 2-3 minutes. Reduce speed to low and add sugar, one cup at a time. Beat until combined. Add vanilla, heavy cream and caramel sauce and beat to combine. Increase speed to medium and beat frosting until smooth and fluffy.
To assemble
Place one layer of cake onto a cake board or plate. Spoon about half of the frosting onto cake. Top with second layer of cake and the rest of the frosting. End with the last layer of cake. Top cake with caramel sauce.
Print
*The Contributor of this post has been compensated by KitchenAid for this post, but this post represents the Contributor's own opinion.*