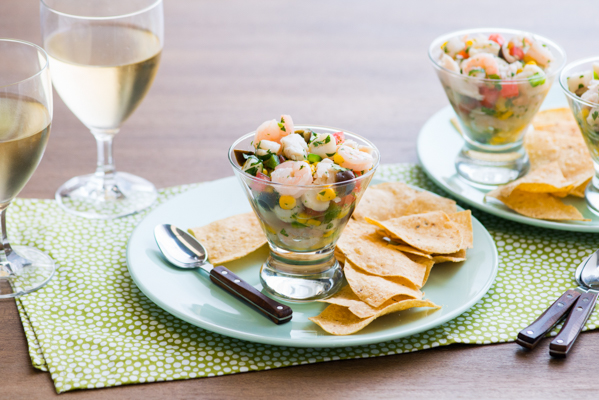 We recently had friends over for a casual summer dinner party. I knew I'd be short on time to prepare the entire meal, so I did what I'm good at: I delegated. I planned the menu by delegating a couple of the courses, cooking what I knew would be easy for me, and summer fresh!
Because I had to shop a couple days in advance, I had total confidence in keeping my ingredients fresh for our dinner party. This is because we own a KitchenAid® Platinum Interior French Door Refrigerator, which is designed to keep food fresh longer. And it really does!
For our casual dinner party, I combined the appetizer and salad into one course, serving a fresh ceviche recipe.
I think ceviche is the perfect treat to nosh on, as it has summer "fresh" written all over it. This time I combined 3 simple seafood choices — shrimp, scallops, and rockfish — to make a delicious Mixed Seafood Ceviche.
Here's how my fridge and recipe worked together, giving me confidence in my culinary skills:
The bottom drawer, otherwise known as the Electronic Temperature-Controlled Pantry, optimizes freshness for specialized items, as it provides precise settings for meats, deli items, party platters, and wine. Since we serve lots of appetizers, I couldn't be happier!
I had it set for "fresh meat" because I was storing the shrimp, rockfish, and scallops. This tray optimizes freshness for specialized items, and it provides precise settings for meats, deli items, party platters, and wine. You can also customize the temperature (preset button).
These deep crisper drawers are designed to regulate humidity, which is key for foods that spoil when they get too dry. These drawers actually lose less water than traditional crisper drawers. My drawers are well stocked!
I whipped up the recipe, took a quick "taste", and put it back in the fridge to chill. Right before the guests arrived, I divided it into 10 pint-size canning jars, put them on a tray with appetizer forks, and we were ready for the party to begin.
I'll take a good fridge that helps keep food fresh for more days. Especially when I'm entertaining!
Mixed Seafood Ceviche
Makes 10-12 half-pint size container or canning jars
INGREDIENTS
1 pound mini shrimp, cleaned and rinsed
1 pound rockfish, baked and shredded
1/2 pound mini scallops, cooked
1 cup corn kernels (about 3-4 cobs), blanched
2 roma tomatoes, chopped
1/2 cup cilantro, finely chopped
2 jalapeños, thinly sliced
1/4 cup black olives, chopped
1/4 cup lime juice
1/4 cup olive oil
Kosher salt, to taste
Pepper to taste
3-4 lime, for garnish (optional)
DIRECTIONS
Place the shrimp, rockfish and mini scallops in a large mixing bowl.
Season with salt and pepper; add the lime juice and mix well. Taste and add more if needed.
Add the corn, tomatoes, cilantro, jalapeños and black olives. Lightly toss.
Finish by drizzling olive oil on the mixture, then cover and refrigerate.
Serve in half-pint containers with appetizer forks.

Print
*The Contributor of this post has been compensated by KitchenAid for this post, but this post represents the Contributor's own opinion.*