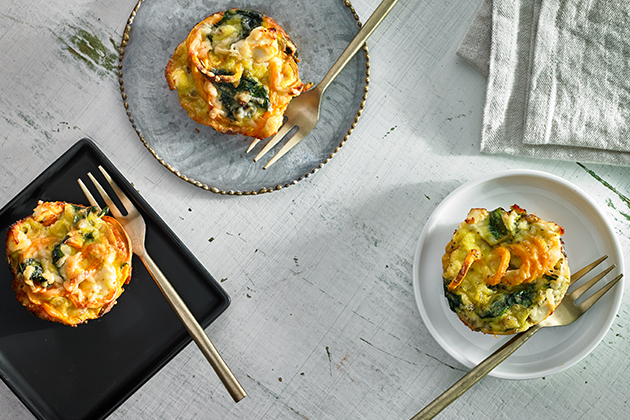 Mini Sweet Potato and Spinach Frittatas
Makes 12 servings
INGREDIENTS
Non-stick cooking spray
2 medium sweet potatoes* (approximately 5 inches x 2 inches)
3 tablespoons olive oil, divided
3/4 teaspoon salt, divided
1⁄3 cup finely chopped shallot
5 ounces baby spinach, roughly chopped
5 large eggs
1⁄3 cup low fat milk
1/4 teaspoon pepper
1 teaspoon Italian seasoning
3/4 cup crumbled feta cheese
1/4 cup grated Parmesan cheese
DIRECTIONS
Spray a 12-cup regular sized muffin pan with non-stick cooking spray.
Attach Spiralizer Attachment to the KitchenAid. Stand Mixer. Trim ends of sweet potatoes. Center one sweet potato on fruit and vegetable skewer. Attach peeling blade and fine spiralizing blade and position at end of sweet potato. Turn stand mixer to speed 4 and process until blade reaches end of sweet potato. Repeat with remaining sweet potato.
Toss spiralized sweet potatos with 2 tablespoons oil and . teaspoon salt in a medium bowl. Fit spiralized sweet potatoes into each muffin tin. Bake in center of oven for 20 minutes or until the potatoes are just tender.
While potatoes are baking, heat a 12-inch skillet over medium heat, add 1 tablespoon oil. Cook and stir shallots until softened, about 1 to 2 minutes. Sprinkle with . teaspoon salt. Add spinach and cook, stirring until spinach wilts completely and the moisture has evaporated, about 5 minutes. Remove from heat.
Attach bowl and wire whip to stand mixer. Add eggs, milk, remaining . teaspoon salt, pepper and Italian seasoning. Whip on medium-high speed until well-combined and starting to froth.
Carefully remove hot muffin tin from oven. Spray again with non-stick cooking spray, evenly divide the spinach mixture over roasted sweet potatoes. Top evenly with feta cheese. Pour egg mixture into each cup, filling to about 2/3 full. Sprinkle each with Parmesan cheese.
Bake for 17-20 minutes or until puffed, set in the centers and beginning to brown. Serve immediately or cool and store in refrigerator or freezer, warm-up when ready to eat.
Print
*The Contributor of this post has been compensated by KitchenAid for this post, but this post represents the Contributor's own opinion.*