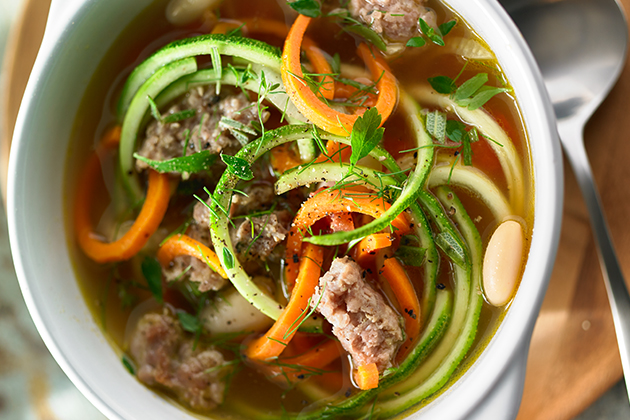 Minestrone Soup
Makes 6-8 servings
INGREDIENTS
1 small onion, peeled
1 large fennel bulb, reserve fronds
2 large carrots, peeled
1 large zucchini
2 tablespoons olive oil, divided
12 ounces mild Italian turkey sausage
1 teaspoon minced fresh garlic
1 teaspoon fresh thyme leaves
1/2 teaspoon minced fresh rosemary
1/4 teaspoon pepper
14.5 ounce canned petite-diced tomatoes
10 cups low sodium chicken broth
15.5 ounce canned cannellini beans, drained and rinsed
1/4 cup chopped flat leaf parsley
1 tablespoon minced fennel fronds
1/2 teaspoon kosher salt (optional)
Parmesan cheese for topping
DIRECTIONS
Attach Spiralizer Attachment to the KitchenAid® Stand Mixer. Trim the ends off onion, fennel, carrots and zucchini. Center onion on fruit and vegetable skewer; attach to Spiralizer. Attach fine spiralizing blade and position at end of onion. Turn stand mixer to speed 4 and process until blade reaches end of onion. Repeat with fennel, carrots and zucchini. Cut vegetable spirals to desired length. Set aside.
In a large stock pot, 5 quarts or more, heat oil over medium heat. Remove sausage from casing and cut into bite sized pieces, add to pot. Brown sausage for 5 minutes. Transfer browned sausage to a plate; set aside.
Add additional tablespoon of oil to pot if needed. Add spiralized onion, fennel, carrot and garlic to pot, stirring constantly for 3 minutes. Add thyme, rosemary, pepper and tomatoes to pot and continue stirring. Scrape up any browned bits from the bottom of pot. Add sausage back to pot. Pour in broth and add beans. Bring to a boil over medium heat. Reduce heat to low, cover pot and cook for 30 minutes, stirring occasionally.
Add zucchini, parsley and fennel fronds. Simmer until zucchini is tender, about 10 minutes. Add salt to taste. Divide soup into 6 to 8 bowls, top with Parmesan cheese if desired.

Print
*The Contributor of this post has been compensated by KitchenAid for this post, but this post represents the Contributor's own opinion.*