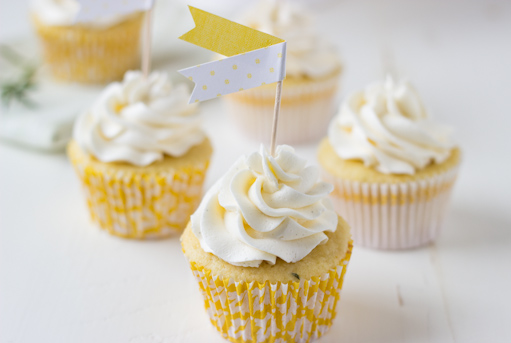 Does it feel like Spring for you yet? Rumor has it, it's officially the first day of Spring next week but I am far from feeling it. Those of us in the Northeast know spring doesn't arrive till at least April or the end of April if we are being realistic. But that doesn't stop me from celebrating the arrival of Spring a little earlier with these Meyer Lemon Rosemary Cupcakes. They have one of my favorite spring flavors – lemons with an added hint of rosemary.
I love using Meyer lemons during the late winter months because they combine the best parts of lemons and oranges in a citrus fruit that doesn't make you pucker. Meyer lemons are a cross between a lemon and a mandarin orange and are sweeter than regular lemons making them perfect for desserts. Since we are trying to celebrate the arrival of Spring in the midst of some winter weather, they were ideal to use in these cupcakes.
As you gather with your friends and family for dinner parties during the next few weeks, consider whipping up these Meyer Lemon Rosemary Cupcakes. The combination of sweet citrus with hints of herbs is just delicious and refreshing. We all need some refreshing these days!
To get an herby aroma in these cupcakes, I infused milk with freshly minced rosemary. Let the rosemary steep in the milk for at least 2-3 hours or overnight. Use this milk to whip up the cupcakes with fresh lemon zest and if you like a bit more herbs, about a 1/4 teaspoon fresh rosemary (optional). I baked my cupcakes in the KitchenAid® Classic Nonstick Muffin Pan.
Once you've baked your cupcakes, make a batch of the sweet lemon frosting with your KitchenAid® Stand Mixer. The tart citrus and fresh aroma of rosemary in these cupcakes is just a match made in heaven.
Don't forget to add some festive décor on your cupcakes. After all, we are celebrating the arrival of Spring!
Hope you enjoy these cupcakes. Happy Spring!
Meyer Lemon Rosemary Cupcakes
Makes 24 cupcakes
INGREDIENTS
For the cupcakes
1 cup milk
1 teaspoon freshly chopped rosemary
2 1/2 cups all-purpose flour
3/4 teaspoon salt
1 1/2 teaspoon baking powder
1/4 teaspoon baking soda
1 cup (2 sticks) unsalted butter, at room temperature
2 cups granulated sugar
Zest and juice of 1 Meyer lemon
1/4 teaspoon freshly chopped rosemary (optional)
3 eggs, at room temperature
2 teaspoons pure vanilla extract
For the lemon frosting
3 1/2 sticks unsalted butter, softened
3-4 cups sifted confectioners' sugar
3 tablespoons milk
1 teaspoon vanilla extract
1 teaspoon lemon extract
1 teaspoon zest of Meyer lemon
Pinch of salt
DIRECTIONS
Before making cupcakes, add the freshly chopped rosemary to the milk. Let steep covered in fridge for at least two hours or overnight. When ready to bake cupcakes, pour milk and rosemary mixture through a fine sieve and collect milk.
For the cupcakes
Preheat oven to 350 degrees F. Line two muffin pans with cupcake liners or silicone baking cups.
In a medium bowl sift together flour, salt, baking powder and baking soda.
In the bowl of a KitchenAid® Stand Mixer, cream butter and sugar until pale and fluffy, about 5 minutes on medium speed. Add the Meyer lemon zest and mix for an additional minute. Add the fresh rosemary at this point if using. Add the eggs one at a time, beating until combined after each addition. Beat in vanilla extract and Meyer lemon juice.
Reduce Stand Mixer speed to low and alternatively add the flour and milk, beginning and ending with the flour and mixing after each addition. Beat the batter until just combined. Scrap down the side of the bowl as needed.
Divide batter into prepared cupcake liners in KitchenAid® Classic Nonstick Muffin Pan. Fill liners about 2/3 full. Bake cupcakes until lightly golden or a toothpick inserted into the center comes out clean, about 12-14 minutes.
Remove cupcakes from pan and let cool completely on wire rack before frosting.
For the Meyer lemon frosting
Whip butter for 6-8 minutes on medium speed using the flat beater attachment of a KitchenAid® Stand Mixer. The butter will become pale and creamy.
Add the rest of the ingredients and mix on low speed for 1 minute. Then increase speed to medium and mix for 6 minutes until the frosting is very light, creamy and fluffy. Frost cooled cupcakes.
Print
*The Contributor of this post has been compensated by KitchenAid for this post, but this post represents the Contributor's own opinion.*