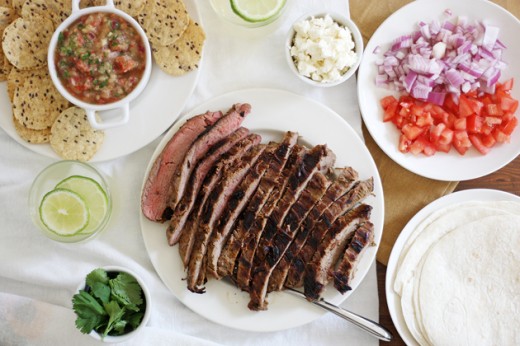 Chances are you've been asked the question, "If you could eat one type of food for the rest of your life, what would it be?" My answer, always, is Mexican food. I can't get enough of it. Quesadillas and enchiladas are a part of our weekly menu rotation, but I also crave tacos, burritos, Mexican soups and stews and stuffed peppers on the regular. Don't even get me started on guacamole!
Needless to say, Mexican night has become a bit of a tradition in our household. Whether it's just the two of us or a bunch of our friends and family, we really enjoy creating a delicious and easy Mexican feast for dinner.
Carne asada tacos and fresh pineapple salsa are two of our most popular go-to dishes. Guests love them for the flavors, and we love them because they're so easy to make. The KitchenAid® Diamond Blender takes care of the salsa, and all the carne asada needs is a dip in some marinade and a quick cook on the stovetop or grill.
To make the salsa, you'll need a fresh pineapple, tomatoes, onion, lime juice, a jalapeno pepper, cilantro, garlic and salt.
Roughly chop the ingredients (except the salt) and place them in the blender.
Using the "Chop" setting, give the mixture a quick blend until it's evenly diced. Season the salsa to taste, then transfer it to a bowl and chill until ready to serve.
Meanwhile, cook the carne asada. I like to use a flank steak and marinade it in a mixture of citrus juices and spices for a couple hours to give it added flavor. Once it's fully marinated, I cook it in an oiled cast-iron skillet over medium-high heat until it's medium-well or even well done.
When the steak is cooked, let it rest for a few minutes on a cutting board, then slice it thinly.
To prepare your fiesta, serve everything family-style so guests can build their own tacos. I love to include hard and soft taco shells, crumbled queso fresco, cilantro leaves, lime wedges, chopped tomato and onion and sliced avocado. Don't forget the chips and salsa!
This is one fast fiesta you'll enjoy making – and everyone will enjoy eating.
Carne Asada Tacos with Pineapple Salsa
Makes 4 servings + about 2 cups of salsa
INGREDIENTS
For the tacos
1 to 1 1/2 lb. flank steak
1/4 cup orange juice
2 tablespoons olive oil
2 tablespoons lime juice
2 tablespoons chopped cilantro
3 teaspoons minced garlic
1/2 teaspoon cumin
1/2 teaspoon dried oregano
1/2 teaspoon salt
1/2 teaspoon pepper
2 tablespoons seeded, diced jalapeno
Soft corn or flour tortillas, crumbled queso fresco, cilantro, lime wedges, chopped tomato, chopped onion, sliced avocado, sour cream, etc. for serving
For the salsa
2 cups roughly cubed fresh pineapple
1 cup roughly chopped tomato
1/4 cup roughly chopped red or white onion
1 handful fresh cilantro
1 jalapeno pepper, seeded and roughly chopped
1 teaspoon minced garlic
Juice of 1 lime
Salt to taste
DIRECTIONS
Place flank steak in a large casserole dish or in a gallon-size plastic bag. Whisk together orange juice, oil, lime juice, cilantro, garlic, cumin, oregano, salt, pepper and jalapeno; pour over flank steak. Cover dish with plastic wrap or seal bag; marinate in refrigerator 1 to 8 hours.
Meanwhile, make the salsa: Place all ingredients except salt in blender. Blend on "chop" setting a few seconds until finely diced. Season with salt to taste. Transfer to a large bowl; cover and chill until ready to serve.
When steak is fully marinated, heat a tablespoon or so of oil in a large cast-iron skillet over medium-high heat.* Remove steak from marinade and cook, flipping occasionally, until well-browned on the edges and medium-well or well done in the center. Transfer to a cutting board; let rest 5 minutes. Slice steak into thin strips against the grain.
Serve steak with tortillas, queso freso, cilantro, lime wedges, chopped tomato, chopped onion, sliced avocado, sour cream, etc. for serving. Serve pineapple salsa with tortilla chips.
Tip: You can also grill the steak over medium-high heat. Brush grates with oil and grill steak on each side for a few minutes until medium-well or well done. Proceed with directions.
Print
*The Contributor of this post has been compensated by KitchenAid for this post, but this post represents the Contributor's own opinion.*