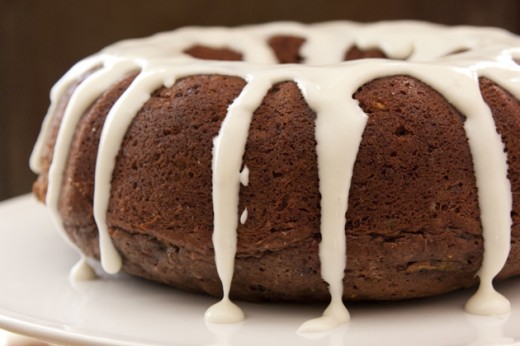 Every spring I plant a garden, and it's exciting to see which fruits and vegetables will produce the best results. Without a doubt, our zucchini was a huge success this year.
My family and I enjoyed plenty of zucchini this summer — we grilled them for a healthy and simple side dish and roasted them for omelets and frittatas for breakfast. But this year I wanted to try a zucchini dessert, and that is how this recipe came to be.
My favorite cake is carrot cake, and I wanted to create a similar flavor, but with zucchini and chocolate.
This luscious spiced cake is not too sweet, and the addition of the Mexican chocolate gives it hints of cinnamon and spices with an added richness without it being overly decadent.
Once cooled, the cake is then topped with a light cream cheese glaze adding another dimension of delicious flavors.
Whether or not you have a garden — get your hands on some fresh zucchini and make this cake that welcomes the flavors of fall. It's a great cake to enjoy with a cup of coffee for breakfast or a delicious dessert after dinner.
Mexican Chocolate Zucchini Cake with a Cream Cheese Glaze
Makes 16 servings
INGREDIENTS
For the cake
1 3/4 cups sugar
1/2 cup canola oil
1/4 cup butter, softened
1/2 cup buttermilk
2 eggs
1 teaspoon vanilla extract
2 1/2 cups all-purpose flour, sifted
3 tablespoons cocoa powder
1 teaspoon baking soda
1/2 teaspoon ground cinnamon
1/4 teaspoon ground cloves
2 cups finely shredded zucchini
1 (3.3 ounce) tablet Mexican chocolate (recommend Nestle-Abuelita), shredded into a powder
1/2 cup chopped pecans
For the cream cheese glaze
1/4 cup unsalted butter, softened
4 ounces cream cheese, softened
1 teaspoon pure vanilla extract
2 cups confectioner's sugar
1/2 cup milk
DIRECTIONS
For the cake
Preheat oven 325 degrees. Grease and flour a 10-inch bundt pan.
Using a KitchenAid® Stand Mixer, beat sugar, oil, and butter until well blended. Gradually beat in buttermilk, eggs, and vanilla.
In another bowl, whisk sifted flour, cocoa, baking soda, cinnamon, and cloves. Gradually combine slowly into sugar mixture.
Stir in zucchini, Mexican chocolate, and pecans.
Transfer to a greased pan and bake for 55 to 60 minutes or until a toothpick inserted in center comes out clean. Let cake cool for 10 minutes before removing from pan to a wire rack to cool.
For the cream cheese glaze

In a large mixing bowl cream together butter, cream cheese, and vanilla extract using a KitchenAid® Hand Mixer.
Gradually beat in confectioner's sugar. Add milk to desired consistency. Don't make it too thin or it will slide off the cake.
Drizzle the glaze over the cake.

Print
*The Contributor of this post has been compensated by KitchenAid for this post, but this post represents the Contributor's own opinion.*