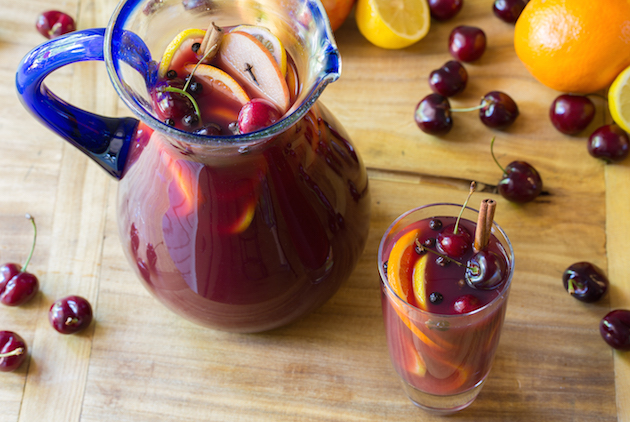 A good sangria recipe is something I never get tired of, especially during the summer. The appealing blend of wine, fruit juices, and fresh saturated fruit always makes a splash at summertime parties and picnics.
As I was making my first batch of red wine sangria this summer, I had a flashback to a warm winter moment when our neighbors were visiting, laughing, and sipping wassail.
Although wassail is spice-heavy and hot, and sangria is fruit-heavy and cool, I realized these two dazzling beverages could come together in a complex dance of alluring flavors. I knew I had to try this mashup recipe for all of you, and the result is a delicious beverage you simply have to serve this summer!
I used my KitchenAid® 4-Quart Multi-Cooker to make the wassail base for this recipe. I started by adding apple cider and orange juice to the Multi-Cooker, then tossing in cinnamon sticks, fresh ginger slices, a vanilla bean, whole cloves, and dried juniper berries. I set the Multi-Cooker on simmer and let it work its magic.
The beauty of the Multi-Cooker is that it's a free-standing stock pot and a slow cooker rolled into one. You can sear meat or vegetables in it, then lower the heat and allow it to slow cook for hours. It's also great to use in the summer months because it is low energy, keeping your kitchen cooler than if you turn on your stovetop burners.
After the wassail mixture came to a simmer, I turned on the KitchenAid® Stir Tower Multi-Cooker Accessory to let the Multi-Cooker stir itself while I chopped fruit, washed dishes, and cleaned out the fridge. I'm the worst about remembering to stir anything, so I love that the Stir Tower Accessory is hands-free for no-fuss cooking!
Once the mixture simmered, steeped, and cooled, I poured Rioja wine, Cachaca Brazilian rum, and orange liqueur into a large pitcher.
I then added the wassail mixture from my Multi-Cooker. Pile in some fresh fruit to garnish, and the Wassail Sangria is ready to serve.
So how does it taste? Like heaven. Pure heaven. It's deep and spicy, yet bright and refreshing. I honestly can't get enough of it.
Wassail Sangria is now my new go-to sangria, and I know it will be for you too, because it offers the best flavors of summer, and so much more!
Be sure to share your take on this Wassail Sangria recipe with us on Instagram using #MadeWithKitchenAid for a chance to be featured.
Wassail Sangria
Makes 4-6 servings
INGREDIENTS
For the wassail
2 1/2 cups orange juice
4 cinnamon sticks
1″ fresh ginger, sliced into pieces
1 vanilla bean, split open
1 teaspoon whole cloves
1 teaspoon dried juniper berries
For the sangria
1 750 ml bottle Rioja wine
1 cup Cachaca
1/2 cup Triple Sec
1 apple
1 orange
1 lemon
1 cup fresh cherries
DIRECTIONS
To make the wassail, pour the apple cider and orange juice into the KitchenAid® 4-Quart Multi-Cooker. Add the cinnamon sticks, ginger slices, vanilla bean, whole cloves, and juniper berries to the Multi-Cooker. Set the Multi-Cooker on Simmer.
Allow the mixture to come to a simmer, then turn on the KitchenAid® Stir Tower Multi-Cooker Accessory to stir another 10-15 minutes, still on the simmer setting. Turn off the Multi-Cooker and Stir Tower Accessory and let the mixture cool to room temperature.
To prepare the sangria, pour a bottle of Rioja wine into a large pitcher. Add the Cachaca and Triple Sec. Once cool, add the wassail mixture from your Multi-Cooker. Stir well.
Slice the apple, orange, and lemon into rounds. Add the sliced fruit and cherries to the pitcher and refrigerate until ready to serve.
Print
*The Contributor of this post has been compensated by KitchenAid for this post, but this post represents the Contributor's own opinion.*