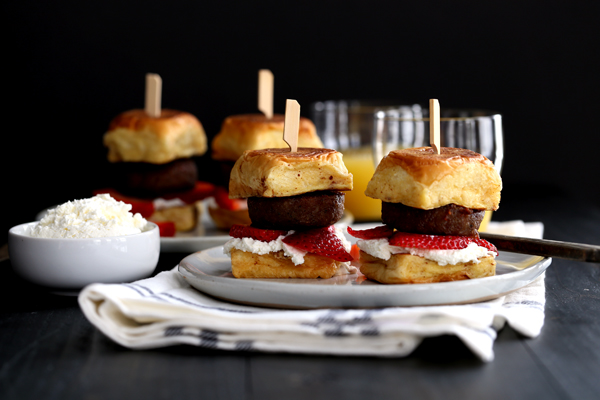 I don't know about you, but as much as I love to spend time in the kitchen, making breakfast can be stressful. I think it's a combination of wanting to still be in bed, feeling rushed to feed everyone who is starving first thing in the morning, or worrying that I'm always serving the same handful of recipes when we have guests for breakfast.
But fear not, I've come up with a new plan to battle the breakfast prep blues. As you may or may not know, mashup recipes are a delicious combination of two different types of cuisines that come together to make a unique, new dish. Enter my French Toast Sliders, a way to get breakfast on the table in under 30 minutes. I love to eat sliders for dinner, so I made a breakfast version using sausage instead of a typical burger patty and French toast as the bun.
I refuse to make bacon in a skillet on the stove, instead, I always roast it in the oven. Which got me thinking I could do the same thing with sausage. The key is finding the right pan for the job. You'll need a heavy duty pan with high sides to contain any splatters that might occur while roasting. My KitchenAid® Tri-Ply Stainless Steel 18″ Large Roaster was the perfect choice for the job, and it most certainly is a versatile tool that can be used for turkey and beyond. To get started on these sliders, I simply sliced bulk sausage into 1/2" rounds and lay them in the bottom of my Large Roaster. Place in your oven for 20 minutes at 400°F, and you'll have beautifully cooked sausage without any splatter or trouble. No more cooking batches of sausage in a skillet!
Hawaiian rolls are sliced and dunked in an egg mixture before being put on a griddle to brown. Flip the roll to brown the other side, and then you're ready to assemble your sliders.
Layer one half of your roll with whipped cream cheese and slices of fresh strawberries. Then, top with the oven baked sausage patty and the other half of the roll.
Bring these French Toast Sliders to the table fully assembled or let everyone assemble them table side. Either way, breakfast will never be the same. Thank goodness!
Be sure to share your take on this French Toast Sliders recipe with us on Instagram using #MadeWithKitchenAid for a chance to be featured.
French Toast Sliders
Makes 6 servings
INGREDIENTS
2 pounds bulk breakfast sausage
4 eggs, beaten
1 cup milk
1/2 teaspoon vanilla
1 teaspoon cinnamon
12 Hawaiian rolls
1 cup whipped cream cheese
1 pint strawberries, sliced
DIRECTIONS
Preheat oven to 400°F degrees.
Slice sausage into 1/2" rounds and place in your KitchenAid® Tri-Ply Stainless Steel 18″ Large Roaster, approximately 1" apart.
Bake sausage for 20 minutes or until internal temperature is 165°F degrees. If you'd like the top of your sausage more browned, broil for a couple of minutes before removing from oven.
Meanwhile, in a small bowl, whisk together eggs, milk, vanilla and cinnamon.
Slice rolls in half and dip quickly into the egg mixture. Cook on a 325°F degree griddle until browned. Flip and cook on alternate side until browned.
To prepare sliders, spread one roll half with whipped cream cheese and top with sliced strawberries. Place a sausage round on top of berries and top with other half of roll. Serve immediately.

Print
*The Contributor of this post has been compensated by KitchenAid for this post, but this post represents the Contributor's own opinion.*