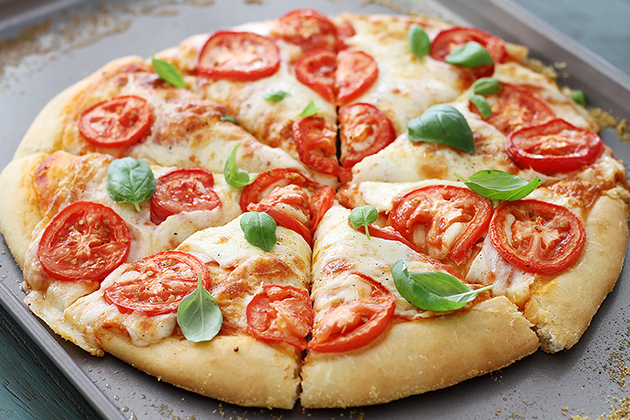 Making pizza dough from scratch is one of the easiest and most delicious ways to prepare a homemade meal. Using your KitchenAid® 11-Cup Food Processor with ExactSlice™ System and KitchenAid® Professional-Grade Nonstick Half Sheet Pan, the process is made even simpler. Just add your favorite toppings, bake and eat!
I remember the first time I made pizza dough from scratch in my kitchen – it changed my world. I've eaten really good pizza at restaurants, for sure, but knowing I could make an equally delicious pizza in my own home was a game changer.
The pizza dough base for this classic Margherita pizza recipe is actually based on that very first pizza dough I ever made from scratch – it's so flavorful, with a perfect balance of soft, chewy and crispy. I've made just a few tweaks to the original dough to enhance it even more and to make the process even easier. In no time, you'll be a homemade pizza master!
To make the dough, in a small bowl combine warm water, instant yeast and sugar. The water should be between 110°F and 115°F but no higher, or it could kill the yeast. I love to use instant yeast because it makes the dough rise just a bit faster, but if you have active dry yeast on hand, that will work, as well. Let the mixture sit about 10 minutes until it foams on top.
Attach the dough blade to your KitchenAid® 11-Cup Food Processor and add in flour and salt. Pulse the mixture a few times to mix. Then, add the yeast mixture and a few tablespoons of olive oil.
Knead the dough with the dough blade in the Food Processor by pulsing it frequently. As a shaggy dough forms, add just enough of the remaining flour called for the in the recipe until the dough becomes smooth, soft, elastic and only slightly sticky (it should pull away from the sides of the bowl). What I love about kneading dough in the Food Processor is that the heat generated from it helps the kneading process along, and it takes a fraction of the time to knead dough as it would by hand. Less mess, too!
Once the dough is fully kneaded, shape it into a ball and place it in a lightly oiled bowl; turn the dough once to coat. Cover the bowl with plastic wrap and let the dough rise in a warm place until doubled, about 1 hour (a little longer if you're using active dry yeast).
Preheat the oven to 450°F. When the dough is doubled, punch it down and divide it in half. At this point, you can either make two pizzas (and double the recipe for the toppings below) or you can freeze one dough for later use (instructions on how to freeze and thaw are below). Shape the dough half into a ball and return it to the bowl, covered, for 15 minutes. This will allow the gluten in the dough to rest so it's easier to stretch and press into a circle.
Brush your KitchenAid® Professional-Grade Nonstick Half Sheet Pan with a little bit of olive oil, and sprinkle it with cornmeal. This will help keep the dough from sticking to the sheet pan, but it also imparts texture and flavor to the dough, giving it that wonderfully crispy bottom. Press and stretch the dough on the sheet pan into a 12-inch circle, then cover it and let it rest for another 15 minutes.
Top the dough with your favorite toppings. Here, I've included a recipe for one of our favorites, the classic Margherita pizza, with garlic, tomatoes, sliced mozzarella and basil. But what I love about this dough is that it goes with pretty much any flavor combination – barbecue chicken and onion, bacon and pineapple, mushroom, herbs and Gruyere, sausage and eggs, pepperoni and lots of melty cheese, etc. Get creative and make it your own creation!
Bake the pizza in the top third of the oven for about 15 minutes until the toppings are cooked, the cheese is melted and bubbly and most importantly, the crust is golden brown and crisp. Remove the pizza from the oven and let it sit for about 10 minutes to cool before slicing.
Just a few simple steps, tricks and techniques are all it takes to make great pizza at home. So how will you top your homemade pizza dough? Share your homemade pizza recipes made with your KitchenAid® Food Processor with us on Instagram using #MadeWithKitchenAid for a chance to be featured.
Margherita Pizza
INGREDIENTS
For the pizza dough
Makes 2 pizzas
1 tablespoon granulated sugar
2 1/4 teaspoons (1 packet) instant yeast
1 1/3 cups warm water (110 to 115°F)
4 cups all-purpose flour, divided, plus more as needed
1 1/2 teaspoons salt
3 tablespoons olive oil, plus more for sheet pan
Cornmeal, for sheet pan
For the pizza toppings
Makes 1 pizza
1 tablespoon olive oil
2 teaspoons minced garlic
1/4 cup tomato sauce
8 ounces sliced mozzarella cheese
2 Roma tomatoes, sliced
Fresh basil leaves, for topping
DIRECTIONS
In small bowl, whisk sugar and yeast into warm water until dissolved. Let sit 5 to 10 minutes until foamy.
Add 3 3/4 cups flour and salt to a KitchenAid® 11-Cup Food Processor with ExactSlice™ System. Using the dough blade, pulse several times to mix. Add yeast mixture and olive oil. Process with dough blade until dough forms. Continue to process dough 1 to 2 minutes, pausing to add enough remaining flour as needed just until dough is smooth, soft, elastic and pulls away from sides of bowl.
Shape dough into ball. Transfer to lightly oiled large bowl; turn dough once to coat. Cover bowl with plastic wrap and let dough rise 1 hour until doubled.
Heat oven to 450°F. Punch down risen dough. Divide and shape into 2 balls. Return one dough ball to bowl; cover and let rest 15 minutes. Cover remaining dough ball in plastic wrap and freeze for later use*, or place in separate bowl and double recipe for toppings (to make 2 pizzas).
Brush rimmed KitchenAid® Professional-Grade Nonstick Half Sheet Pan (2 sheet pans if making 2 pizzas) lightly with olive oil and sprinkle lightly with cornmeal. Press and stretch dough into 12-inch circle on sheet pan. Cover and let rest 10 minutes.
Brush dough with olive oil, then scatter minced garlic on top. Spoon on tomato sauce. Top evenly with mozzarella slices, then top with sliced tomato.
Bake pizza in upper third of oven 15 minutes until cheese is melted and bubbly and crust is baked through and golden. Cool 10 minutes. Top with fresh basil leaves just before serving.
*NOTE: To thaw and use frozen pizza dough, place frozen dough in refrigerator overnight up to 12 hours. Remove dough from fridge and bring to room temperature on countertop 30 minutes before proceeding with recipe.

Print
*The Contributor of this post has been compensated by KitchenAid for this post, but this post represents the Contributor's own opinion.*