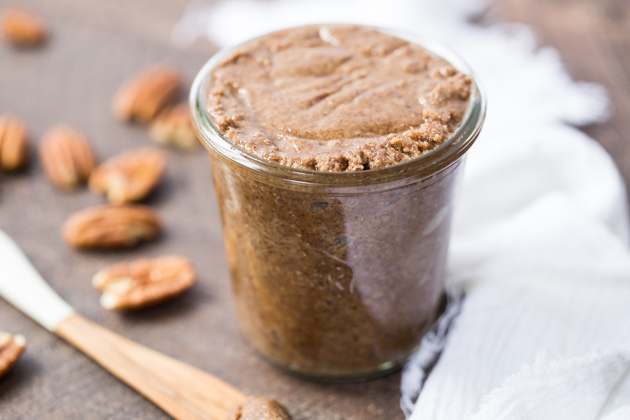 It never ceases to amaze me what you can create with a blender. From ultra creamy smoothies, silky smooth soups and ice cream to sauces, dips, spreads and even nut butter!
It's true, you can absolutely make nut butter in a blender, and today I'm going to show you how.
We're starting with the incredibly powerful KitchenAid® Pro Line® Series Blender. And let me tell you, this Blender can do it all! I've tested it a hundred different ways and every time, the texture of whatever I'm making is exactly how I want it to be. Nut butters included.
For this recipe, we're making a Maple Cinnamon Pecan Butter, but you can use whatever nuts you prefer.
The first thing we'll want to do is lightly toast our pecans. I used my KitchenAid® Countertop Oven, lined the tray with some parchment and toasted them for about 4 minutes until they were nice and golden brown.
Then you just pop them into the Blender, put the lid on with the tamper and turn the Blender on.
You'll use varying speeds here and you'll notice that the nuts go through a few different stages. First they turn into a kind of coarse meal (you'll be blending on the lowest setting for this phase).
Then once they start to release their oils and smooth out, you can turn the Blender up to a speed of 3 or 4.
That will really get the nut butter going, and you can finish it off at a speed of around 5 or 6. Once the nut butter is completely smooth, you'll add in your cinnamon and maple syrup. Turn the Blender to a speed of 1 and let the ingredients combine.
And that's it! See how easy it is to make nut butter at home? And like I mentioned before, feel free to swap ingredients in and out. You can pretty much use any nut, spice or liquid sweetener that you'd like.
One thing I do want to quickly point out is that when you're using a liquid sweetener, the texture of the nut butter will be fairly fluffy. If you want a smooth and kind of "runny" nut butter, use a granulated sweetener (like maple sugar or coconut sugar) instead of the liquid version. Have fun with it!
Share your take on this Maple Cinnamon Pecan Butter on Instagram using #MadeWithKitchenAid for a chance to be featured.
Maple Cinnamon Pecan Butter
Makes approximately 24 servings
INGREDIENTS
4 cups pecan halves
1 – 2 tablespoons maple syrup
1/2 teaspoon ground cinnamon
DIRECTIONS
Line the pan from your KitchenAid® Countertop Oven with parchment paper. Add pecans to the pan and toast for 4 – 5 minutes until the nuts are golden brown.
Transfer the nuts to the KitchenAid® Pro Line® Series Blender. Attach the tamper to the lid and secure the lid to the Blender.
Set the Blender to Speed 1 and allow the nuts to grind together until they form a thick paste. Use the tamper to scrape down the sides as needed.
Once the nuts have started to release their oils and texture begins to smooth out, you can turn the Blender up to a speed of 3 or 4. Gradually increase the speed to around 5 or 6 until the nuts are completely blended and have the consistency of a nut butter.
Add in the cinnamon and maple syrup to the jar of the Blender and set to a speed of 1 for just a few seconds until everything is incorporated.
Store in an airtight container.
Print
*The Contributor of this post has been compensated by KitchenAid for this post, but this post represents the Contributor's own opinion.*