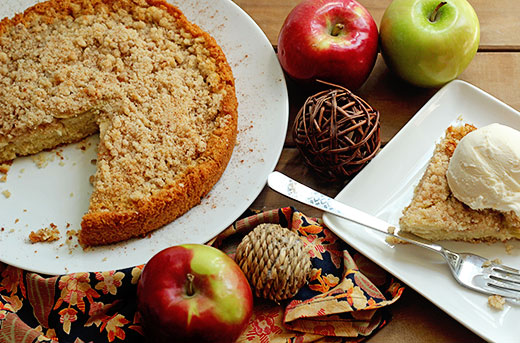 The beauty of fall can definitely be seen in the glory of its desserts. From comforting apple pie to pear crisps and pumpkin cheesecakes, I adore all of autumn's sweet treats. When the brisk weather begins to settle in, I definitely reach for a plethora of apples in all forms at the grocery store. A dessert like this Maple Apple Cake is the perfect dessert to properly introduce the season.
This cake is ideal for brunches and lazy Sunday afternoons. With three distinct layers of fabulousness (the cake layer, the maple apple layer and the crumble topping), you will find yourself craving a slice of this as the leaves change colors.
To start the recipe, I used my KitchenAid® Stand Mixer with Ceramic Bowl to beat the coffee cake batter. I absolutely adore the stability of this Ceramic Bowl.
The batter is perfectly smooth resulting from a traditional butter and sugar creaming method. This makes for a tender cake layer at the bottom of my KitchenAid® Cake Pan and is topped with apple slices, maple syrup and a crumble.
Speaking of the crumble, that topping is killer. A mixture of sugars and melted butter creates the most beautiful and flavorful crumbs. They bake into something quite special that crunches every time you take a bite.
When the entire cake comes together, the layers meld into one, and the magic happens. It becomes the perfect treat to bake this fall.
Maple Apple Cake
INGREDIENTS
For the Cake
1/3 cup unsalted butter, room temperature
1/2 cup granulated sugar
1 large egg, room temperature
1 cup all-purpose flour
1/2 teaspoon salt
1/2 teaspoon baking powder
1/4 teaspoon baking soda
1/2 cup buttermilk, room temperature
5 teaspoons pure maple syrup, separated
1 teaspoon pure vanilla extract
1 1/2 cups apple slices (peeled if desired)
For the Crumble Topping
3/4 cups all-purpose flour
1/4 cup granulated sugar
1 tablespoon brown sugar
1/4 teaspoon salt
1/2 teaspoon ground cinnamon
1/4 cup unsalted butter, melted then cooled
DIRECTIONS
For the Cake
Preheat oven to 350 degrees and liberally spray 9 inch round pan (or 8×8 sized pan) with non-stick baking spray.
In the Ceramic Bowl of your Stand Mixer, beat together butter and sugar on high speed for 4-5 minutes until light and fluffy.
Add in egg and continue to mix until combined.
Change Stand Mixer to low speed and slowly add in flour, salt, baking powder, and baking soda until just combined then pour in buttermilk, 2 teaspoons of maple syrup and vanilla extract and mix until it all just comes together without over mixing. Turn off Stand Mixer.
Evenly spread cake batter in pan then top with sliced apples and drizzle with remaining 3 teaspoons of maple syrup.
For the Crumble Topping
Whisk together flour, both sugars, salt, and cinnamon until mixed.
Drizzle butter over flour mixture, and using a fork, stir together until crumbs form.
Sprinkle crumbs over apples.
Bake cake for 30-38 minutes OR until a toothpick inserted into the center of the cake comes out clean.
Allow cake to cool for at least 20 minutes then serve.

Print
*The Contributor of this post has been compensated by KitchenAid for this post, but this post represents the Contributor's own opinion.*