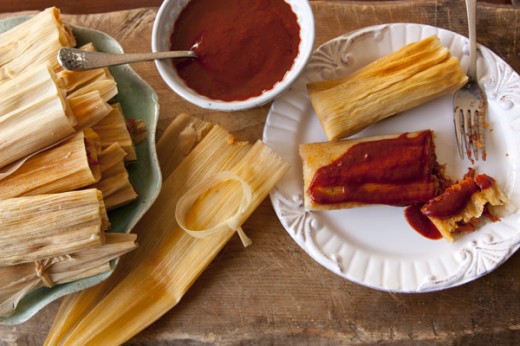 You might think tamale season is over, but actually the tradition of tamales continues till February.
These little wrapped gifts were invented by Aztecs to fill the need for a portable food to be eaten in battle. Initially, they were cooked over hot ashes buried in the ground. Tamales are usually wrapped with dried corn husks or banana leaves and the savory or sweet fillings are truly endless.
If you have ever made tamales, the event (yes, it's an event) can be quite laborious. My grandmother used to make tamales in stages by making a variety of fillings one day and for two to three days afterwards she filled and steamed dozens of tamales and gave them as homemade holiday gifts to her family.
As a tradition I have been making tamales with my mother or with family annually. This year I hosted a tamalada (tamale making party) and invited a houseful of sweet friends who were excited to learn the recipe and process in hopes to continue the tradition.
I served champurrado (Mexican Hot Chocolate) and friends brought appetizers and sweet treats as well as a variety of fillings such as chorizo with black beans, jalapeños and Oaxaca cheese.
I made a red chile and pork filling, which is one of my favorite fillings. This filling is classic, traditional, and delicious. I also reserved some red chile sauce to drizzle over the freshly steamed tamales. I used my KitchenAid® Diamond Blender to blend this sauce and with a few quick pulses this sauce was velvety smooth. This blender may look fancy and delicate but you don't want to mess with these impressive blades. It chops and blends in seconds. Red chile stains quickly so be sure to rinse the blender jar soon after use.
The most vital ingredient in making the perfect tamal is the masa (tamale dough). Masa is the plain, wet stone-ground dough made with a special corn known as nixtamal. My grandma never used a mixer for this step, but I do, and I highly recommend you do too. The flat beater attachment on your KitchenAid® Stand Mixer makes this step a breeze.
The mixture should be about the consistency of smooth peanut butter. If not, add more broth as necessary. Test the masa by taking a small piece and dropping it into a cup of warm water. If it floats it is ready; if it sinks, add a little more lard, beat for another minute and test it again. Repeat this process until the masa floats.
Once all the tamales were assembled I packed some up for my guests to steam at home and enjoy them at their leisure.
I love sharing my love of food and culture with my friends and family.  I hope this tamalada and my grandmother's tamale recipe inspires you to host a tamale making party in your home and eat some muy bueno tamales.
Red Chile Sauce
Makes 6-7 cups
INGREDIENTS
8 ounces California or New Mexico red chile pods
6 cups water
6 tablespoons all-purpose flour
4 cloves garlic
1 tablespoon salt
DIRECTIONS
Remove stems, seeds, and veins from the chile pods. Place in a colander and rinse well with cool water.
Add the chiles to a large pot and add enough water so they are just covered. Bring water to a boil. Lower the heat, cover, and simmer for about 20 minutes. After 10 minutes turn the chiles over with tongs to make sure the chiles soften evenly. Drain cooked pods and allow time to cool down before blending. Discard water.
Fill KitchenAid® Diamond Blender with 3 cups of water, half of the cooled chile pods, 3 tablespoons flour, 2 cloves garlic, and half of the salt. Blend until smooth. Strain sauce through a fine sieve to remove skins and seeds; discard skins and seeds. Repeat blending and straining process with remaining water, pods, flour, garlic, and salt. If necessary, season with more salt.
Tip: This sauce can be made in advance and kept in airtight containers in the refrigerator or freezer. Red chile sauce can be stored in the refrigerator for up to one week or frozen for up to six months.
Print
Red Chile and Pork Tamales
Makes enough filling for 5 dozen servings
INGREDIENTS
For the shredded pork
7-8 pounds pork butt or pork shoulder
2 1/2 cups water
1 tablespoon sea salt
For the filling

6 tablespoons broth with fat pieces from cooked pork
3 tablespoons all-purpose flour
6 1/2 cups Red Chile Sauce
1 tablespoon salt
1 batch tamale masa
Corn husks (ojas)
For the tamale masa
2 pounds lard (If you are using rendered lard you will need to use less broth)
2 teaspoons baking powder, divided
2 tablespoons salt, divided
5 pounds fresh ground masa (unprepared) for tamales, divided
2 to 3 cups broth from cooked pork roast or chicken broth, divided
1/2 cup Red Chile Sauce
DIRECTIONS
For the shredded pork

Place pork, water, and salt in a slow cooker and cook for 6 to 8 hours. After meat is cooked, remove from the slow cooker and let cool to room temperature. Shred pork and remove fat while shredding, reserving fat. (Usually, after pork is cooked and shredded, you will be left with about 3 pounds of meat.)
In a KitchenAid® Diamond Blender combine the cooled broth from the cooked pork and the leftover fat pieces. Blend and reserve for using when making tamale masa and filling. Broth can be kept, tightly covered, for 1 week in the refrigerator. The broth also freezes well and will keep for 4 to 6 months.
For the filling

Heat the 6 tablespoons broth in a large skillet. Add flour and whisk for at least 4 to 5 minutes.
Add red chile sauce and salt, stir, and cook for 10 minutes. The chile sauce will be very thick at this time.
Add the 3 pounds shredded pork and stir so all the pork is well coated with the red chile sauce. Simmer for at least 10 minutes. Let mixture cool before filling tamales.
For the tamale masa
Place 1 pound of lard in a KitchenAid® Stand Mixer and mix until fluffy, scraping sides so the lard stays in the center of the mixing bowl. (The flat beater is the ideal accessory for mixing.)
Add half the baking powder and half the salt to the lard and mix together.
Add half the masa and mix together. Slowly add half the broth and half the red chile sauce, if using, to the masa and mix until combined. The mixture should be about the consistency of smooth peanut butter. If not, add more broth as necessary. Test the masa by taking a small piece (1/2 teaspoon) and dropping it into a cup of warm water. If it floats it is ready; if it sinks, add a little more lard, beat for another minute and test it again. Repeat this process until the masa floats. Pour the masa mixture into a bigger bowl. Repeat the process with the remaining ingredients.
Cover the masa and set aside while you prepare your filling.
To Assemble Tamales
Prepare Ojas (Corn Husks):
Soak corn husks in water for an hour before using, rinse well with running water to take off any dust or corn husk fibers. To keep corn husks pliable and easy to work with, keep in water while filling tamales. Place a handful of wet corn husks in a colander to drain before using.
Spread Masa:
Place the wide end of the husk on the palm of your hand, narrow end is at the top. Starting at the middle of the husk spread 2 tablespoons of the masa with the back of a spoon in a rectangle or oval shape, using a downward motion towards the wide-bottom edge. Do not spread the masa to the ends; leave about a 2-inch border on the left and right sides of the husk.
Fill Corn Husks:
Spoon 1 1/2 tablespoons of your chosen filling down the center of the masa. Fold both sides to the center; finish off by bringing the pointed end of the husk toward the filled end. Make sure it's a snug closure so the tamal will not open during steaming. Secure by tying a thin strip of corn husk around the tamal. This will keep the tamal from unwrapping during the steaming process, especially if the husk is too thick and will not stay folded.
Steam Tamales:
Use a deep pot or tamale steamer to steam tamales. If using a tamale steamer fill with water up to the fill line. Set the tamale rack over the water. Place tamales upright, with fold against the sides of the other tamales to keep them from unfolding. Cover pot with a tightly fitting lid. Set heat on high and bring to a boil, about 15 minutes. Lower heat and simmer for 2 1/2 to 3 hours. Keep lid on tightly. To test if done, put one tamal on a plate and take off the corn husk. If it comes off without sticking to the tamal they are done.

Print
*The Contributor of this post has been compensated by KitchenAid for this post, but this post represents the Contributor's own opinion.*