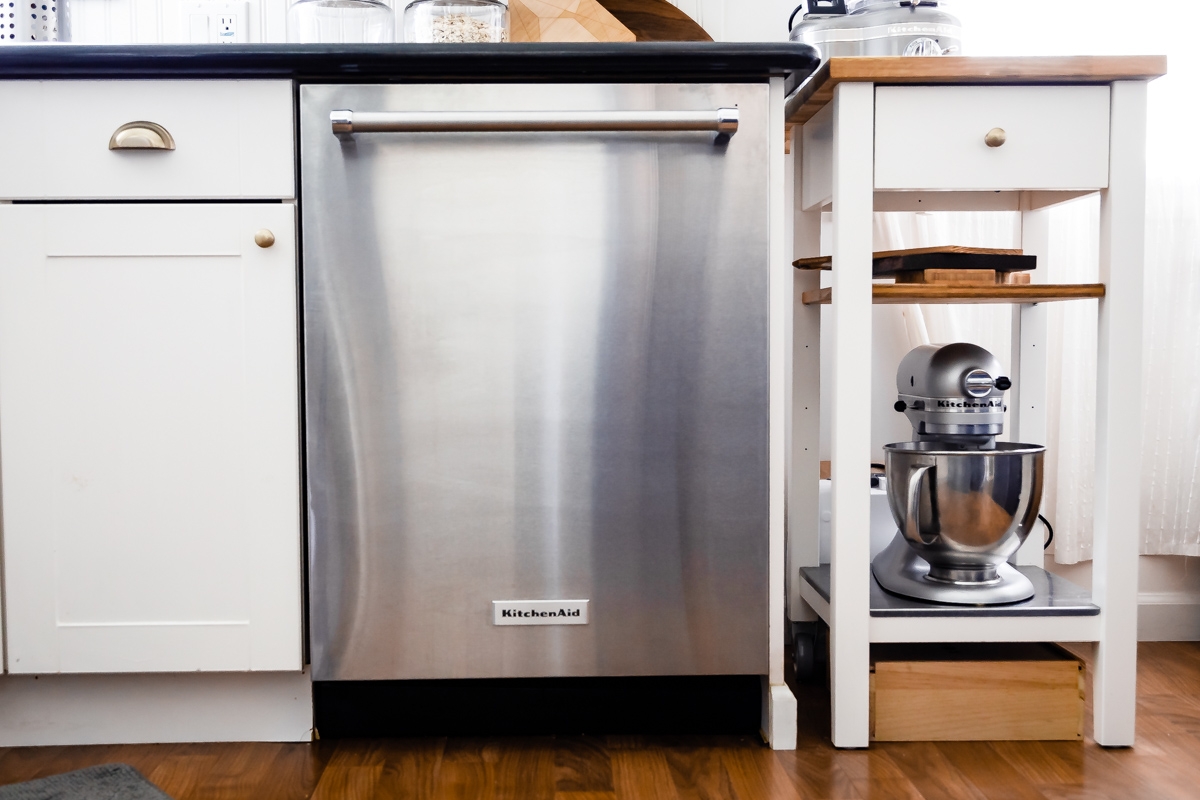 When we first started looking at houses, we did not think a dishwasher was one of our top priorities. When we were about to put an offer on our first home – a 1940s fixer-upper – I specifically remember my mother-in-law warning us, "You will need to factor in the cost of a dishwasher if you buy this house." To which we adamantly laughed, "We don't need a dishwasher." We didn't buy that house, but now, six years later, we're laughing at the preposterous idea that we thought we didn't need a dishwasher.
About a year and a half ago, we finally bought our first house, and with it, our first (very old) dishwasher. Last fall, we upgraded to all KitchenAid® stainless steel major appliances, including a new KitchenAid® Dishwasher with Clean Water Wash System (see our kitchen tour here!).
This Dishwasher is incredibly quiet and with the Clean Water Wash System, where it continuously removes any food remnants from the wash water, our dishes come out sparkling every time!
With the new kitchen, we wanted to make sure we kept the appliances looking shiny and new, without funky odors, lackluster smudges or build-up from hard water. When you take the time to maintain your appliances, you can feel proud of your kitchen every time you walk in, and you'll extend the use and life of your appliances. Just a few minimal steps can really pay off!
From the outside in, the first step is to keep the exterior looking polished and smudge-free. For basic upkeep from everyday use, you can use a soft damp cloth or sponge and a mild detergent to wipe away any smudges or residue. For stainless steel appliances, a stainless steel cleaner, such as affresh® Stainless Steel Cleaner is recommended. Just spray it onto your dishwasher and wipe it away to leave a streak-free shine!
It's important to also maintain the interior of your dishwasher monthly as well. We don't have particularly hard water where we live now, but I've experienced both kinds of water! Without maintenance, hard water build-up can cause damage to your dishwasher and make it harder to get your dishes sparkling clean.
Even without very hard water, you might notice some hard water minerals that cause a white film build-up on the surface of the door or other surfaces. To clean the surfaces, use liquid automatic dishwasher detergent (or make a paste with powdered detergent and water) and a damp sponge or soft damp cloth when the dishwasher is cool. Just rub it into the surface or the racks of the dishwasher and wipe away.
I have definitely been the victim of a super stinky dishwasher in my day. To eliminate any odors, place two cups of white vinegar in an upright glass measuring cup (or dishwasher safe jar) in the lower rack and run a normal cycle without detergent and with the ProDry™ option turned OFF.
To keep odors at bay, if you don't use your dishwasher daily, you can run just a rinse cycle on a partial load until it's completely full and ready to run or even use the Top Rack Only option to run just a partial load, so you don't keep food residue sitting for days in your dishwasher.
If you plan to go on an extended vacation and not use your dishwasher over the summer months, make sure to disconnect the water and power supply to the dishwasher. Likewise, if you live somewhere cold during the winter, be sure to protect the water supply lines from freezing by having your dishwasher professionally winterized.
Finally, to keep any interior build-up at bay, KitchenAid recommends using a monthly maintenance product like affresh® Dishwasher Cleaner tablets that you can run in your normal cycle.
Before cleaning the exterior, I didn't even realize just how dirty the Dishwasher had gotten. I don't know about you, but when my kitchen looks dirty, it keeps me from wanting to spend time in there. It's amazing how just a few seconds of sprucing up the Dishwasher can transform your kitchen into a space you can feel happy about again!
*The Contributor of this post has been compensated by KitchenAid for this post, but this post represents the Contributor's own opinion.*