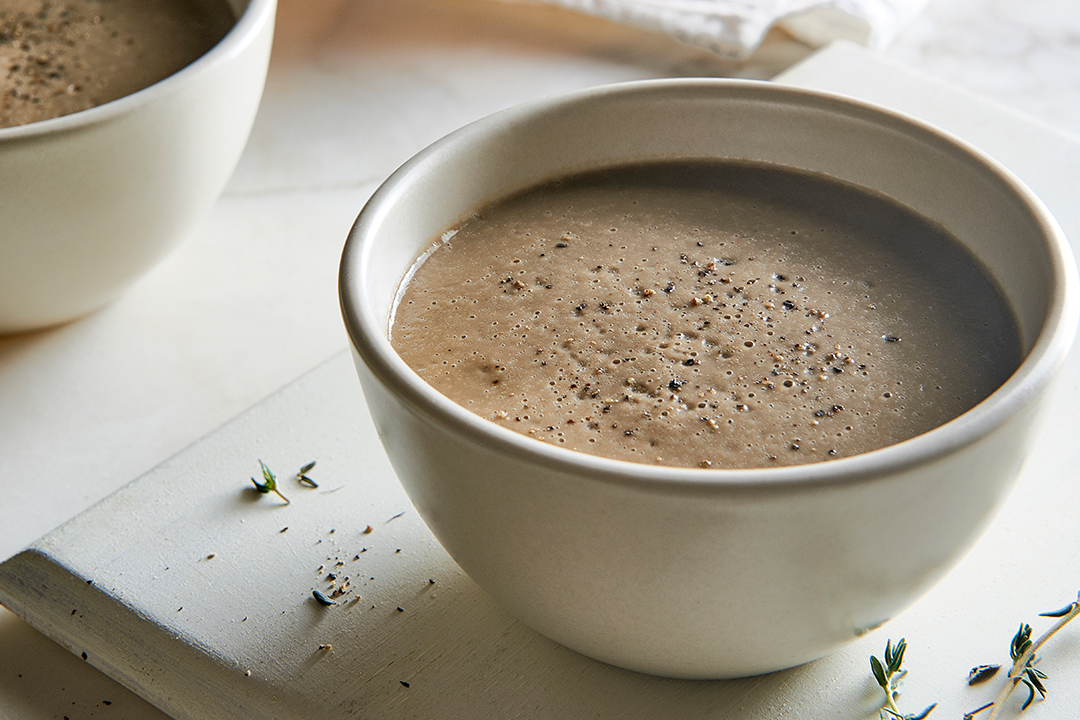 Magic Mushroom Soup
Makes 2 servings
INGREDIENTS
2 tablespoons extra-virgin olive oil
2 cups (300g) diced yellow onion
1 tablespoon finely chopped fresh thyme, plus more to taste
2 teaspoons minced garlic (2 cloves)
6 cups (240g) sliced white button mushrooms
3 tablespoons wheat-free tamari
1/4 teaspoon freshly ground black pepper, plus more to taste
2 cups (480ml) vegetable broth
Sea salt, to taste
DIRECTIONS
In a large skillet over medium heat, warm the olive oil, and sauté the onions, thyme, and garlic for about 5 minutes until soft and translucent.
Add the mushrooms, tamari, and black pepper, and sauté for 8 to 10 minutes, until reduced and cooked through.
Transfer the mushroom mixture the jar of the KitchenAid® Pro Line® Series Blender, and add the broth. Secure the lid, and set the blender to the Adapti-Blend™ Soup program. Blend until the machine turns itself off. Alternatively, blend for about 5 minutes, starting on speed 1 and gradually increasing to speed 10.
Soup will come out of the Blender hot. Season with salt to taste, and serve immediately garnished with finely chopped flat-leaf parsley or chives with crusty bread or a scoop of cooked grains.
Print
*The Contributor of this post has been compensated by KitchenAid for this post, but this post represents the Contributor's own opinion.*