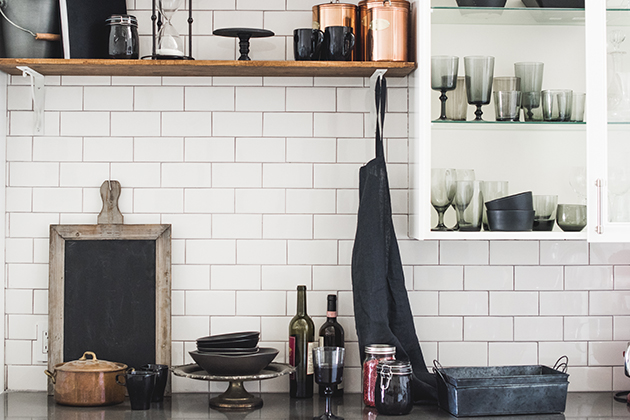 We're not new to loving black-inspired colors for design. Our studio is filled with elements that evoke moodiness, strength and bold, black textures. Staging and designing a black palette in our shoots is refreshing. So often, we're working with clean white palettes or traditional color tones defined by the seasons that it's invigorating to work with a color that's completely on the opposite end of the color spectrum.
New black stainless steel from KitchenAid is an inspiration that lends itself to the rest of a kitchen design that is filled with striking and strong, beautiful blacks. In fact, it doesn't take a ton of black dishes and kitchen elements to make a stylish and moody statement. With a few striking pieces and complementing coppers, we can instantly have a kitchen that friends can rave about for its originality in color selection.
Starting with a few classic and rustic copper pieces to adorn this black-inspired kitchen makes the design feel less rigid and stiff and more inviting. The contrasting yet complementing textures of classy, aged copper highlight the stylish tones of black. We love our copper collection and find that when paired with black, the creative look of both the black and copper work extremely well together.
The most fun and sometimes most dramatic feature to this kitchen style are all the black glassware pieces that fill our cabinet collection. It's a shame that black glassware doesn't get more attention and stock because they're so stylish and beautiful. Falling in love with black stemware and wine glasses that reflect light through at a beautiful angle is an easy obsession. A few gorgeous ice cubes filled in a moody dark glass with a cocktail makes the drink feel timeless and fabulous. If you have a hard time sourcing black glassware, the best places to visit are vintage antique shops, consignment stores or even your local thrift shop. These are our favorite stores to visit because some of the most stunning vintage-style stemware are the older ones.
If having all-black pieces in your kitchen still feels a little intimidating, try adding a black-splash or stonework décor that's subway-tile-inspired. We love the linear and clean lines of subway tile with darker grout. Dark charcoal or dark grey grout lines really add depth to the overall kitchen look without choking out the rest of the black dishware. If you're a cake plate collector, add a few black cake plates to break the tradition of all white or pink. One simple black pedestal cake platter can make a strong design statement.
It's time to break free of the popular all-white and regular stainless steel kitchen design. Take some chances and be bold to the wonderful world of rich, dark and moody tones. It'll definitely make a statement when you entertain at your next party. Not only is everyone going to compliment you on being so unique and original for the black-inspired kitchen, you just might win the award for the host or hostess with the most-est.
Discover more about the first-ever black stainless suite of appliances at http://www.kitchenaid.com/bold.
*The Contributor of this post has been compensated by KitchenAid for this post, but this post represents the Contributor's own opinion.*