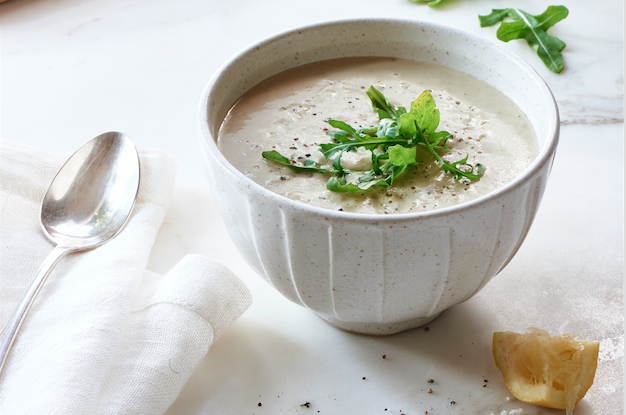 Lemon Zucchini Soup
Makes 2 servings
INGREDIENTS
1 1/2 cups vegetable broth
1 medium peeled zucchini, chopped
1 small ribbed celery, chopped
1/2 cup raw unsalted cashews
1 tablespoon fresh lemon juice
1 teaspoon garlic powder
1 teaspoon onion powder
1/2 teaspoon sea salt, plus more to taste
1/8 teaspoon freshly ground black pepper
1/4 avocado, peeled
1/4 cup firmly packed arugula, to garnish for serving
1/4 teaspoon olive oil, to dress arugula
DIRECTIONS
Place all your ingredients except for the arugula and olive oil in the blender jar of the KitchenAid® Pro Line® Series Blender. Secure the lid and set the Blender to the Adapti-Blend™ Soup program. Blend until machine turns itself off. Alternatively, blend for about 5 minutes, starting on speed 1 and gradually increasing to speed 10.
While soup is blending, toss the arugula with 1/4 teaspoon olive oil and a pinch of salt and pepper.
Soup will come out of the Blender hot. Pour soup into two bowls and garnish with the seasoned arugula. Serve immediately.