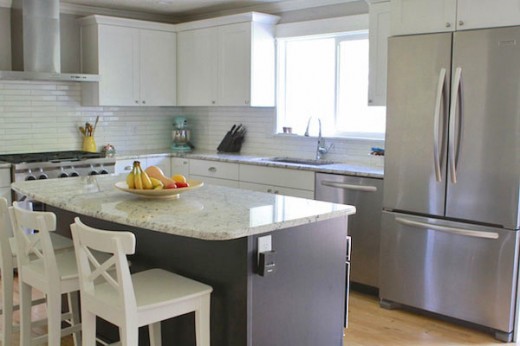 It's been exactly 1 year to the day that our kitchen remodel was completed and still, 365 days later I'm head over heels in love with the beauty and functionality found in this room. From the cabinets to the granite counters to our gorgeous KitchenAid® appliances, everything about my new kitchen screams 'amazing'.
Let's do a quick walk through so you can understand what appliances I picked and why:
First up: the KitchenAid® 6-Cycle/7-Option Dishwasher.  I know you're probably wondering why I'm starting with the dishwasher of all things. Well, let me tell you about this bad boy. Since my job is to test and retest recipes over and over again, dishes are kind of a given. This dishwasher is not only the quietest appliance in my kitchen, I feel like it's the one that takes the brunt of my cooking…or should I say post-cooking?! I do about 8-10 dishwashing cycles per week and one year in and it's still going strong.
I love the three adjustable racks inside, I love every cycle and every option and have used them all. After having my second baby and literally bringing him home to this brand new kitchen, the sanitize option on this dishwasher was a lifesaver. From bottles to pacifiers to even bath toys! I washed and sanitized them all!
For our refrigerator, I was pretty particular in choosing the KitchenAid® Counter-Depth French Door version. I love that this refrigerator is pretty much even with our counters and looks like a custom built-in appliance. I also love having the wide refrigerator on top and the freezer drawer on the bottom. I love that it looks really clean on the outside with no ice or water dispenser on the outside. (See what I mean about particular?)
There still is a filtered water dispenser on the inside of the refrigerator, plus an automatic ice maker that dumps right into a freezer drawer, so we're not missing out on anything.
One other feature with I absolutely adore is this skinny little shelf space in the freezer drawer. It's perfect for freezing items flat.
Right across from the fridge in our island is the KitchenAid® Convection Built-In Microwave. I knew I didn't want the microwave above the stove or on the counter so that left us with one and only option: installing it into the island.  I was a little unsure of how this was going to look once everything was up and running plus with two small children I was really worried that this wasn't going to be a safe location either, leaving us microwave-less. But, thankfully there are lock buttons built right into this appliance! Brilliant! So in it went with no problems at all and I love the finished product.
Most of the time we use this as a microwave. In the summer though, we'll use it as an oven if needed to keep the larger range off, thus keeping our home cooler since we don't have air conditioning. It's a life-saver.
Now to the showstopper: my KitchenAid® Commercial-Style Dual Fuel Range with accompanying KitchenAid® Wall-Mount Canopy Hood. This range was basically love at first sight. I saw it online and knew I had to have it. Who cares that we had to have a gas line installed and move a few cabinets around? This is the range of my dreams and it's amazing to me that I get to cook with this amazing piece of equipment everyday.
Yes, I really love it that much.
Why, you ask?
Well, how much time do you have?
I love the 6 gas burners on top. I love cooking with gas. It's cheaper and faster. Also, being a dual-fuel range, the oven is heated electrically with a convection cooking option. Some other favorite features that I use and love:
The detachable probe to perfectly cook a turkey or roast every time.
The steam assist to keep that turkey juicy and prevent that cheesecake from cracking.
The dough rising function to make sure you get perfect loaves of bread.
The oven temperature accuracy. You want 425, it gives you 425. Every time.
The low and high simmer functions that truly keep your food simmering where you want it to stay.
To be honest, I haven't used every option available on the range because there are so many! But, it has made me fall in love with cooking even more.  Who knew that was even possible?
So, there you have it! One year in and still in love with my choices! Thank you KitchenAid for making my dream kitchen a reality!
*The Contributor of this post has been compensated by KitchenAid for this post and was supplied with the appliances featured in this post free of charge, but this post represents the Contributor's own opinion.*