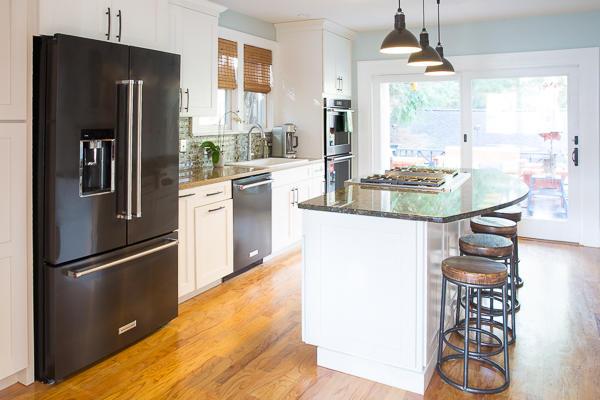 This year we were thrilled to install brand new KitchenAid® major appliances in our kitchen.
We loved our existing KitchenAid® major appliances. However, I was taken by the bold appearance of the KitchenAid® Black Stainless major appliances, and I just had to have them!
The contrasting colors of the Black Stainless against the bright white cabinetry truly made our kitchen a show-stopper.
Of all the major appliances we installed, our new KitchenAid® Counter-Depth French Door Refrigerator might be my personal favorite. I have a secret love affair with it.
Not only is this Refrigerator stunning to look at, but it's so packed with features that I continually discover new things it can do. First of all, just look at it… Swoon!
The inside is just as pretty as the outside, with Wood Finish Accents and Panoramic LED Lighting. The lights make the refrigerator bright and inviting, so that every ingredient is beautifully displayed for easy access.
I also love the Full-Extension Self-Close FreshSeal™ Crispers that control temperature and humidity. My produce, meats, and cheeses are kept in their own proper environments so they are always fresh.
The in-door ice and water dispenser is compact, so it takes up less room inside the Refrigerator. The In-Door-Ice® System might be small, but it cranks out ice at high speeds with the Max Ice function.
The Slide-Away Shelf is an adjustable shelf that allows extra height for tall pitchers, vases of flowers, and cakes stands when needed. However, I can pull it out flat to hold a full sheet pan when I don't have tall items in my Refrigerator.
Both glass shelves are easily adjusted to raise 2″ up and down. That way, you can customize the Refrigerator to meet your personal needs, at a moment's notice.
Because I tend to keep an abundance of condiments, I needed a Refrigerator with tons of storage space in the doors. Just look at all the jars and bottles this baby can hold!
There's so much space in the doors, I even have room for my eggs to have their own bin. Not only that, each storage bin is removable so I can pull all my eggs out at once or remove the bins for easy cleaning.
The Under-Shelf Prep Zone has definitely come in handy. It's a special out-of-the-way bin that allows you to marinate meats or chill dough. This tray can also go straight into a hot oven or into the dishwasher after holding raw meat.
The Full-Extension Self-Close Pull Out Tray lets me easily store and reach my go-to ingredients or helps me store large platters for parties. The Tray is both moisture- and stain-resistent so I don't need to worry about any spills!
As with other KitchenAid® Refrigerators, the Preserva® Food Care System quietly keeps everything in the Refrigerator as fresh as possible with FreshFlow air filtration.
Finally, the freezer… I wasn't sure how I would feel about a freezer drawer. Would items get lost in a pile over time?
Yet, this 3-Tier Self-Close Freezer Drawer provides tons of space, and multiple pull-out drawers, so I don't have to dig for things. I can keep the most commonly used items up top, and have plenty of space for larger bags of frozen fruit and meat at the bottom.
It also offers a special Extend-Freeze™ Setting to ward off freezer burn!
My new Black Stainless Refrigerator offers form and function combined. It's not only gorgeous, inside and out, but I'm constantly amazed at just how much thought went into its design. Thanks KitchenAid!
*The Contributor of this post has been compensated by KitchenAid for this post, but this post represents the Contributor's own opinion.*