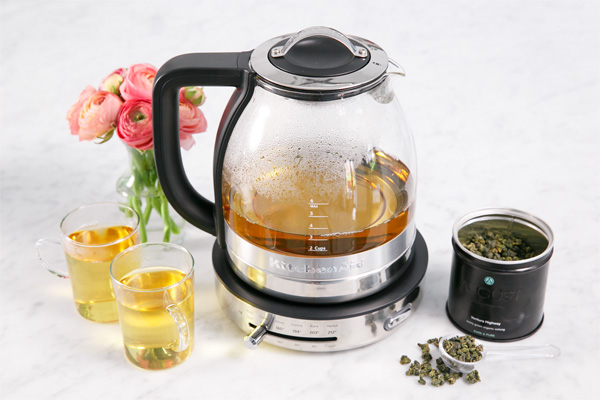 KitchenAid's newest tea product is sure to make tea lovers everywhere very, very happy. While coffee drinkers usually get all the cool new products, this stunning stainless steel KitchenAid® Glass Tea Kettle was specially designed for brewing premium loose-leaf teas, such as those from August Uncommon Tea.
You'll love watching your tea steep in this gorgeous Glass Tea Kettle, the water gradually infusing with color, an act which is almost as therapeutic as drinking the tea itself.
Any serious tea drinker knows that temperature is key when it comes to high quality, loose leaf teas. Before this Glass Tea Kettle, you probably spent your mornings standing in front of your old kettle with a thermometer in hand, waiting for your water to reach that perfect temperature. Now, with this Glass Tea Kettle, you can simply push a button and in just a few short minutes you'll have yourself a perfectly brewed pot of tea.
But just what temperature is ideal for your favorite tea? Do you always have to research it to find the answer? This time, put down your phone and leave it to KitchenAid. The five preset brewing temperatures and handy guide will ensure your favorite tea, be it green, oolong, herbal, or anything in between, is brewed at the perfect temperature to preserve that tea's unique flavors and aromas.
We put it to the test, brewing three different teas from August's Spring/Summer Collection, including a green, an oolong, and a black tea to experience the full range of the kettle's temperature capabilities.
First up is Ventura Highway, a pure green tea, that we brewed on the lowest setting of 176ºF. Green and white teas have very delicate leaves, and higher temperatures will destroy the flavor subtleties, replacing them with an undesirable bitterness. Not anymore: brewed to perfection with the KitchenAid® Glass Tea Kettle, the subtle notes of Meyer lemon and fresh grass in this tea will make your tastebuds flutter.
Next up is the Dark Iris, a light and summery oolong with peach, pistachio, and lime. The more robust Oolong is brewed at 194ºF, resulting in a fragrant and fruity amber-colored tea. Pro tip: this tea is AMAZING over ice. I'm talking next-level iced tea here, folks.
Finally, we brewed a pot of Silencio, a robust black tea blend that will send your senses reeling. This unique blend shows you just how versatile tea can be (there's nothing dainty about it), with notes of tobacco, cocoa and black pepper. Add a splash of milk to mellow the spiciness and bring out the tropical pineapple flavors.
Like any culinary discipline, tea making is an art form, which is why it is important to remember why these presets are called guides and not rules. Maybe you prefer your oolong sweeter and more delicate, in which case you might want to steep it in cooler water. Or maybe you prefer your black tea extra robust, in which case you'll want to use more tea leaves and let them steep longer than indicated.
Remember, you can't make good tea from bad water, as any impurities will mar the flavor of the final tea. This Glass Tea Kettle features a stainless steel lime scale filter to keep water impurities out of your cup. Even with this brilliant little feature, I still prefer to use filtered water when making tea, which I get straight from the generously-sized water dispenser in the door of my KitchenAid® French Door Refrigerator (bonus: the dispenser tells you exactly how many ounces it has dispensed so you don't even have to measure).
There are times (rarely, but it happens) when you just need boiling water. This Glass Tea Kettle does that too, quickly boiling up to 1.5 liters of water in a matter of minutes. It also has a warm setting that turns on automatically when the water has reached the desired temperature, and then conveniently turns itself off after 30 minutes (because we all know that memory is a fickle thing).
The KitchenAid® Glass Tea Kettle is built using Premium Schott DURAN® Glass and Stainless Steel Construction, and designed so that no plastic ever touches the tea. They really did think of everything with this Glass Tea Kettle! For example, to handle the tricky task of dealing with with the (hot) spent tea leaves when the tea is done steeping, KitchenAid designed a steeper holder to firmly hold the steeper, keeping your counter free of drips until it is cool enough to rinse clean.
Another brilliant addition: the steeper holder is rubber with enough friction to allow you to unscrew the lid without having to touch the hot stainless steel steeper. That feature alone will save your fingers.
I think you'll agree that KitchenAid has designed the perfect Glass Tea Kettle for serious tea drinkers. Now it is your turn to make it your own.
How will you use this next-level tea kettle to brew your perfect cup? Share your take on your own KitchenAid® Glass Tea Kettle experience on Instagram using #MadeWithKitchenAid for a chance to be featured.
*The Contributor of this post has been compensated by KitchenAid for this post, but this post represents the Contributor's own opinion.*