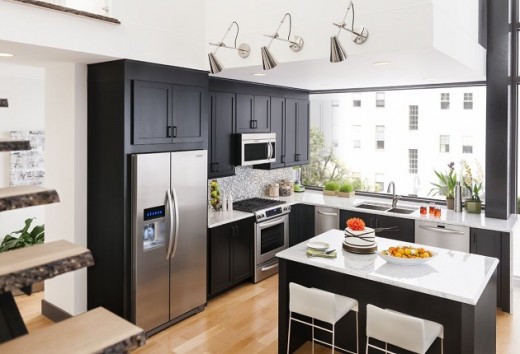 Sometimes you step into a home kitchen and the space feels awkward. It could even be your own kitchen – you're attempting to prepare a meal but find yourself making unnecessary trips back and forth between appliances instead of focusing on the task at hand. Definitely awkward, uncomfortable and unnecessary. The likely culprit is the lack of a definitive kitchen work triangle.
Think about the three main focal points within your kitchen when preparing a meal – your cooktop and/or range, refrigerator and sink. If you were to draw an imaginary line from each of these three locations within your kitchen, they would and should create a triangle. In theory, the proximity of these three main work stations within the kitchen will help you to work more efficiently. Less time wasted, more time cooking!
Most recommend that each side of a kitchen work triangle should measure between 4 and 9 feet with a total of all sides to be between 12 and 26 feet. I'll wait a moment while you get your tape measure and figure out the length of each leg of the work triangle in your kitchen.
This might begin to explain why you feel like you're walking unnecessary steps each time you prepare a meal or why you feel like you get more exercise while doing meal prep than any other time of day!
Once you have your work triangle in place, you want to continue to set yourself up for kitchen success by keeping your path clear of obstacles. The main traffic pattern through your kitchen – basically just people moving through the space to get to another location, not specifically utilizing the kitchen – should NOT intersect your work triangle. You also should do your best to alleviate any items that might stray into your work path such as open cabinet or dishwasher doors which could swing into the space causing you to walk around them. You also wouldn't want to place a kitchen island or peninnsula into the middle of your work triangle which would cause the same type of obstacle but on a more permanent basis rendering your work triangle useless.
If you're looking for the most efficient kitchen design, consider an L-shaped kitchen. The two walls work naturally to form a kitchen work triangle that will offer maximum flexibility in the arrangement of appliances and work stations.
Have a single wall kitchen? It's impossible to form a triangle but you're still able to achieve efficiency in the placement of the three main work stations and their proximity to one another.
So the next time you're feeling awkward in the kitchen, take a look around to check the status of your kitchen work triangle. Chances are, that's where the problem lies!
*The Contributor of this post has been compensated by KitchenAid for this post, but this post represents the Contributor's own opinion.*