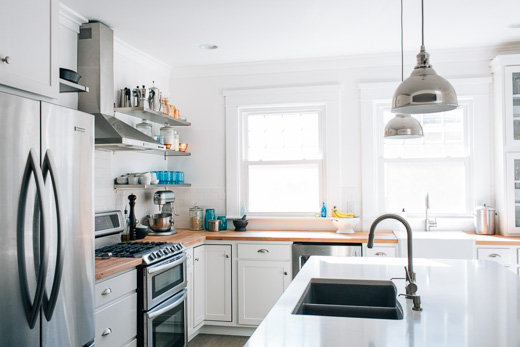 It's been almost two years since our kitchen remodel, and time has flown by! We bought our 1926 home with the intention of demolishing the kitchen to put in a new one, and we had no idea what we were in store for. It was an intense process, but we ended up with a kitchen that we love.
People ask us if there's anything we would change about our kitchen after living in it for two years, and fortunately, both of us agree that for the space, there's not much we would alter! We love the design, layout, and our KitchenAid® appliances. Here are a few of our reflections after a few years of living in our new kitchen.
Beverage Center: We put in a separate KitchenAid® Architect® Series II 24″ Beverage Center on a whim late in the design, and we've ended up loving it! Half of it is a typical refrigerator, and half has wine racks at various temperatures. It's perfect for all of our drink paraphernalia. Our main refrigerator can be used for food only, so we don't have to work around cases of beer to get at our vegetables.
Double Oven Range: We chose a KitchenAid® Architect® Series II 5-Burner Gas Freestanding Double Oven Range and have been surprised at how much we use two oven temperatures at once! The top oven is a half-oven, which is great for preheating quickly when you don't need an entire oven.
Island with Quartz Countertop: After our old, tiny galley kitchen, an island is a luxury we now can't imagine living without. We've spent countless hours with friends and family sitting around the island as we prepare food; it's the place in our house where we spend the most time. The quartz surface is very durable and easy to clean.
French Door Refrigerator: To keep the classic look in our kitchen, we chose a KitchenAid® Architect® Series II Standard-Depth French Door Refrigerator without the automated water dispenser on the outside. Instead, our water dispenser is just inside the refrigerator door, and we love the sleek look.
Open Shelving: We loved the feel open shelving gave our kitchen, but had heard how difficult it was to keep clean and organized. Two years later, we've been pleasantly surprised with how easy they've been to keep up. Most of the shelves store dishes, glasses and bowls we use often, so there's not much time for dust to build up.
Speaking of cleaning, no matter how bright and beautiful your kitchen remodel starts out, dust and fingerprints always build up. Our appliance user manuals have some great tips on cleaning stainless steel without the need of fancy cleaner or chemicals. To clean your stainless appliances:
Take a soft cloth and wet it with warm, soapy water; wipe all over your appliance and then rub dry with a towel.
After cleaning, use a bit of cooking oil on a soft rag to shine up the stainless. We found it makes those pesky water stains disappear right away!
As we move toward springtime weather, we're motivated to start spring cleaning — wiping away the winter grime to prepare for the new season ahead. No matter how bright and beautiful a new kitchen starts out, it's worth the effort to keep it that way – especially if you cook as much as we do!
For more on our kitchen renovation, see:
Kitchen Remodel with A Couple Cooks: Part 1
Kitchen Remodel with A Couple Cooks: Part 2
Kitchen Remodel with A Couple Cooks: Part 3
*The Contributor of this post has been compensated by KitchenAid for this post, but this post represents the Contributor's own opinion.*