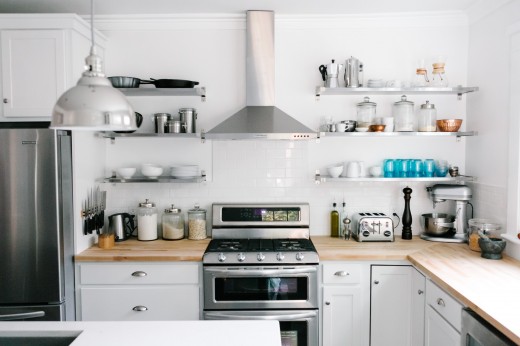 Phase 3: The Reveal
After weeks of planning, westling over details, and fighting those unexpected fires that only remodeling a historic home uncovers, we were ready: to see the final "reveal" of our kitchen remodel. We'd planned the design (Post 1), selected the finishes, and endured the construction process (Post 2), but we still had no idea quite what to expect. Since the majority of our decisions were based off of pictures and tiny material samples, we knew the "real life" version of our creation would be a whole different matter.
Did it live up to our dreams? Was all that pain worth it?
Lucky for us, it was love at first sight. We couldn't be more pleased with the final product, which was a pleasant surprise for us being novices at the kitchen design enterprise!
Highlights
Here are a few of our impressions after having lived in our new kitchen for a few weeks:
His (Alex)
Favorite Aspect: I'm absolutely loving having the row of stools in the kitchen. The first time we had family over and we could prepare a meal while our family sat and chatted with us, I realized how perfect the stools are. I'm not sure I would've said that in-kitchen seating was a must before the reno, but I'd never go without it again!
Best Splurge: The big deep sink in the island is absolutely great. I love the fact that we can bury dishes in it and they remain out of sight. In fact, I believe the breakfast dishes were hiding in the sink while we took the photos you see here! We never had any experience with granite sinks before, but we love ours so far.
Best Bargain: Sealing off the third door to the kitchen. See those open shelves behind the KitchenAid® Stand Mixer? There used to be a doorway there. The low cost of slapping some drywall over the opening added about 30 square feet of usable space to our kitchen that we didn't have use for a walking path!
Lessons Learned: None of the dozens of decisions you will make are likely life-or-death. A renovation is the whole of the design, not a focus on a single item. As long as you find finishes that fit the overall theme, go with your heart and don't sweat the small stuff.
Favorite Appliance: So far, I just love the range. The double oven has been surprisingly handy already, the cooktop heats fast and is easy to clean, and the overall look fits perfectly into our vibe.
Hers (Sonja)
Favorite Aspect: The island. I honestly didn't realize how great it would be to be able to prepare food while chatting with friends and family as they lounge on stools. Compared to our old galley kitchen, it's amazing to be able to cook without running over everyone; I feel much more relaxed and at ease in the kitchen. I also really love the symmetry of the design; I feel like it's very calming.
Best Splurge: The quartz countertop is a dream; I've never had such a large, durable surface to work on. And for a couple who cooks together, having two separate sinks is a dream.
Best Bargain: Butcher block countertops. I wasn't sure I'd like them, but I love the earthy, soft feel.
Lessons Learned: My biggest lesson was the effort involved – I really had no idea my life would become so consumed with so many decisions. In the end, there's not too much I would have done differently – perhaps inch the island just a few inches in one direction for a tiny bit more space, but that's about it.
Favorite Appliance: The double oven range. I love being able to have two oven temperatures at once, and didn't realize how much we'd use that. It's a tie with that and our wine refrigerator!
Making it Personal
The last step in your kitchen reno process is adding those finishing touches to give it a personal flair. For our kitchen, we knew we wanted to highlight ordinary, functional objects as art, so we used dishes, bowls, canisters, pans, our stand mixer, and even our toaster deliberately as "decorative" items on our open shelves and counters. We picked up a few copper pans and bowls at an antique store to give a contrasting color and texture to our mainly glass and stainless items.
One of our favorite touches was the blue canning jars we bought in place of drinking glasses. We love their durability and vintage look, and displaying them on our open shelving, they're part of a "revolving" art project that changes every time a new glass is taken off the shelf.
Parting Thoughts
Whoever you are, designing a kitchen is a huge undertaking, but one that can be incredibly rewarding. For us, we were able to find a modestly-sized kitchen in a historic home and turn it into the modern kitchen of our dreams – though not without a significant amount of work, budget-crunching, and bargain searching. In the end, we're so glad we stuck it through, and can't wait to make memories in this space for years to come.
Below is a recipe we've been working for years to perfect – pizza! The toppings are a new combination that we've tested out in our new oven, and the dough recipe uses a KitchenAid® Stand Mixer.
Start out by watching our Easy Homemade Pizza Dough Video
Pizza Dough–Stand Mixer Method
Makes 2 medium pizzas
INGREDIENTS
450 grams (3 cups) flour
2 teaspoons (1 packet) instant yeast
1/2 tablespoon (1 glug) olive oil
1/4 teaspoon (2 pinches) kosher salt
1 1/3 cups warm water
Cornmeal
DIRECTIONS
In the bowl of your stand mixer, combine all of your ingredients. Leave out just a little bit of the water.
Using the dough hook from your mixer, stir until a loose dough forms. If a dough doesn't form, add the rest of the water. If the dough is extremely wet and sticky, and a pinch of flour.
Attach the dough hook to your mixer and start on a low speed. Gradually increase the speed to medium until a ball forms. This should take about 30 seconds. If the dough does not release from the sides of the bowl, add a pinch of flour. If the dough is very dry and flour-y, add a small amount of water.
Once the dough forms into a ball, allow the mixer to knead for 8 minutes at medium-high.
After the kneading is finished, divide the dough in half. Using floured hands, gently shape each dough into a boule. Set on a floured surface and dab with a little bit of olive oil to keep them moist. Cover with a damp towel and allow to rise for 45 minutes to 1 hour.
To stretch the dough, pick up the risen dough and gently shape into a circle. Do not over-work or fold the dough. Drape the dough over both of your knuckles and rotate it around, allowing gravity to stretch it into a circle. If the dough starts to resist stretching, put it down and allow it to rest for a few minutes, at which point it will stretch more easily.
Sprinkle a little bit of cornmeal onto a pizza peel or rimless baking sheet. Place the stretched dough onto the peel and quickly add toppings.
Cook at 500° for 5-7 minutes until browned. Enjoy!
Notes
Start this recipe about an hour before you want to make your pizza. Start pre-heating your oven 15 minutes into the rise time.
Print
Ricotta and Sun-dried Tomato Personal Pizzas
Makes 6 personal pizzas
INGREDIENTS
16 ounces ricotta cheese
½ cup walnuts
A few sprigs fresh oregano
20 sun-dried tomatoes (packed in oil)
7 ounces Italian blend cheese (or mozzarella), shredded
Kosher salt
Fresh ground pepper
DIRECTIONS
Prepare the dough using the stand mixer methods (you also can knead by hand; follow the video instructions for more). Follow the preparation instructions in the dough recipe if you've made it in advance. Place your pizza stone (or two stones) in the oven and preheat to 500°F.
Prepare the toppings: Mix the 16-ounces ricotta cheese with 1/2 teaspoon kosher salt and several grinds of fresh ground pepper. Crush the walnuts. Remove the oregano leaves from the stem, and roughly chop them. Remove 20 sun-dried tomatoes from the jar (without the oil) and thinly slice them.
When the oven is ready, divide the dough into 6 pieces, and stretch the dough into a circle (see this video for instructions). Place it on a floured pizza peel or pull the pizza stone out of the oven and carefully place the dough on it.
Quickly assemble the pizza: Thinly spread the ricotta over the dough with a spatula, then sprinkle on as much shredded cheese as you like. Top with sun-dried tomatoes, walnuts, and oregano. Sprinkle with a bit of kosher salt.
Bake the pizza: Transfer the pizzas to the oven (working in batches as necessary), and bake until the cheese and crust are nicely browned, about 5 to 7 minutes.
Print