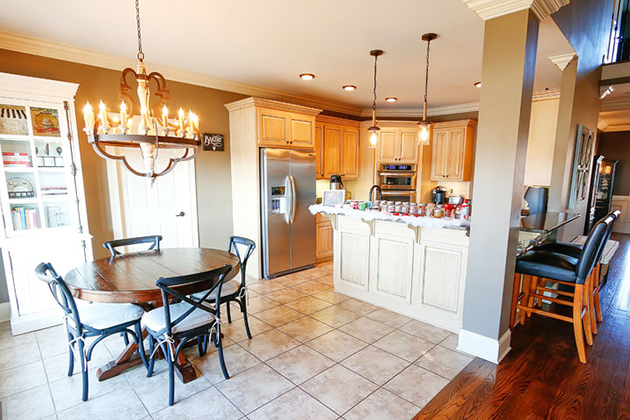 Last year we upgraded our home with KitchenAid® stainless steel major appliances. Now, after using them for over a year, I still could not be more thrilled with the results.
One of the main reasons we were drawn to this home was the open floor plan layout. Our kitchen opens up to the living room, dining room, and breakfast area.
During the winter, we set up a Hot Chocolate Bar that's always ready to warm up guests with multiple hot chocolate flavors and fun toppings.
This is one of my favorite spots in the kitchen. We replaced a smooth electric cooktop with a KitchenAid® 30-Inch 4-Burner Gas Rangetop and I could not be more happy with my decision. I love cooking with gas!
No kitchen is complete without a KitchenAid® Stand Mixer. Mine is stationed between my refrigerator and oven, making baking convenient and streamlined. I take things out of the refrigerator, mix them in the Stand Mixer, and pop them in the oven.
For our oven, we went with the KitchenAid® 30-Inch Steam-Assist Combination Microwave Wall Oven.
Up top is a convection microwave. It works just like a regular microwave, but it also doubles as a convection oven. Yes, it's a microwave and a convection oven in one. What you see here is actually three appliances — a microwave, and a double oven. But it only takes up the place of two! I love, love, love this convection microwave. You can bake cookies, biscuits, pizza, even steam vegetables in it. It preheats twice as fast as a regular oven, and it doesn't heat up your whole kitchen during hot summer months. Check out this Blueberry Cobbler I made in my convection microwave. Just look how golden brown it got on top!
It also has easy presets for melting and softening butter and the softened butter comes out perfect every time.
On the bottom is a steam-assist convection oven. Convection helps speed cooking and cooks and browns food more evenly. However with most convection ovens, you have to adjust the temperate and time yourself. But KitchenAid ovens have a unique EasyConvect™ Conversion System, so all you do is put in the regular time and temp, and it will automatically adjust the time and temp for you. My cookies come out perfect every single time.
The steam-assist feature cooks food with steam. It keeps roasts juicy and cakes moist. The oven comes with preset buttons that guide you through everything. You don't have to figure out how to use it. There's no learning curve here. I've found steam-assist is awesome for taco nights. I just roll up the tacos and place them in a baking pan, like enchiladas, and use the "vegetable" preset. The tacos come out impossibly soft and steamy!
Above the microwave I have cookie sheets and baking trays organized with a simple paper sorter. Down below, I have hidden storage for extra oven and microwave accessories.
For the fridge, we went with a KitchenAid® Counter-Depth Side-by-Side Refrigerator. I prefer a side-by-side refrigerator, and I love that this one is counter-depth. Our old refrigerator was standard depth, and it stuck out and made that walkway in between the fridge and sink really cramped.
This is my absolute favorite feature of this refrigerator! It automatically fills a glass with water and stops on its own. You can change this amount to any number in ounces. I love knowing how much water I'm drinking throughout the day.
Our KitchenAid® 24″ 6-Cycle/7-Option Dishwasher comes with a third rack on top for spoons, spatulas, and other utensils. It really opens up a ton of space for other things on the bottom two racks.
One year in and I'm still thrilled with all of my choices. Thank you KitchenAid for making my dream kitchen a reality!
*The Contributor of this post has been compensated by KitchenAid for this post, but this post represents the Contributor's own opinion.*