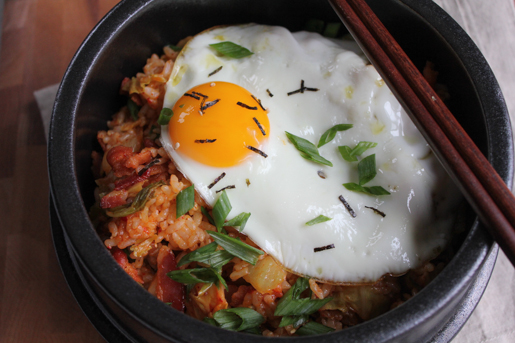 The holidays are here and depending on where you live, you may be enjoying some snow and maybe some not-so-welcomed freezing cold weather. In the wintertime, I'm all about comfort food dishes, like casseroles, soups, stews and spicy foods. These foods are key to keeping me full, warm and happy.
This kimchi rice bowl, or kimchi fried rice, is an absolute favorite of mine and because it's so easy, I make this pretty often. If you've had Korean food before, you may be familiar with dolsot bibimbap, or "stone bowl Korean mixed rice." This dish is served in a really hot stone bowl, so hot that anything that touches it sizzles for a couple minutes. Before the rice is placed in the bowl, the bottom of the bowl is coated with sesame oil, making the layer of the rice touching the bowl golden brown and crisp. It's so good you guys.
I've been looking for a way to make a big batch of Kimchi fried rice similar to dolsot bibimbap, making my rice golden brown and slightly crispy. And now I can with my KitchenAid® Streamline Cast Iron 4-Quart Casserole! This cast iron casserole dish warms evenly and holds heat, which is ideal for slow-cooking stews, braised dishes, and roasts. It would also be perfect for cobblers and cornbread, and can be used on both the stovetop and in the oven. Plus, the porcelain enamel interior provides better browning, resists staining, and doesn't require any seasoning. I totally got my rice just the way I wanted it with this! I really love this Streamline Cast Iron Casserole. It's so versatile.
To make the Kimchi Rice Bowl, (and the entire dish is cooked in this casserole dish) I started by cooking my bacon until brown and crispy.
Then, I drained most of the bacon fat but left all the lovely browned bits. I immediately added my cooked rice, drizzled in some sesame oil and added the chopped kimchi, some gochujang and soy sauce. I mixed everything up a bit but then let it sit for a few minutes so the rice could brown and get a little crispy. You can certainly keep mixing continuously, if you don't want your rice to get a little crispy.
Before serving, I added some diced green onions and sesame seeds. And don't skip the fried egg. This is the best part. I hope you enjoy.
Kimchi Rice Bowl
Makes 4 servings
INGREDIENTS
5 to 6 strips bacon, chopped
4 cups cooked brown or white medium grain rice
2 tablespoons sesame oil, split
Roasted sesame seeds
2 cups kimchi, chopped (plus 2 tablespoons reserved kimchi juice)
1 to 1 1/2 teaspoons gochujang (Korean hot pepper paste)
2 teaspoons low sodium soy sauce
Fresh green onions, diced for garnish
4 fried eggs
Finely shredded gim (dried seaweed), if desired
DIRECTIONS
Cook the bacon in your KitchenAid® Streamline Cast Iron 4-Quart Casserole over medium-high heat until browned and crispy, for about 5 to 7 minutes.
While the bacon is cooking, mix the cooked rice with 1 1/2 tablespoons of sesame oil and sprinkle on some sesame seeds. Set aside.
When the bacon is cooked and finished, remove the bacon from the pan and onto a paper towel lined plate. Drain most of the bacon fat, but keep all the browned bits on the bottom of the casserole dish. Immediately add the cooked rice, the remaining 1/2 tablespoon of sesame oil, the chopped kimchi, kimchi juice, the cooked bacon, gochujang and soy sauce. Mix everything together and let the rice sit, untouched, for about 4 to 5 minutes so the rice can get a little browned and crispy on the bottom.
Mix the rice together one more time, add the green onions and let cook for another minute or two, tossing as needed. Taste for seasoning, and adjust any ingredients as necessary. Serve with a fried egg on top and garnish with more green onions, sesame seeds and finely chopped gim if desired. Enjoy immediately.
Print
*The Contributor of this post has been compensated by KitchenAid for this post, but this post represents the Contributor's own opinion.*