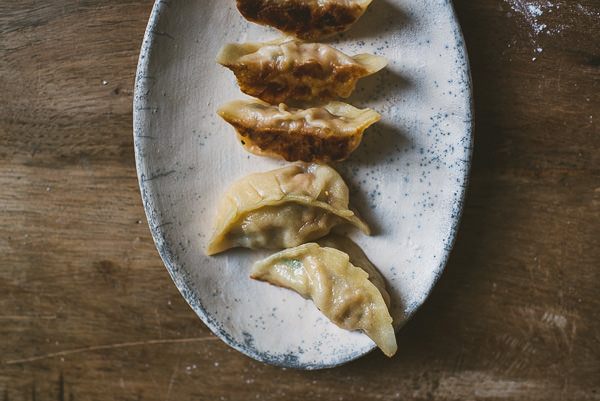 Dumplings are one of my favorite foods to make. It's not just about the finished, cooked dumplings – I love the entire process of making them, especially when I take the time to make the dumpling skin from scratch.
Making dumplings is really a communal event, something families can do together to create big batches (some for now and some for future meals). I still remember creating "fake" dumplings, with no filling, as pranks with my mom.
The dumpling dough is quite simple and only needs boiling water, flour, and a pinch of salt. There are numerous ways to create the round skins. The traditional way is with a dumpling roller – similar to a rolling pin, but thinner and shorter. It's a tool that's easy to handle with one hand.
A small morsel of dough is flattened and then rolled out by rotating around the center. It creates a skin that is thicker in the middle and thinner around the edges, but this method takes time.
Another way is to roll out a large sheet and use a cookie cutter to cut out circles. I'm not a fan of this method as it can waste dough.  Another way I've been doing more and more is one I learned from my mother-in-law. She introduced me to utilizing the KitchenAid® Pasta Roller Attachment to make dumpling skins! We quickly developed an efficient pattern and made a big batch of dumplings in a relatively short period of time.
The dough is divided into small morsels, flattened, then rolled through 3 settings on the Pasta Roller Attachment, rotating to create a circular shape. And even if it's not the perfect circle, it works really well.
I divide the dough into four, then do a quarter at a time. Each quarter can make 12 skins, ending up with 48 dumplings! Homemade dumpling skins are the best vessel for the filling. They are wonderfully chewy and can be boiled or pan-friend.
My favorite filling is the classic pork and chive, but when I want something spicy, I go to this kimchi-pork filling. It's a crowd favorite and the amount of kimchi is just enough so that the heat is there but not overwhelming.
One tip for checking the seasoning on the filling: take a teaspoon of filling and microwave it for around 15-20 seconds then taste it. Add more soy sauce if it's bland. I would start with conservative soy sauce and then go up from there.
Other ideas for filling you can experiment with that I like are: shiitake, napa cabbage, vermicelli noodles or swapping pork for beef.
The folding may be the hardest part, but once you do a few you'll get the hang of it! It's essentially pleating. I like to pinch the center of the half-circle together and then work down one side pleating, and then work down the other. There are also numerous ways of folding dumplings though!
The beauty of making dumplings is that every step is variable and can be customized to one's personal preferences. I love pan-frying my dumplings, with the crispy bottom to provide that textural contrast, but my husband loves just simply boiling dumplings which preserves the texture of the dough. I've provided instructions for each style below. Try them both and see which you prefer!
Share your take on these Kimchi Pork Dumplings on Instagram using #ForTheMaking for a chance to be featured.
Kimchi Pork Dumplings
Makes 4 dozen
INGREDIENTS
For the dumpling wrapper
2 cups all purpose flour
Pinch of salt
3/4 cup boiling water
For the filling
1 pound ground pork
1/2 cup scallions, chopped
1 cup kimchi, chopped roughly and drained of excess liquid
8 ounces firm tofu, drained and finely diced
2 teaspoons fresh ginger, minced
1 teaspoon cornstarch
1 clove garlic, minced
1 egg, beaten
1 tablespoon sesame oil
1 tablespoon salt
4 tablespoons soy sauce
1 teaspoon white pepper
For cooking
1/2 cup cold water (boiling)
2 tablespoons oil (pan-fry)
3 tablespoons water (pan-fry)
DIRECTIONS
First, start with making the dumpling wrapper. Whisk together the all purpose flour and salt. Bring water to a boil then immediately remove from heat. After five seconds, gently stream water into the dry ingredients, constantly stirring.
When the mixture is tolerable to touch, knead into a dough. If it's too dry, add a bit more water. Knead for another three minutes, until elastic and smooth, but not sticky.
Wrap tightly in plastic wrap and let the dough sit for 30 minutes at room temperature.
In the meantime, mix the pork, scallions, kimchi, tofu, ginger, cornstarch, garlic, egg, sesame oil, salt, soy sauce, and white pepper together. Use your hands (or a spatula) to mix until it becomes a unified mass.
Divide the mass into quarters. Place the other three quarters in plastic wrap. Take one quarter and roll into a log. Divide into 12 even pieces.
Roll a piece into a ball, then flatten gently into a circle. Dust the KitchenAid® Pasta Roller Attachment with flour then attach to the power hub of the KitchenAid® Artisan® Mini Stand Mixer.
Turn the Artisan® Mini Stand Mixer to Setting 1 (low) and run the dough through. Change to Setting 2, then rotate the dough 90° and run through again. Change to Setting 3, rotate and run the dough through again. If the dough is like an oval, simply run it the wide-way through the Pasta Roller Attachment to form a circle. Repeat until all 12 pieces are shaped.
Place one circle in one hand. Scoop about 1 1/2 tablespoons of filling into the center. Dip a finger in water and trace the top semi-circle edge. Fold over and pleat.
Repeat with the rest of the filling.
To cook
Boil: Place the dumplings in a single layer in a pan. Cover with water.
Bring to a boil then add 1/2 cup cold water. Bring to a boil again, until the dumplings float. Remove with a slotted spoon.
Pan-Fry: Heat the oil in a non-stick pan over medium-low heat until a drop of water sizzles when hitting the pan.
Place the dumplings in a single layer in the pan. When the bottoms of the dumplings are golden, pour the water into the pan and cover with a lid, turning the heat to low.
Let the dumplings steam for 5-10 minutes or until the water has evaporated.
Remove the lid and let the rest of the water evaporate and allow dumplings to crisp up even more.
Print
*The Contributor of this post has been compensated by KitchenAid for this post, but this post represents the Contributor's own opinion.*